Forgot Excel 2010/2013/2016 Worksheet/Workbook Password
Forgot excel 2013 password? Which kind of Excel password did you have forgotten, Excel Workbook open password, Excel Workbook structure protection password or Excel Worksheet data protection password? How do you reset it? Now let's talk about this in three cases, which apply to Excel 2010/2013/2016.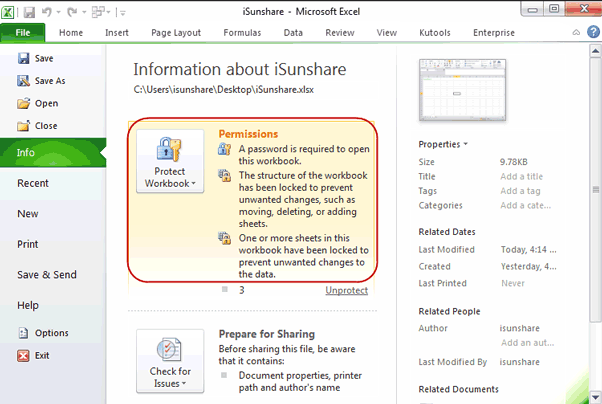 Case 1: Forgot Excel Workbook Open Password
When you are opening an Excel Workbook, and a dialog pops up and asks you to type a password to unprotect it, the password is the Excel Workbook open password. If you forgot Excel open password, you can try several different possible passwords to check whether they can open encrypted excel.
Even though all of them couldn't work at last, there are still lots of excel password recovery tools that can help recover Excel forgotten password, such as Excel Password Genius. It provides a trial version for users to have a free try, and with it, people can recover excel password not longer than 3 characters. When this version is not available for your excel workbook, full version can make excel password recovery successful with 100% guarantee.
Simple steps for forgotten excel workbook open password recovery:
Step 1: Choose appropriate Excel Password Genius version and install it on computer.
Step 2: Click Open button, browse Excel workbook in computer and add it into Encrypted File box.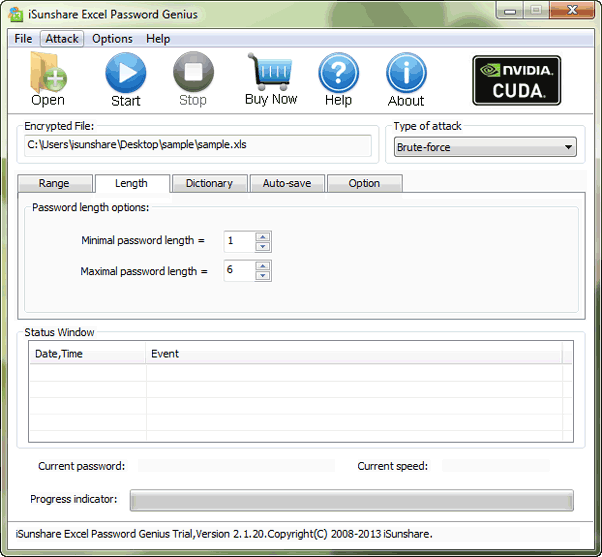 Step 3: In Type of attack drop-down list, choose one password recovery type, and make detailed settings in the box below.
Generally, Brute-force and Mask are selected often. If you have no idea, Brute-force is suggested.
How to make detailed settings for every password attack type you choose, follow this article: Brute-force/Mask/Dictionary Password Recovery Attack Settings
Step 4: Click Start button to run password recovery program and recover Excel open password.
After excel password recovery, copy it to open password protected excel workbook, then you can reset a new excel workbook open password for it.
Case 2/3: Forgot Excel Password for Protected Worksheet or Workbook Structure
When Excel Workbook Structure and sheets are protected with password, you will not easily remove or recover password you forgot. At this moment, though you can't make any changes on Workbook or sheet, the contents on it can be viewed.
Steps to remove permissions on excel workbook/worksheet:
1. Double click Excel and a dialog would ask you to type a password because excel is protected.
Type excel open password now and click OK or press Enter.
If excel workbook open password forgot, recover it with method introduced in Case 1 first.
2. When you want to edit excel worksheet, a message will pop up. It means if we want to modify sheet cell or chart, we have to type excel sheet protection password, to remove protection from locked sheets first.
Click Unprotect Sheet under Review menu, and type password you have set.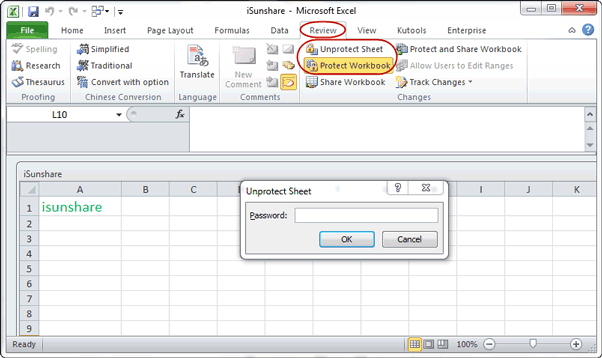 3. If you want to make any changes on Workbook, such as rename worksheet, or move sheet, adjust window, you have to unprotect workbook.
Click Protect Workbook under Review menu, and type password in dialog box, click OK.

Tips: Generally, we have to remove protection from excel worksheet cell first and then workbook structure protection can be removed.
Related Articles: