Set Time to Play Each Slide in Camera on iPhone/iPad
When playing slideshow in Camera on your iPhone/iPad, you are able to determine the time length to play each slide. For detailed operation, please read on.
Steps to set time to play each slide in Camera on iPhone/iPad:
Step 1: Open Settings, select Photos (or Photos & Camera) and tap Play Each Slide for.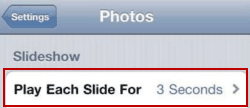 Step 2: Choose an option from 2 Seconds, 3 Seconds, 5 Seconds, 10 Seconds, and 20 Seconds.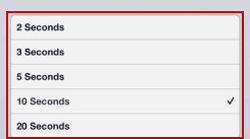 Related Articles: