Turn off VoiceOver Sound Effect in iPhone/iPad
When VoiceOver is enabled on iPhone/iPad, it automatically uses sound effects to notice you when certain apps are opened and lower the background sound or music to make its voice more clear. If you want to turn off its sound effects, you can refer to the following guidance.
Steps to turn off VoiceOver sound effects in iPhone/iPad:
Step 1: Open VoiceOver settings.
Click VoiceOver in Settings/General/Accessibility.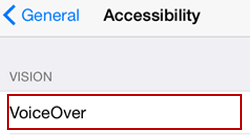 Step 2: Turn off Use Sound Effects.
Locate Use Sound Effects, and turn it off by moving the slider on the switch to the left.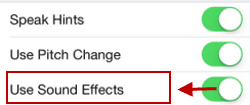 Related Articles: