Reset Forgot Windows Server 2003 Raid Password with Disk
Windows server 2003 raid is one of common Windows server operation systems. In purpose of server security, you would be required to create a strong password, consisting of alphabet characters, Arabic numbers ect. However, if forgot Windows server 2003 raid password, how can you reset so compex Windows password? I think nothing looks worse than it. But it doesn't mean there is no effective way.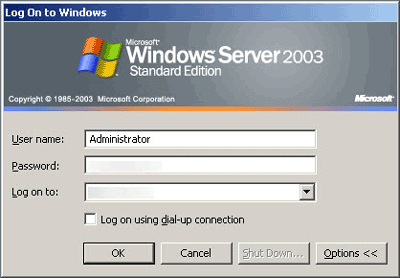 So how to reset server raid 2003 password with any available ways?
Now in this passage, one common but powerful password recovery tool, password reset disk would be used to reset Windows server 2003 raid password.
Section 1: Create Windows password reset disk for raid server on accessible computer
In this part, it is recommended to introduce how to create or get Windows paasword reset disk. When you have created it on accessible computer with Control Panel, you can bypass this section and go for section 2 to reset Windows server raid 2003 password with reset disk.
However, if you are locked out of Windows 2003 server raid, and have no password reset disk, You would need Windows password recovery tool to create a password reset disk. For example, Windows Password Genius Raid is designed especially for raid server password reset.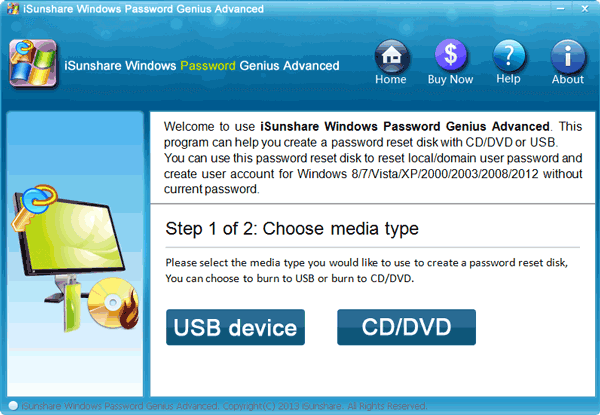 Step 1: Get full version of Windows Password Genius Raid on the accessible computer.
Step 2: Insert bootable USB or CD/DVD into computer and launch Windows Password Genius Raid.
Step 3: Select USB or CD/DVD you have inserted into computer just now and click Begin burning to start reset disk burning.
Step 4: When "Burning Successfully" message pops up, click OK to make sure you have burned a Windows password reset boot disk for raid server.
Section 2: Reset Windows Server 2003 password on raid server
After you have kept Windows server raid password reset disk, there are two patterns to reset Windows server raid forgotten password according to the way to create windows password reset disk.
While it is created in Comptuer Control Panel, go to Windows 2003 raid server locked logon screen, you would see "Reset password" option appearing under password input box. Click it to open Password Reset Wizard. Just follow the wizard to reset Windows user password is OK.
While it is burned with Windows Password Genius Raid, follow the steps to do, which will not only reset Windows server raid 2003 forgotten password, but also you can create new administrator for raid server.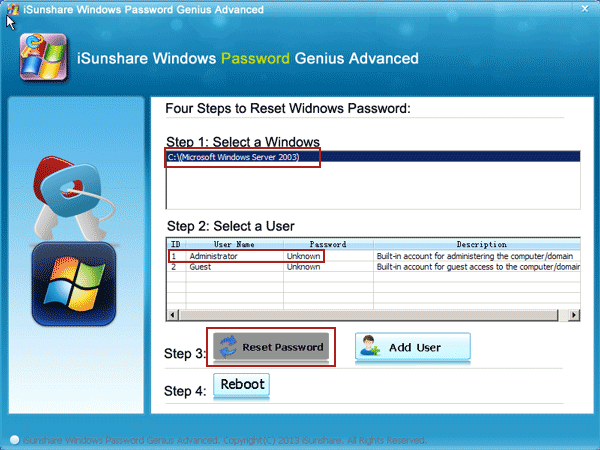 Step 1: Insert Windows server password reset disk into locked raid server, and press boot key to boot raid server from USB drive or CD/DVD-ROM.
Step 2: Until Windows Password Genius Raid runs on locked raid server, can you select Window server 2003 raid and user to reset its password, with which you could login raid server successfully again.
Click Reset password and dialog box pops up, choose "Yes" to reset Windows raid server 2003 user password and restart raid server later. Or click "Add User" to create new administrator with default password. If not, close the dialog box, and click Reboot directly to start server immediately.
Related Topics: