iSunshare
Excel Password Genius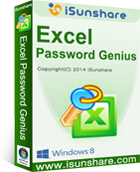 $39.95 $19.95
Professional and Special Excel password recovery
Excel Password Genius is designed to recover forgotten password for MS Excel(*.xls,*.xlsx). It takes along with three powerful password attack types and prefers to run multi-code CPU and multiprocessor. Therefore, efficiency is the greatest strenghth of Excel password recovery.
* Offer three powerful attack types
* Support MS Excel 97/2000/2003/2007/2010/2013/2016
* Support file types of Microsoft Excel (*.xls,*.xlsx)
* 4 and less characters of password can be viewed and recovered by free trial version.
Platform: Windows XP/Vista/7/8/10, Windows Server 2000/2003/2008/2012
Excel Password Genius Features
High Recovery Rate
It has three powerful password attack types, Brute-Force Attack, Brute-force with Mask Attack, Dictionary Attack. Choose the most appropriate password attack type based on your possible password feature.
- Brute-Force Attack. This type of attack will try all possible characters combinations in specified Range. The password recovery engine is highly optimized, thus short password can be recovered immediately.
- Brute-force with Mask Attack. This is helpful if you partially remember the password that you can set a mask with the mask symbols for the part you can't remember. Compare to brute-force attack. This attack method can save more time. (Highly Recommend)
- Dictionary Attack. Recover lost Office password by trying the password combinations in the built-in dictionary. You also can download another dictionary from internet or self-create one. This method maybe the fastest way if your password is a keyword.
High Recovery Speed
- Multi-code CPU and multiprocessor priority.
- Support NVIDIA GPU acceleration (NVIDIA CUDA) and ATI Video Card acceleration.
Auto-save and Resume.
- Save and resume the process when you suspend and run the program next time.
- Shut down your computer when the recovery is finished automatically.
Excel Password Genius System Requirements
Supported OS: Windows 10/8/7/Vista/XP/2008(R2)/2003(R2)/2000/NT
Processor: 1GHz CPU or above
RAM: 256MB RAM or more (512MB or above recommended)
Free Hard Disk: At least 10 MB of free space
User Reviews and Awards
"I'm so glad to have used Excel Password Genius to recover my lost password for Excel file. Thanks so much!"-- by Caroline
'My friends had ever mentioned it to me a month ago, but I don't think how great and useful it is. Until I made use of it by myself, I realized everything has its value, as long as you make a right choose."-- by Jenny

Try it or Buy Now?
* 100% Clean: No Viruses, No Spyware, No Adware.
* 100% safety.
* 90 Days money back guarantee.
* Easy-to-use but powerful.

Free Download Excel Password Genius


Purchase Excel Password Genius (Price: $19.95)