Why Excel Password Genius Required?
Microsoft Excel may be as important as Microsoft Word, or more important than Word in scientific era. It is often used to deal with datas which possiblly relates to the most secret matter for a person or corporation. And these datas must not be lost. So if you just want to recover Excel password, Excel Password Genius is enough, the best choice. Of course, you can choose Office Password Genius to recover other office password in case. Now let's see how Excel Password Genius works.
Tutorial: Recover Excel Password Step by Step
Step 1: Download, Install and Launch.
Click the following button to download the free trial one and install it on your computer to try it out.

Note: Free trial one only recovers Word password containing less than 3 or 3 characters.
Step 2: Import encrypted Microsoft Excel file.
Click the "Open" button to open Microsoft Excel file that you want to recover password, then it will be in the "Encrypted File".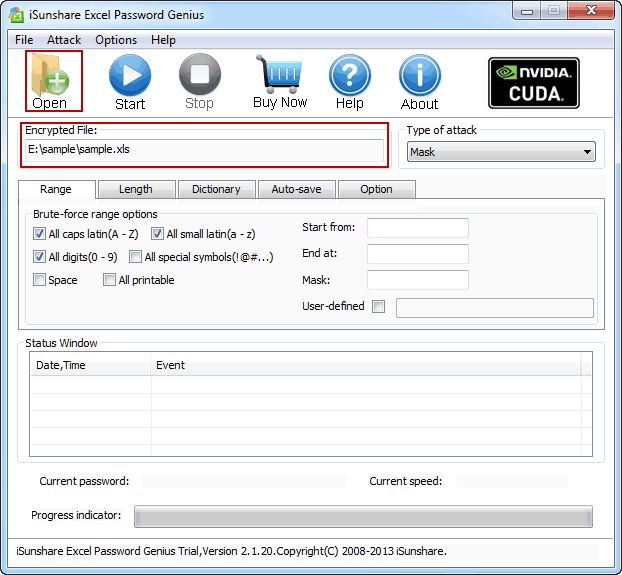 Step 3: Choose "Type of attack", there're four attack types for choice, Brute-Force, Brute-Force with Mask, Dictionary and Smart. Make some settings for every attack type you choose.
Tips: Password Recovery Type Settings for Office/RAR/ZIP/PDF Password Recovery
Now we will take Brute-Force with Mask as example, introducing how it works in detail.
Brute-force with Mask Attack. This is helpful if you partially remember the password that you can set a mask with the mask symbols for the part you can't remember. Compare to brute-force attack. This attack method can save more time. (Highly Recommend)
Set parameters, including Range and mask. Mask is more import than range because it's related to recovery speed.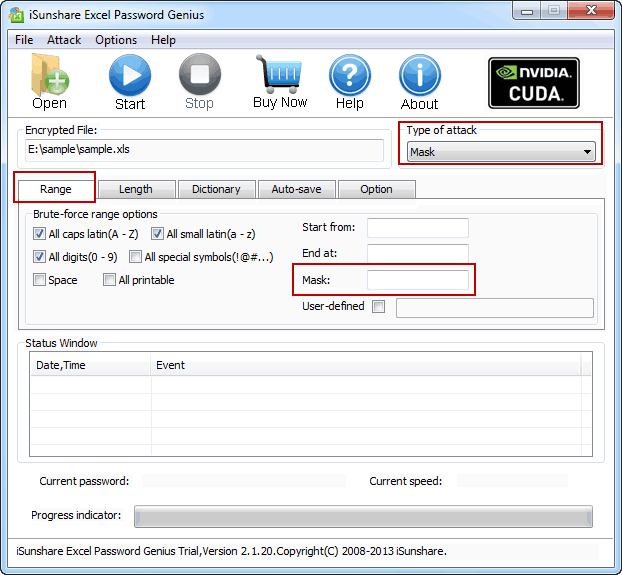 Mask: You can write out the part of password you remember, and any other you have forgot can use character "?" instead one by one. For example, the original password is "abc", but you only remenber the first character is "a", all the others forgotten. You can type "a??" in the "Mask".

Now, the Brute-force with Mask attack has been set out. Other three password attack types used for password recovery can be set similarly, detailed introduce can be seen at the following links.
Step 4: Click "Start" button.
After you click "Start" button, recovery program begins to work until the following window pops up. That means password has been recovered successfully. You can "copy" the password or "open" Excel file from it.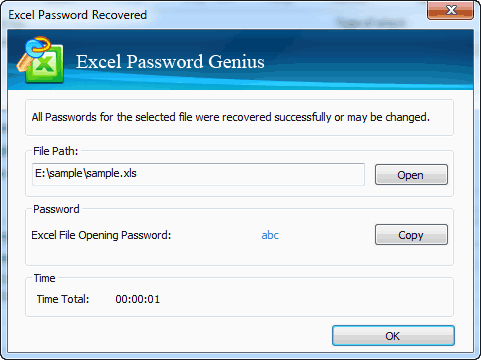 Is it easy? Try it yourself!
Don't hesitate and go ahead to download Excel Password Genius, just click the next button to download one.

Tags: how do I remove Excel password, how can I recover Office password
Related Links: