iSunshare
Windows Password Genius Raid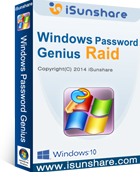 $159.95 $79.95
Reset/Recover lost password for Windows Server 2003/2008/2012 Raid server
iSunshare Windows Password Genius Raid, a professional password recovery tool, designed for recovering forgotten password for Windows server 2000/2003/2008/2012 local and domain user account on Raid computer. Additional, it also supports Windows 8/7/vista/xp/2000 password recovery, which is the same as Windows Password Genius Advanced.
- Reset/Recover forgotten administrator password for Windows Server 2000/2003/2008/2012.
- Create a new user account with administrator privilege without login Windows.
- Support HP, DELL, IBM, LENOVO, Fujitsū and Asus Raid server.
Platform: Windows XP, Windows Vista, Windows 7, Windows 8, Windows 2000, Windows Server 2000, Windows Server 2003, Windows Server 2008, Windows Server 2012
Windows Password Genius Raid Key Features
- Support Windows server 2012/2008(R2)/2003/2000 local and domain administrator password recovery
- Support Windows 8, Windows 7, Vista, XP, 2000 and Win NT password recovery
- Support IBM, DELL, HP, LENOVO and Fujitsū Raid server computer.
- Support SATA, SCSI, IDE hard disk and RAID.
- Support RAID 1, RAID 0+1, RAID 2, RAID 3, RAID 4, RAID 5, RAID 5e, RAID 5ee, RAID 50 or RAID 6.
- Support password recovery on HP, Dell, Acer, Lenovo, Sony, Asus, Toshiba, and BenQ laptop and desktop computer.
- Support user account creation without login computer.
Windows Password Genius Raid System Requirements
Supported OS: Windows 8, Windows 7, Vista, XP, 2000, Windows Sever 2012, 2008(R2), 2003, 2000
Processor: 800MHz Intel or AMD CPU, or above
RAM: 512MB RAM or more
User Reviews and Awards
"I am very appricate this software and the support.With the help fo the support, I final reset the lost password on my Windows 2008 server. I really want to say that the support is very good. I have tried to use many free program to fixed the problem, but none of them can detect my Windows on my HP Raid computer. The support is very patient to help me to get my computer raid controller information and made a new version for me."- From John

Ready to Try or Purchase?
This Windows Password Genius Software is a good choice to help you recover the lost password when you forget administrator password on Windows server 2012/2008/2003 raid computer.

Purchase Windows Password Genius Raid (Price: $79.95)