iSunshare
Android Data Genius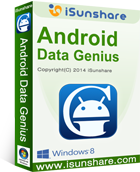 $29.95 $19.95
iSunshare Android Data Genius, an effective Android phone text messages and contacts recovery app. It is so powerful that it can restore deleted contacts, messages and communication records from android phone in a few seconds. In addition, it is useful in backing up significant information to avoid accidental deletion, data loss, data corruption and so forth. So far, it is able to support a majority of Android phones.
Android Data Genius Features
1. Recover deleted or lost Contacts from Android Mobile Phone

This software can help you restore deleted contacts from Android if you made a mistake to delete contacts.
2. Recover deleted Text Messages from Android Mobile Phone

This software can help you recover deleted text messages from Android Cellphone if you made a mistake to deleted very important messages.
3. Back up SMS and contacts

It is helpful for you to duplicate the important information to your computer, which is extremely conducive to prevent data loss, information damage, intentional or accidental deletion and so on.
4. Safe

It is a safe software which will not bring any damage to your phone.
5. Handleable

It is easy to operate and no professional knowledge is required.
6. Highly effective

By use of it, only a few seconds is needed to restore the data.
7. Support various Android phones

It works fine with Android phone of Samsung, HTC, Huawei, ZTE, Sony, LG, Motorola, Sharp, Toshiba, Lenovo etc.
8. Free download software and get license key after purchase

It will be available for you to download software or get license key for free in 2 years after you purchase the software. Just one purchase will serve you for 2 years.
Android Data Genius User Guide
Key steps to use Android Data Genius:

1. Download and install Android Data Genius on your computer.
2. Connect your Android phone to your computer.
3. Enable the USB Debugging of your phone..
4. Root your android phone.
5. Run iSunshare Android Data Genius and use it to recover the contacts and text messages of your phone.
For step by step guide, see Android Data Genius User Guide.
Android Data Genius System Requirements
Supported OS: Windows 8/7/Vista/XP/2012/2008(R2)/2003(R2)/2000/NT
Processor: 1GHz Intel or Amd CPU or above
RAM: 128MB RAM or more (512MB or above recommended)
Free Hard Disk: At least 100 MB of free space
Guarantee and Awards

Worth Buy?
* Recover valuable contracts and message from Android phone.
* 100% safety and High recovery speed.
* 90 Days money back guarantee.
* Free to update.

Sounds Good?
Free download or buy iSunshare Android Data Genius and use it to get the deleted contracts and SMS back.

Free Download iSunshare Android Data Genius


Purchase iSunshare Android Data Genius (Price: $19.95)