Allow Wanted Calls in Do Not Disturb Mode on iPhone/iPad
In this text, you can learn how to allow calls from all your contacts, only contacts in your Favorites list or a selected group when Do Not Disturb is enabled in your iPhone/iPad.
Steps to allow wanted calls in Do Not Disturb mode on iPhone/iPad:
Step 1: Enter Settings, open Do Not Disturb and choose Allow Calls From.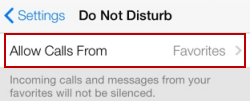 Step 2: Select Everyone, Favorites or a group in GROUPS.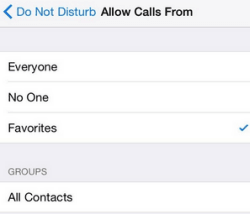 Related Articles: