User Guide to Recover Windows Local and Domain Password
Lost or forgot Windows password? Follow this guide to reset Windows local or domain password to be blank or iSunshare@2012, or create new account without logon, when you have iSunshare Windows Password Genius.
Preparation: accessible computer, bootable USB drive or CD/DVD-ROM
Recover Windows Password with Windows Password Genius Professional/Standard
Step 1: Download and install Windows Password Genius Professional on an accessible computer.
Step 2: Create Windows password recovery disk.
There are two ways provided to create windows password recovery disk, USB device and CD/DVD.
1. Choose USB device or CD/DVD. You have to prepare bootable USB drive or CD/DVD ROM and insert it into available computer.
2. Select inserted USB drive or CD/DVD from drop-down list, and click Begin burning button.
Remember to exit USB or CD/DVD ROM from available computer after password reset disk burning successfully.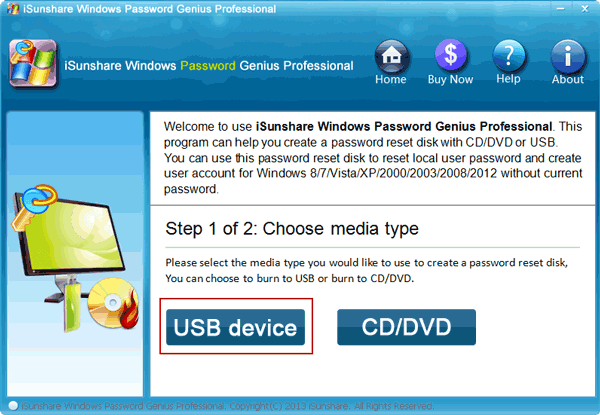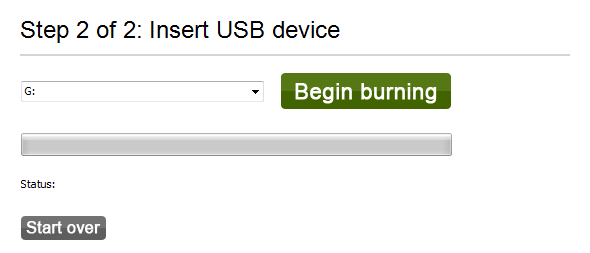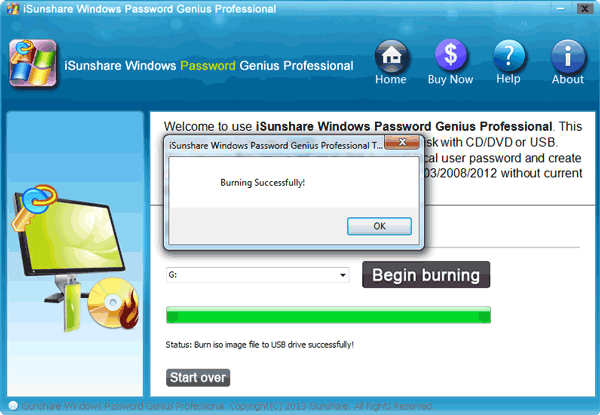 Step 3: Set locked Windows computer to boot from USB device or CD/DVD.
After password reset disk burning, plug USB drive or CD/DVD into locked computer. And set locked computer boot from USB or CD/DVD drive.
Now, there are two methods for you to set computer boot from USB.
Method 1: Set computer Boot from USB device by Boot Option Menu.
Method 2: Set USB drive as first Boot device Priority in BIOS.
If you are a computer novice I suggest you choose method 1, because when you enter Boot Option Menu with method 1, you can quickly find out USB and choose USB it as boot drive.
Or if Windows password reset disk has been burned with CD/DVD ROM, now you have to set your computer boot from CD/DVD ROM.
Set computer Boot from CD/DVD on Phoenix Award BIOS
Set computer Boot from CD/DVD on AMI BIOS
Step 4: Start Windows password recovery.
After computer boots from USB device or CD/DVD, the following window pops up. Select the locked computer Windows system and user. Then click Reset Password to remove its password or reset it as "iSunshare@2012". Instantly the password would be blank or new password. And you can login Windows now without password or new one. However, if you need another administrator to login Windows computer, click Add User to create new administrator for computer. Type user name and password for user and click OK.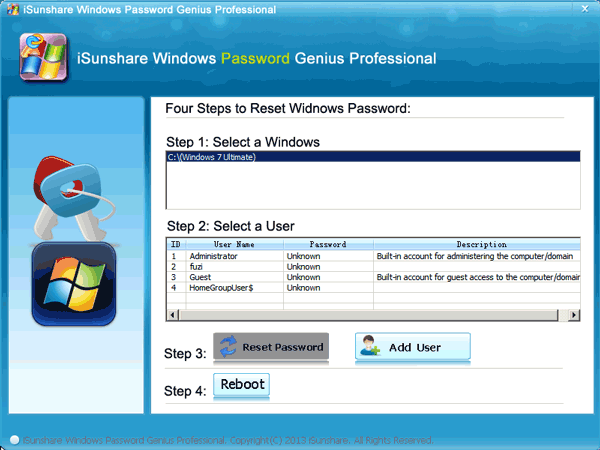 Step 5: Reboot Windows computer.
Click Reboot button to restart locked computer after Windows password recovery. And remember to eject password reset disk before computer really restarts. When you are going to enter Windows operational system on Windows login screen, it would be not necessary to type password if you login Windows with user you have remove its password.
Now Windows Password Genius Professional has helped to recover Windows password successfully.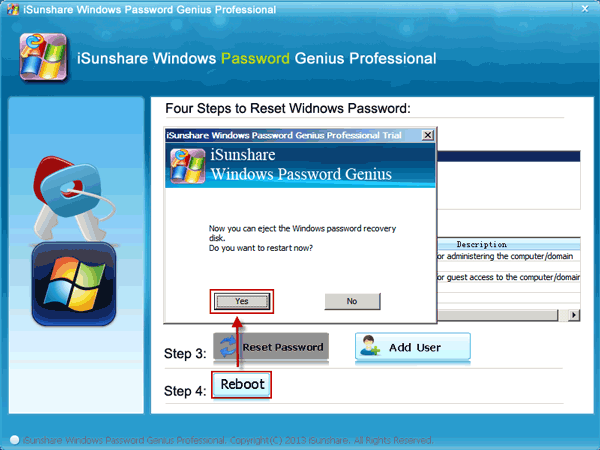 What's the Next?
Now it's your time to have a try. Don't hesitate and go ahead to download or pay for it.
Articles you may be interested: