How to Remove Word Password
iSunshare Word Password Remover is a professional software for removing MS Word file password. But now it only be available for *.doc file. It's simple but ease-of-use. Now follow the guide to remove Word (*.doc) file password.
Remove Word Password Step by Step
With this tutorial, you can easily and quickly remove Word (*.doc) files password.
Step 1: Install and run iSunshare Word password remover.
Click the following button to download and follow installation wizard to install the iSunshare Word password remover on your PC, then run it.

Attention: Word password remover can only remove the password which contains no more than 200 characters.
Step 2: Import the encrypted Word file.
Simply press the "Open" button( or select the "File | Open File" menu item ) and browse for the appropriate Word file. Then you will see the encrypted Word file in the "File Name" box.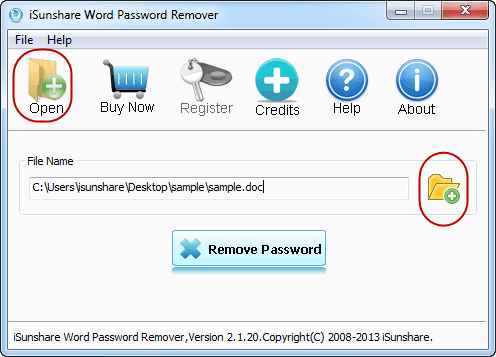 Step 3: Remove password.
As shown in the following image, you should just click "Remove Password" to begin removing Word file password. For a better password removing experience, we suggest you to make sure the program has connected with the iSunshare software server or connected to Internet.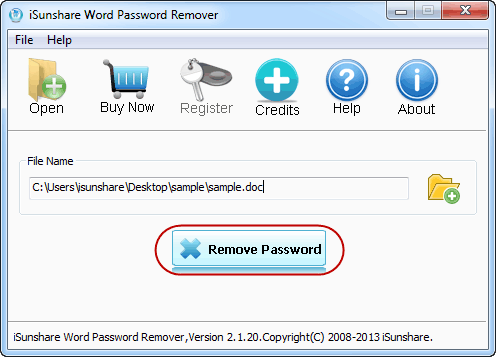 Step 4: Click "Open" button to open decrypted Word file.
When the program successfully removes the lost password, a dialog would pop up. Just click "Open" button, then you can open the copy of target document directly.

You can see that password remover is easy and fast to operate. Go ahead to download iSunshare Word password remover to directly remove Word document password.
By the way, if you want to recover password for Word documents whose file name extensions are *.doc and *.docx, just refer to recover the protected Word (*.doc or *.docx format) document password.
Related Links: