How to Repeat Playing Photo Slideshow on iPhone/iPad
Generally speaking, a photo slideshow in iPhone/iPad plays once and automatically stops after displaying its last photo. If you want it to repeat playing until you manually stop it on your device, go to turn on the Repeat function according to the following instruction.
Steps to turn on Repeat on iPhone/iPad:
Step 1: Open Settings on the Home screen, and tap Photos & Camera (or Photos) to continue.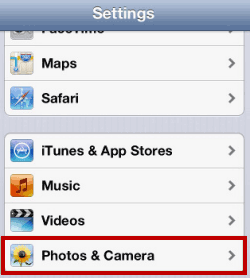 Step 2: In the Slideshow settings, click the switch beside Repeat to turn it on.

Related Articles: