Easily Recover Locked iTunes Backup Password for iPhone/iPad/iPod Touch
Want to restore iPhone/iPad/iPod Touch backup on iTunes, but don't know password to unlock backup file? Please take iTunes Password Genius to recover backup file password you never set or know. And the following passage would guide you how to recover iTunes backup password for iPhone/iPad/iPod etc iOS 11/10/9/8.1/8/7 devices step by step in high speed.
Guide Steps to Recover iTunes Backup Password for iDevices
With this tutorial, you can find locked iTunes backup can be opened and used easily for iPhone/iPad/iPod Touch to restore iOS data.
Step 1: Preparation.
Go to landing page of iTunes Password Genius and download its free trial version or get full version. Then install and launch iTunes Password Genius on your PC.
Note: Free trial one only recovers encrypted iTunes backup password containing no more than 3 characters.
Step 2: Add encrypted iTunes backup file.
Click Open button, and iTunes Password Genius would automatically browse iTunes backup file on computer and show it out. It is usually located here:
Windows 10: C:\Users\USER\AppData\Roaming\Apple Computer\MobileSync\Backup
Windows 8/8.1/7/Vista:C:\Users\~\AppData\Roaming\Apple Computer\MobileSync\Backup
Windows XP: C:\Documents and Settings\user\Application Data\Apple Computer\MobileSync\Backup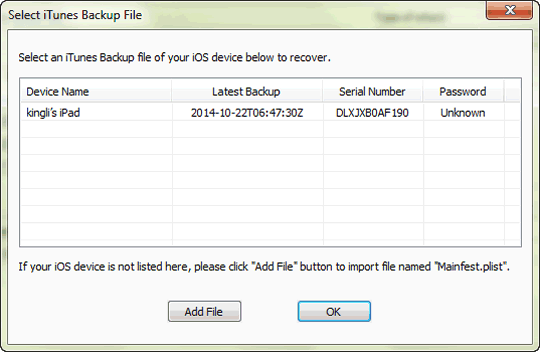 Then you could import it into iTunes Password Genius. See it in Encrypted File box.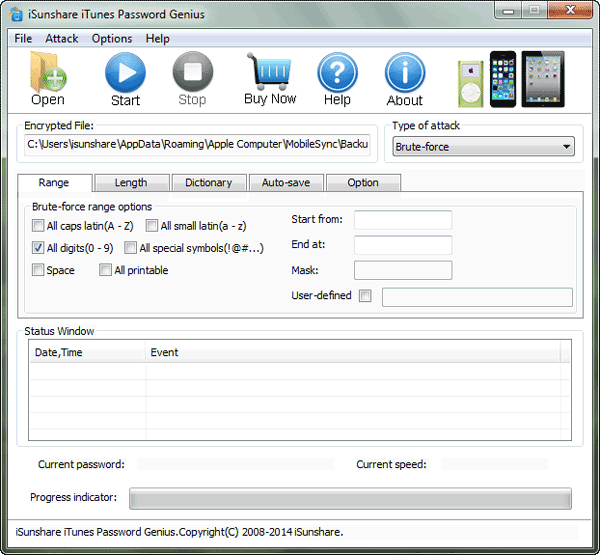 Step 3: Select one of password attack types and set it.
Brute-Force Attack: Choose it when you don't know anything about iTunes backup password.
This type of attack will try all possible characters combinations in specified Range. The password recovery engine is highly optimized, thus short password can be recovered immediately. Set the range and length.

Mask: Choose it when you have changed encrypted iTunes backup file password but still remember part of it. Set the range, length and Mask.

Dictionary Attack. Recover backup password by browsing and comparing passwords in built-in dictionary or another dictionary you choose. This method maybe the fastest way if your password is a keyword. Set the dictionary path or default.

Smart Attack. This attack is automatic and smart. It will try all possible characters combinations include all printable characters.
Refer to: Password Recovery Type Settings Recovering iTunes Backup Password
Step 4: Recover iTunes backup file password.
Click Start button, and iTunes Password Genius will retrieve iTunes backup file password with password attack type you choose. So if attack type and settings is appropriate, it would largely save your time on iTunes backup password recovery. Moreover, if it is also locked iTunes backup for iOS 10 devices, you would get faster speed in about one second.
Therefore, generally about few seconds later, iTunes backup password would be recovered successfully and shown in following pop-up window. Then you can use it to unlock iPhone/iPad/iPod backup.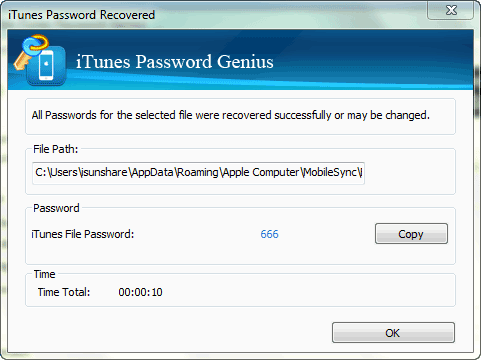 So what should you do now if you want to restore iPhone, iPad or iPod Touch from backup file when it is locked? Just take and install iTunes Password Genius on your computer to recover password for encrypted iTunes backup.

Tags: how could I recover iTunes backup password
Related Links: