RAR Password Genius Standard Usage - Recover RAR/WinRAR Archive Password
File archivers like RAR is popular in compressing files. Files after compressed and encrypted with RAR can be transfered quickly and safely through several intermediary. But the person who receive them has to decompress and decrypt it at first, can they see the contents in rar archive. If without rar password or lost rar password, how to do?
At this time, RAR Password Genius will become useful, because it can easily recover password for RAR archives created with RAR/WinRAR. In order to get RAR Password Genius to recover RAR/WinRAR password, just need to learn how RAR Password Genius works. It is also called usage of RAR Password Genius.
Guide: Recover RAR/WinRAR Archive Password Step by Step with RAR Password Genius Standard
Step 1: Download, install and launch RAR Password Genius.
Click following button to download RAR Password Genius Standard. And follow installation wizard to install it on PC or laptop. Run it at last after complete installation.

Note: Free trial one only recovers rar file password containing no more than 3 characters.
Step 2: Add encrypted RAR file to RAR Password Genius Standard.
Click Open button on toolbar to browse encrypted rar archive on computer. When you find it, select and import rar archive into RAR Password Genius. It will appear in the Encrypted File box. Just like the image below.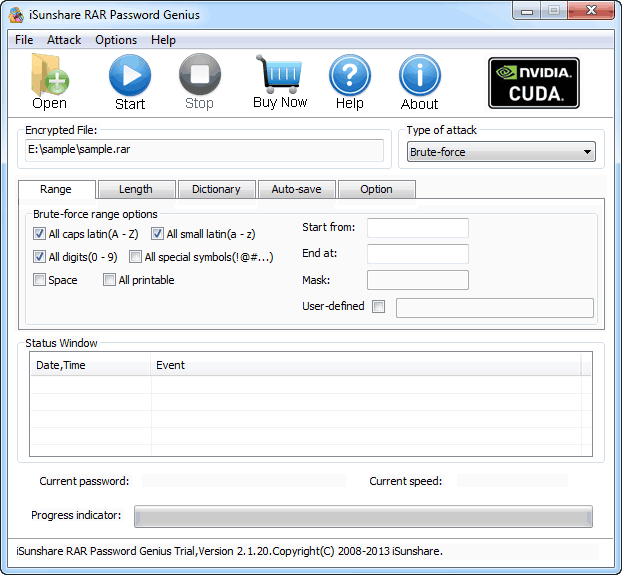 Step 3: Choose RAR password recovery type in "Type of attack". Set parameters for selected one.
In the drop-down list of Type of attack, four attack types are for users to choose, Brute-force, Mask, Dictionary and Smart. So how to choose an appropriate one to recover RAR password effectively?
Brute-force with Mask: This is helpful if you partially remember the password that you can set a mask with the mask symbols for the part you can't remember. Compared to brute-force attack, this attack method can save more time. (Highly Recommend)
The following example shows there are 3 characters in rar archive password. You remenber the first one is "a", other forgotten characters instead of "?".

Brute-force: This type of attack will try all possible characters combinations in specified Range. The password recovery engine is highly optimized, thus short password can be recovered immediately. Set the range and length. It is the default attack type in RAR Password Genius Professional.
Dictionary: Recover lost rar password by trying the password combinations in the built-in dictionary. You also can download another dictionary from Internet or create one by yourself. This method maybe the fastest way if your password is a keyword. Set the dictionary path or default.
Smart: This Attack is automatic and smart attack. It will try all possible characters combinations include all printable characters.
Tips: Brute-force/Mask/Dictionary Password Recovery Attack Settings
Step 4: Click "Start" button to recover RAR password.
Once you click Start button, rar password recovery program would begin to run until the following window pops up. That means rar archive password has been recovered successfully. You can "Copy" RAR file password and "Open" encrypted rar file directly now to see rar archive contents.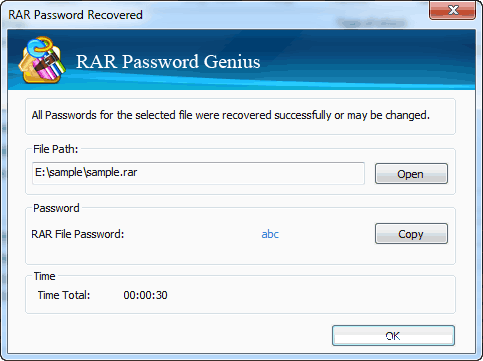 As you can see, the process of recovering rar password with RAR Password Genius Standard is so easy, just few seconds cost. Please don't hesitate and go ahead to download it.

But if you want to recover rar archive password faster, get RAR Password Genius Professional please.
Related Links: