Windows Local and Domain Admin Password Recovery on Raid Server
Lost Windows server 2016/2012/2008/2003/2000 local or domain administrator password on Dell/HP/IBM/Lenovo raid server? Don't need to worry about anything, because iSunshare Windows Password Genius Raid could help you. It supports RAID 1, RAID 0+1, RAID 2, RAID 3, RAID 4, RAID 5, RAID 5e, RAID 5ee, RAID 50, RAID 6, so no matter which kind your raid server is, it works effectively.
Now you just have to follow the article to use Windows Password Genius Raid to reset raid server local and domain admin password for Windows server 2000/2003/2008/2012.
Guide to recover lost local/domain administrator password for Windows 2016/2012/2008/2003/2000 raid server
Step 1: Download full version of iSunshare Windows Password Genius Raid and install it on an accessible computer.
Step 2: Create Windows raid server password reset boot disk with Windows Password Genius Raid.
Insert writable USB or CD/DVD into accessible computer and choose "USB device" or "CD/DVD".
Select burning device USB drive or CD/DVD from drop-down list, and click Begin burning.
The message Burning Successfully pops up. Raid server password reset boot disk is created completely.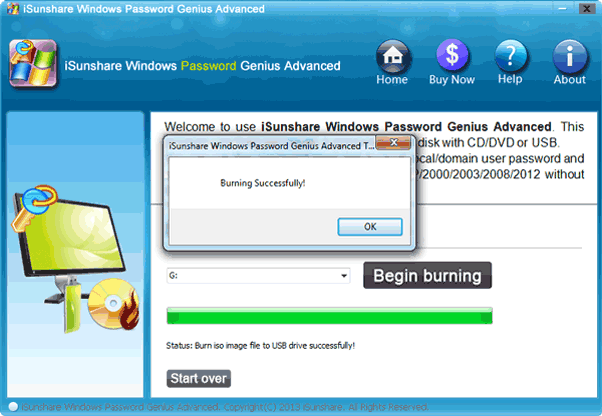 Step 3: Start locked raid server and boot it from USB or CD/DVD.
1. Insert Windows password reset boot disk into locked Windows server.
2. Start Windows server computer and enter BIOS settings.
Click "Del" to access BIOS setting interface for PC generally
Click "F2" to access BIOS setting interface for Tablet generally
3. Save BIOS setting changes and let raid server computer boot from reset disk. And Windows Password Genius Raid program runs in WinPE environment.
Or you can refer to following to boot raid server from USB/CD:
Step 4: Reset Windows local/domain administrator password on raid server.
As soon as Windows password program runs on raid server, make sure the Windows system and select a user account you want to reset its password. Then click Reset password, eject USB or CD/DVD and choose Reboot to restart raid server after recovering Windows raid server password successfully. On login interface, you can sign in Windows raid server with new password normally.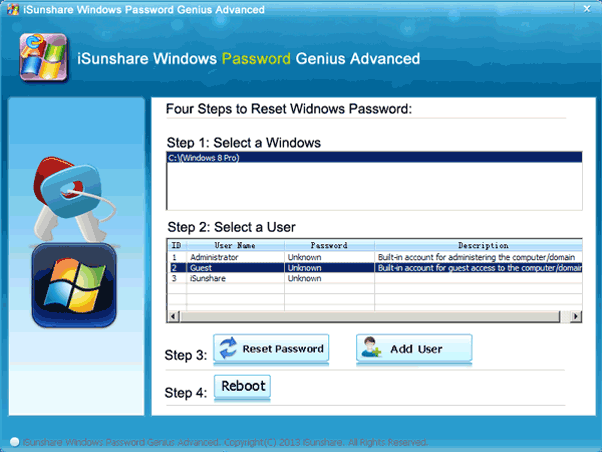 If you want to try more methods to reset your Windows server password, refer to following passages. But if you want to get an effective result for raid server, Windows Password Genius Raid is your better choice.
More ways for Windows server password reset introduced here: