Back up Android Data with Google Drive/Huawei Cloud+
In order to protect data on Huawei Android phone, now this passage introduces two ways integrated in Huawei phone to back up Android data before factory reset android phone.
Way 1: Back up Android data to Google server
It is an easy matter to sync your critical data to Google servers. Once you enable Google feature in Backup & reset, all data will automatically save on Google servers. And to get started all you need is a Google account, and after that you can select the data of your mobile to start the backup process on the Google Cloud.
Now let's take a look how this feature works on the Huawei Android phones (Huawei Honor 6+). Follow steps below to setup the Google Cloud backup on your Android account.
Step 1: Open Huawei Honor 6 plus, and enter Settings. Select Backup & reset under All tap.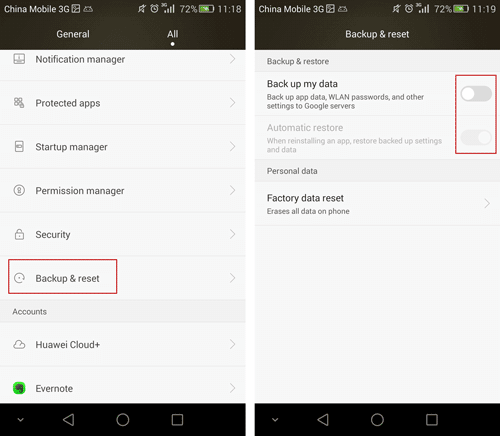 Step 2: Turn on Back up my data and Automatic restore in Backup & reset window.
Step 3: Go back to phone Settings > Account and tap on Google Account.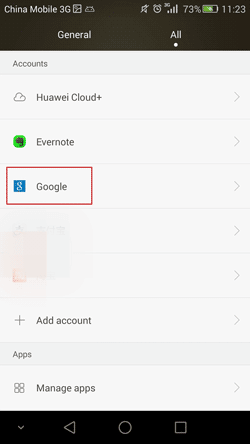 Step 4: Select the account you want to back up.
Step 5: Select all the Data which you want to back up on your Google Cloud account and after that hit Sync button to start the backup process.
That's all! You have successfully taken a backup of Android data on Google server.
Way 2: Back up Android data to Huawei Cloud+
Huawei Cloud+ can be your Android phone data storage center and powerful Android-based data backup and restoration software. It allows you to back up and restore third-party applications and data.
After logging in to Cloud+ with your Cloud+ account, you can conveniently upload and download files and share them with your friends by simply clicking one button. Now in this part, let's first learn how to upload data on Android phone to Huawei Cloud+.
Step 1: In Huawei Honor 6 plus, open Settings and choose Huawei Cloud+ under Accounts in All options.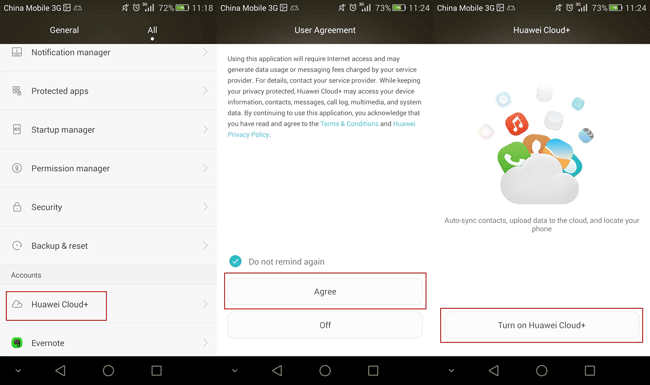 Step 2: Agree User Agreement when you can sure all of required conditions have been prepared. And if you don't want it to prompt you next time, you can check "Do not remind again".
Step 3: Turn on Huawei Cloud+. Then auto-sync contacts, upload data to the cloud, and locate your phone will be available.
Step 4: Only with Huawei ID, could you synchronize and back up personal data, and enjoy other cloud services. So now you can choose New to create a new Huawei ID if you have not, or choose Existing to login Cloud with your Huawei ID. Usually Huawei ID is your phone number.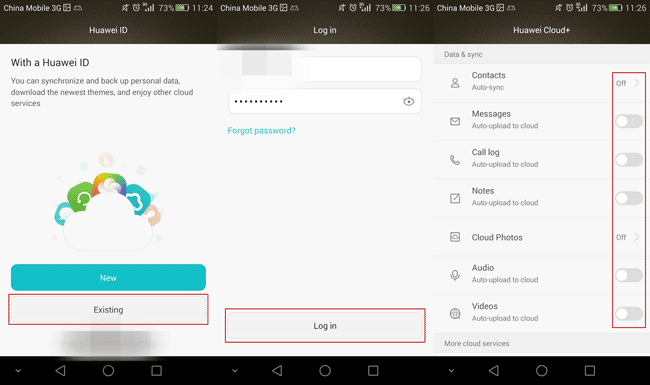 Step 5: In Huawei Cloud+, choose the data type that you want to sync to Cloud. Then all of these kinds of data would be backed up to Huawei Cloud+ when you operate on your Android phone.
Besides, you could go to Settings on Huawei Cloud+, to confirm how and how often to sync Android data.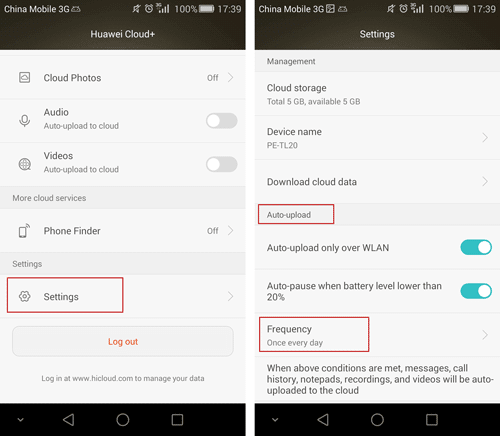 After wiping data and cache partition on Huawei phone, how can we restore backup data from Huawei Cloud+?
1. Open Huawei phone Settings > Accounts > Huawei Cloud+. Sign in Cloud+ with exiting Huawei account or create a new one with phone number for logon.
2. Believe you have login successfully with your Android phone number and access Huawei Cloud+. If you have backed up your Huawei phone, now you can see all the backup data for your phone. If Android data has not been backed up, you just need to turn on data type you want to back up.
3. Select data you want to restore, such as Contacts, Messages, Audio, Videos etc and confirm them.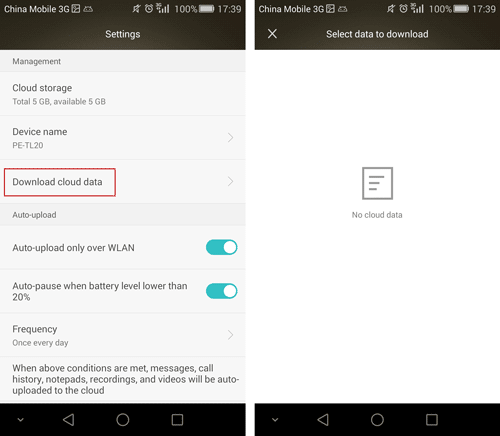 Related Articles: