What Can You Do with A Rooted Android
Have you already rooted your Android phone? If your answer is yes, you probably know some advantages of rooting phone, while if the answer is no, you must be eager to understand why others fervently want to root their android phones. Therefore, in order to help you learn more about what you can do with a rooted Android, this article lists 5 items in the following content.
5 things you can do with a rooted Android:
1. Delete the build-in applications.
Before an Android phone is rooted, it is not allowed to remove the system build-in applications which have been forcefully installed by phone manufacturer. However, after rooting your Android phone, you are able to delete any of them in it.
2. Add new advanced programs.
If your Android phone has enough memory, you can add as many new superior programs as you need in your phone. Moreover, you'd better not download and use trustless softwares.
3. Back up system software.
There are a bewildering variety of applications which can assist you to back up Android phone software. For example, with TitaniumBackup application, you can duplicate the system programs and settings of your Android phone.
4. Manage the apps that automatically boot after phone startup.
You can apply a program to stop any app which boot automatically from running. And for your information, Gemimi App Manager plays an active role in this aspect, so you can apply it to stop an unwanted app from running easily. Please make reference to the picture below.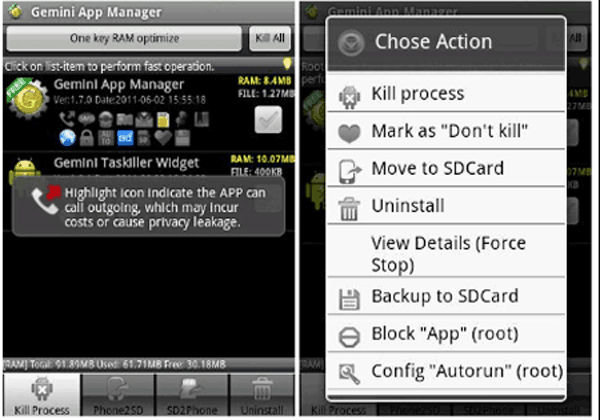 5. Control CPU setting.
You are capable of adjusting the CPU setting of your Android phone, including frequency, voltage and so on. For instance, with the SetCPU application, you can set the CPU frequency in MAIN interface and high temperature in PROFILES. Please refer to the following screen shot.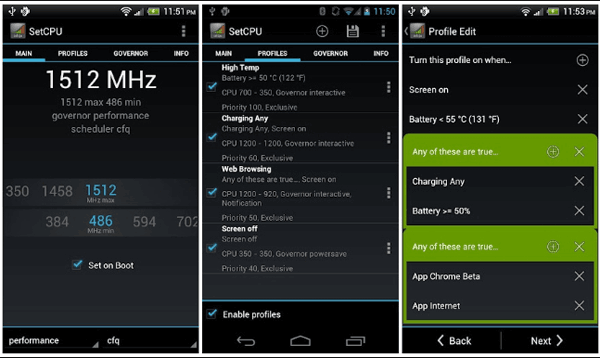 Apart from the above five things, you can also accomplish many other wonderful things with a rooted Android phone. Just get your Android phone rooted and find them out.
Related Articles: