How to Unlock Encrypted Excel Worksheet without Password
In case a password has been set to protect Excel Worksheet, you cannot open and edit data unless you have excel password. But if you forgot or lost password, how can you do? Follow steps below, you would know how to to by learning to unlock encrypted Excel Worksheet without password.
Step 1: Prepare "Excel Password Genius" or "Excel Password Remover".
The first one is used to recover Excel sheet forgotten password, and the second one is used to remove Excel password directly. So you choose to find password to open excel or don't need any password to open Worksheet again.
Step 2: Install it on your computer where your Excel sheet stored.
Step 3: Open Encrypted Excel Worksheet.
1. Run Excel Password Genius to import excel sheet.
2. Run Excel Password Remover to open excel sheet.
Step 4: Unlock Encrypted Excel Worksheet.
1. If you use Excel Password Genius, choose password attack type first. And then click Start to begin recover Excel password.
Tips: Brute-force/Mask/Dictionary Password Recovery Attack Type Settings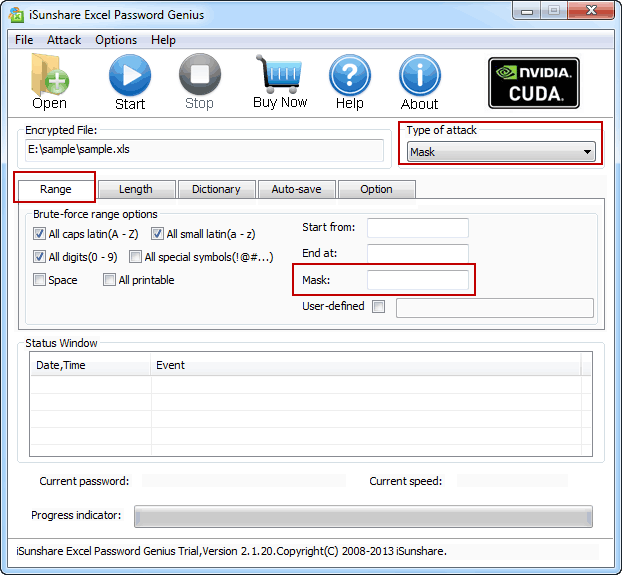 2. If you use Excel Password Remover, directly click Remove Password to remove excel password.
Step 5: Successfully Unlock Encrypted Excel Worksheet.
On Excel Password Recovered window, copy Excel password to open and unlock encrypted Excel worksheet. Or on Excel Password Remover window, open encrypted excel worksheet directly. In a word, excel worksheet has been unlocked successfully when you see following dialog.
Related Links: