Two Ways to Create a Windows Password Reset Disk
In most cases, complicated Windows password helps to keep our computer and data safe. But sometimes, complex password also makes us locked out of computer if Windows password forgot. Fortunately, Windows system provides a way for us to create a password reset disk free before computer lock. Then after locked out of computer, the owners could take password reset disk to effectively reset forgotten Windows password. The unfortunate thing is if you forgot to create such password reset disk on accessible computer, how can you do? Could you make a password reset disk with another way?
Surely, everyone could create a Windows password reset disk with two ways.
The password reset disk created with above two ways could help to reset Windows 10/8.1/8/7/Vista/XP and Windows server 2012/2008/2003/2000 password after forgot or lost.
Way 1: Create a Windows Password reset disk when computer is accessible
Note: The first way listed below to create password reset disk applies to Windows 7 only. If your computer is installed with other operational systems, the steps may be a little different, but still similar. In summary, you should find out option "Create a password reset disk" in Windows system, and choose the option to create a Windows password reset disk with writable removal device, such as USB flash drive.
1. Click on Start and then Control Panel in Windows.
2. Click on the User Accounts and Family Safety link.
3. Click on the User Accounts link.
4. In the task pane on the left, click the Create a password reset disk link.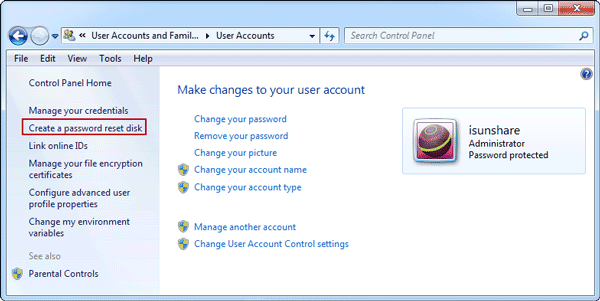 5. When the Forgotten Password Wizard window appears, click Next
6. In the I want to create a password key disk in the following drive: drop-down box, choose the portable media drive to create a Windows password reset disk on. Click Next to continue.
7. With the disk or other media still in the drive, enter your current account password in the text box and click Next.
8. Windows system will now create the password reset disk on your chosen media.
9. When the progress indicator shows 100% complete, click Next and then click Finish in the next window.
10. You can now remove the flash drive or floppy disk from your computer.
Label the disk or flash drive "Windows Password Reset" and store it in a safe place. When you need, just plug it into your locked computer and follow password reset wizard to reset Windows forgotten password. This is the only free way that you can create an effective password reset disk, so please treasure it. But in case you forgot to do this, you also don't have to worry about. Way 2 will tell you how to create one after locked out of computer.
Way 2: Create Windows password reset disk after computer is locked
After computer is locked, the first way would not work. Only effective third-party windows password recovery tool, could help users to create a password reset disk instead. So now we will take powerful iSunshare Windows Password Genius Advanced to burn such a Windows password reset disk, which applies to Windows 10/8.1/8/7/Vista/XP and Windows server 2012/2008/2003 password remove or reset.
1. Get and install Windows Password Genius Advanced on an accessible computer.
2. Create a USB or CD bootable password reset disk with Windows Password Genius.
Choose media type: USB device, CD/DVD on Windows Password Genius Advanced
Insert writable USB device or CD/DVD into available computer and select it.
Click Begin burning button next to selected removal device. Then agree to format removal device firstly and burn Windows password recovery program into writable removal device to get a password reset disk.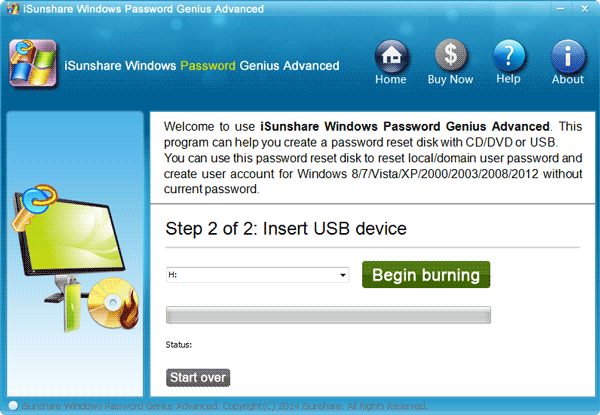 When message "Burning Successfully" pops up, it means a Windows password reset disk has been created with Windows Password Genius Advanced after locked out of computer.
From now on, you can take it to connect with locked computer no matter the computer is installed with which Windows OS. When locked computer successfully boots from it, you could select any user account to remove or reset forgotten password. In this regard, this password reset disk would be more popular than that created with way 1, because that only reset forgotten Windows password for computer where password reset disk is created.
Related Links: