Locked out of iOS 7/8/9/10/11 after Forgot iPhone Passcode
Reason: Because of iPhone passcode forgot, I'm locked out of iOS device.
But I want to access my iPhone successfully. Is there any way for me to unlock iOS without any bad affection on my iPhone?
Solutions:
Surely, there are always ways available to this problem. But if you want to access locked iPhone without any damage, the way you choose should depend on what you have prepared.
1. Try to Find Right iPhone Passcode to Unlock iOS
First, you can try your best hard to check which digital code or characters set is your iPhone passcode. According to one research from Apple, iOS users are accustomed to using simple digital code as passcode, such as 1234 etc. If you have impression on forgotten iPhone passcode, this will improve the rate to guess it out.
And you can try six times continuously at once to enter iPhone until it prompts you iPhone is disabled. About few minutes later, you can try this step again. iPhone is not like other devices, once you are locked out of it, you won't can do anything on it. So it is possible to find iPhone passcode without any tools.
2. Restore Locked iPhone from Backup directly
Sometimes, if you can unlock iTunes backup or iCloud backup, you can directly restore iPhone from latest backup you just created. See the following image. But unfortunately, sometimes iPhone asks you to type passcode first. This usually happens when you first connect the iOS device to computer after any changes on iPhone.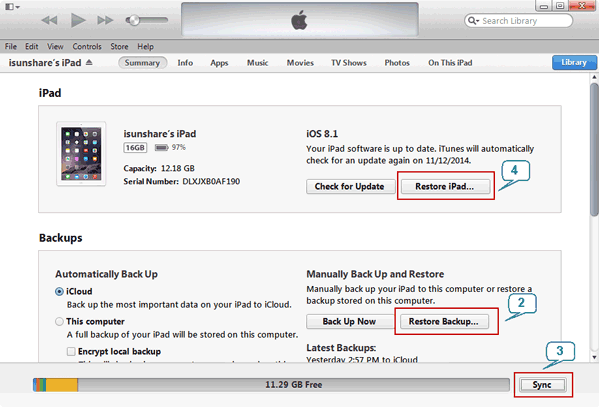 3. Sync iPhone with iTunes and Restore iPhone from Backup
If you have ever synced your iPhone to iTunes, now you can connect it to computer and sync again.
Step 1: Connect iPhone to computer you ever normally sync iPhone with.
Step 2: Open iPhone in iTunes.
If it asks you to enter passcode in iPhone, try another computer that you have synced with. Otherwise, try to use recovery mode.
Step 3: iTunes will automatically sync your iPhone and create a backup. If it doesn't, sync the device manually with iTunes.
Step 4: After the sync is finished, restore your device from backup just created. Then you can enter locked iPhone.
4. Factory Reset Locked iPhone and then Restore It from Backup
If iPhone asks passcode before restore, factory reset your iPhone is another effective way. (iPad as example)
Step 1: Connect your iPhone to computer with USB cable and open it in iTunes.
Step 2: In "Summary" option, click "Restore iPhone".
This will help your iPhone enter recovery mode. If it doesn't work and you don't know why it is, take iOSBoot Genius to enter iPhone recovery mode easily.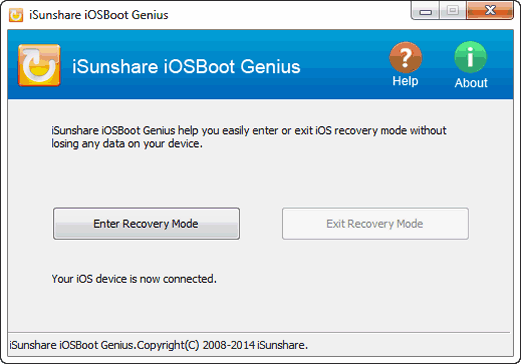 Step 3: Follow prompting message and tips to restore iPhone to factory settings.
Step 4: Choose to restore iPhone from a backup you have created after factory reset.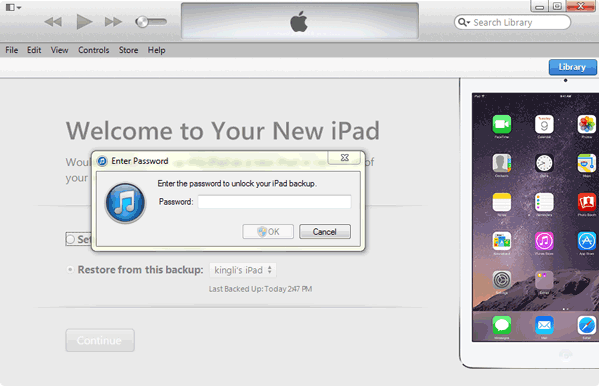 Once iPhone is restored to factory default settings, it will restart and a new window pops up in iTunes. There are two options for you to choose, "Set up as a new iPhone" or "Restore from this backup". Of course, we had better choose the second one. Then type backup password to unlock iTunes backup. At last, let iPhone run automatically and restore from backup.
As soon as restore completes, iPhone restarts again. Now you will see the contents in backup has been back on your iPhone. So this should be one of the best ways to unlock locked iPhone when you cannot find other methods.
Related Articles: