How to Upgrade iOS 7 to iOS 8 in iTunes
With the new features iOS software update brings, you can do more with your iPhone, iPad or iPod touch better. So if your device is iOS 7 now, upgrading it to iOS 8 or 8.1, it won't let you miss out the latest features that you want to try.
However, once upgrading iOS 7 to iOS 8, your device will be set as a new one if you have no backup to restore it. So before iOS software update, backup your device to iCloud or iTunes is necessary.
Now let's see how to upgrade iOS 7 to iOS 8 in iTunes in following introduction.
Steps to upgrade iOS 7 to iOS 8 in iTunes (Eg. iPad)
Step 1: Make sure you have installed the latest version of iTunes on your computer, such as iTunes 11. 4.
Step 2: Connect your device to computer installed with iTunes.
In general, iTunes is set up to run automatically, when it checks out there is iOS device connected to computer. Now it has run and your device appears in iTunes.
Step 3: Select your iOS device in iTunes.
At the top-right side of iTunes window, there is your device name. Click it to open it in iTunes.
Step 4: In the Summary screen, click Update or Check for Update.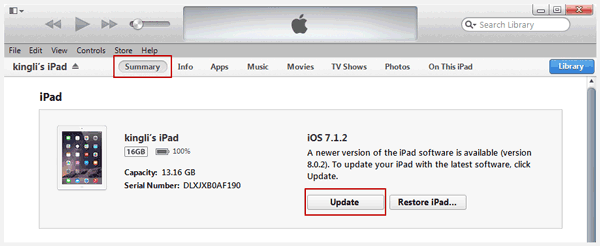 Step 5: Confirm Update iOS in the pop-up dialog.

Step 6: Enter passcode in your device if it is locked with passcode. Click Continue button.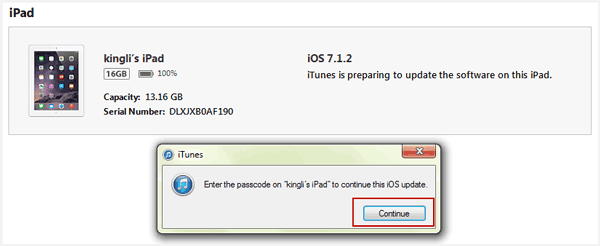 Step 7: iTunes will download software updates for your device.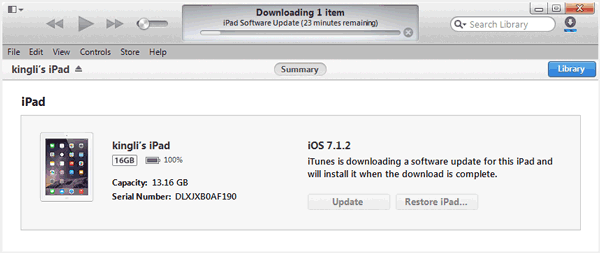 Step 8: Update software on your device after download.

Now if all of above work successfully, you can see your device has been upgraded to latest iOS version iOS 8.1. Also, your device's name may be changed based on your Windows administrator.

However, if you are experiencing problems in the process of upgrading iOS, you can restore its original settings by clicking Restore iPad(example).
Refer to article about resolving iOS update errors in iTunes: http://support.apple.com/en-us/HT201210
This is a general and easy method to upgrade iOS, which is available for all of iOS users, including who want to unprading iOS 10 to latest iOS 11. If you want to know more about another available method, you can find it in Apple Support.
Related Articles: