How to Adjust Auto-Lock Time on iPhone/iPad
The Auto-Lock feature enables iPhone/iPad to automatically lock its screen and turn off its display after it is left idle for a certain period of time which is 1 minute in general. Additionally, you are able to lengthen the idle time through changing Auto-Lock time in your device. For concrete operation, please keep on reading.
Steps to adjust Auto-Lock time on iPhone/iPad:
Step 1: Enter Settings and open General.

Step 2: Find and click Auto-Lock to continue.

Step 3: Choose a time from 1 Minute, 2 Minutes, 3 Minutes, 4 Minutes and 5 Minutes.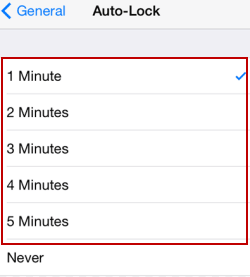 Related Articles: