Office 2013 Product Key Finder
Following scenes maybe are acquainted by someone who use Office 2013.
Scene one:
Forgot Office 2013 product key and couldn't activate Office 2013 after reinstalling operational system.
Scene two:
Lost Office 2013 product key when want to reinstall all software on a new computer.
Scene three:
Office 2013 was uninstalled carelessly by someone, but unfortunately Office product key is not saved safely, so user couldn't activate it to use again after installing Office 2013.
People who encounter these problems probably would take different measures. Some may choose to purchase copyrighted Office 2013 again, or directly download cracked Microsoft Office 2013 from Internet. Of course, there are still some people who would like to find Office 2013 product key with product key finder, and then reinstall and Office 2013 with product key.
Now, please see how this software, iSunshare Product Key Finder works for Office 2013 product key finder.
Step 1: Download iSunshare Product Key Finder on your computer and install it.
There is a free trial one for try, which finds product key code less than 5 characters. Also full version of iSunshare Product Key Finder could show complete product key for your software installed on computer.
Step 2: Press "Start Recovery" button, then programs automatically finds product keys for currently installed Microsoft Office.
If Office 2013 has ever been installed on your computer or Office 2013 register message in registry file has not been deleted, you will see Office 2013 product key shown in below picture.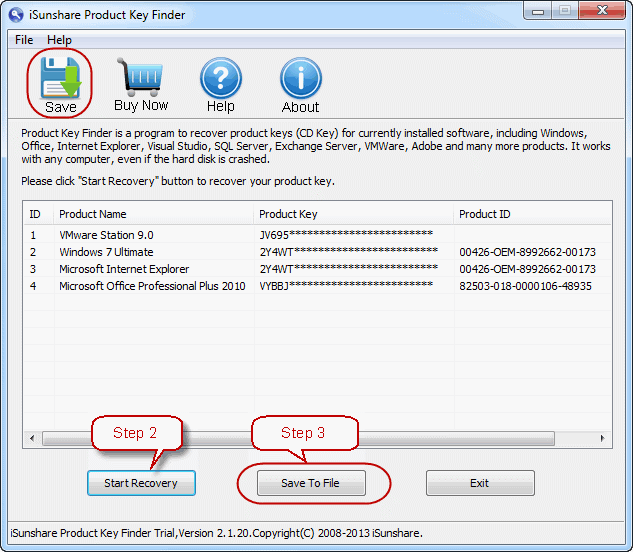 Besides, if your computer has installed Internet Explorer, Visual Studio, SQL Server, Exchange Server, VM Ware, Adobe etc, product key finder also find out their product keys code. Save all of them in safe place. This way could solve your problem when you lost, forgot software product key or uninstalled these programs accidently.
Step 3: Click "Save to File" or "Save" button in the menu, all the product keys including Office 2013 product key can be saved in a notepad.
Related Articles: