Office 2013 Product Key Finder
For Office 2013 users, they may be familiar with the following scenes:
Scene one:
I forgot Office 2013 product key and couldn't activate Office 2013 after reinstalling operational system. Is it possible for me to find it back?
Scene two:
I lost Office 2013 product key and I need it now as I want to reinstall my Windows system. But I am afraid that I would not be able to install Office 2013 again as I lost the product key.
Scene three:
Office 2013 was uninstalled carelessly by someone, but unfortunately Office product key is not saved safely, so I couldn't activate it to use again after installing Office 2013.
What would you do if you encounter these problems? Go to purchase the Office 2013 product key again or use the cracked Microsoft Office 2013? Or search on the internet to find the useful ways to recover your Office 2013 product key? I think most people will make an effort to find Office 2013 product key at first. Now with the advanced technology, you can find Office 2013 product key easily with professional product key finder.
iSunshare Product Key Finder is one of the best product key finder software that can help users to recover Office 2013 product key in one simple click. It can apply on any computer even if the computer is with crashed computer. It is extremely easy to use so that you can retrieve the related product keys in minutes. Now, let's explore how iSunshare Product Key Finder works for finding Office 2013 product key.
Step 1: Download iSunshare Product Key Finder on your computer and install it.
There is a free trial version for you, which can help users find product key code less than 5 characters. And the full version of iSunshare Product Key Finder could show complete product key for your software installed on computer. Highly recommend you use the full version.After installing the software on your computer, you can run it as soon as possible to get the Office 2013 product key recovered.
Step 2: Press "Start Recovery" button, then programs automatically finds product keys for currently installed Microsoft Office.
If Office 2013 has ever been installed on your computer or Office 2013 register message in registry file has not been deleted, you will see Office 2013 product key shown in below picture.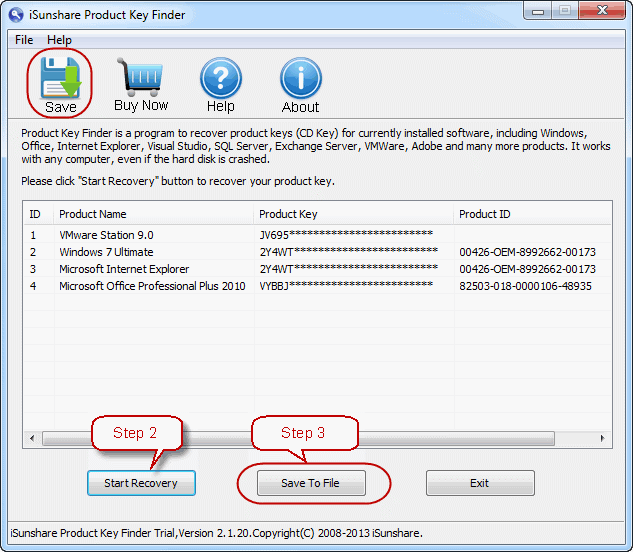 Besides, if your computer has installed Internet Explorer, Visual Studio, SQL Server, Exchange Server, VM Ware, Adobe etc, Product Key Finder can also find out their product keys code. Save all of them in safe place. In this way, you can solve above 3 scenes problems and find back the lost and forgot software product keys.
Step 3: Click "Save to File" or "Save" button in the menu, all the product keys including Office 2013 product key can be saved in a notepad.
Tips: You have another option to find Office 2013 product key –contact Microsoft directly and ask for online help. If you want to ask for a replacement key, you have to prove that you did buy MS Office 2013 before. With enough preparation and the most luck, you may get the activation key from the customer service.
Related Articles: