How to Get a Serial Number for Photoshop CS5/CS6
I need a serial number for Adobe Photoshop CS6? It has been installed on my computer, but I lost its product key. So how can I now get a serial number for Photoshop CS6?
According to the experience, installed software product keys are saved in registry file in Windows system. Then whether we can get Photoshop serial number from registry file?
The answer is sure undoutedly. And iSunshare Product Key Finder could easily help to find Photoshop CS5/CS6 product key in registry file, just with one click.
1. Install and run iSunshare Product Key Finder full version on computer.
iSunshare Product Key Finder full version could find complete product key for Photoshop CS, while free trial version only shows part of Photoshop CS6 serial number. And please remember to install it on computer where Photoshop has been installed, otherwise PS serial number would not be found.
2. Click "Start Recovery" button to get Photoshop CS6 serial number.
After Product Key Finder runs, we just need to click Start Recovery button on software screen. And then product keys of Photoshop, Windows, Office and other installed software would be found and listed on Product Key Finder.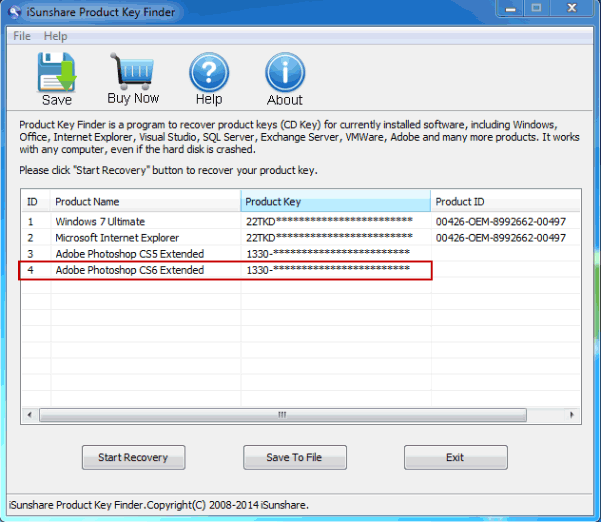 It means that Photoshop CS6 serial number has been gotten from computer registry file. Click Save button or Save to File button to store product keys on computer.
This is an effective way to find Photoshop product key with a tool. When you couldn't find other ways to get Photoshop or other software serial number, it would be your best choice.
Related Links: