How to Reset HP Password on Windows Server 2012 with or without Reset Disk
To keep server computer and important data safe, administrator account and password is usually created for computer access. Undoubtedly, this effectively prevents unwilling access without permission. But sometimes it also stops the owners from logging into their server computer if forgot administrator password. If you have password reset disk, it would be easy to reset the forgotten administrator password instantly. However, if there is no reset disk, how can we do?
Now follow the article about HP server 2012 password reset with or without disk, and you would learn the ways that can reset Windows server 2012 password on another Dell/IBM/LENOVO etc server computer no matter there is password reset disk or not.
Part 1: Reset HP Windows Server 2012 admin password with reset disk
HP server 2012 forgotten password reset will become easy if you have a password reset disk created for password-forgotten administrator. On locked HP server 2012 computer login screen, just need to do something like these.
Step 1: Once you enter wrong administrator password to login HP server, and are prompted with "password is incorrect". Click the link "Reset password" under password input box.
Step 2: While Password Reset Wizard dialog is open on locked login scree, click Next button.
Step 3: Plug password reset disk into HP server, usually which is saved in a bootable USB flash drive.
Step 4: Click Next button on Password Reset Wizard and choose inserted password reset disk.
Step 5: Follow the wizard and reset new password for HP server administrator. Click Finish button to successfully reset HP server 2012 password.
The whole process is the same to Windows 7 admin password reset with disk.
Part 2: Reset HP Server 2012 Password without Reset Disk
Even though you don't have Windows 2012 password reset disk, don't need to worry. After locked out of HP server 2012 computer, you still have a chance to create one with password recovery tool on another computer. So the password recovery tool will be the best way when you need to reset HP server 2012 password and no disk.
Step 1: Prepare HP Windows server 2012 password reset disk.
Get Windows Password Genius Advanced or Raid and install it on another accessible computer.

Insert a writable USB or CD/DVD drive into this computer and run Windows Password Genius.
Choose the media type you want to burn password reset disk into, such as USB device. Then select the inserted USB flash drive and click Begin burning button.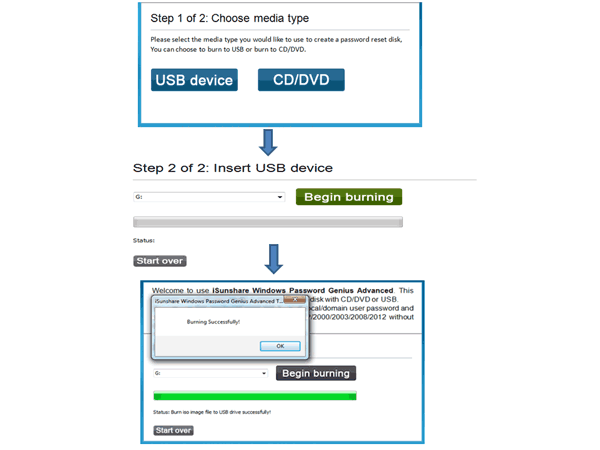 Step 2: Boot HP server 2012 from USB disk.
Start locked HP server and when HP server powers on, press F2 or Del to enter BIOS settings.
Choose Boot option and move USB or CD/DVD to the first place of boot priority by pressing "+" or "-". Save the boot changes and exit. Or press HP hot key (F12) to boot HP server from USB device.
Tip: How to set computer boot from USB
Step 3: Reset Windows 2012 password on locked HP server.
1. Confirm operational system "Windows Server 2012" and administrator you plan to reset password.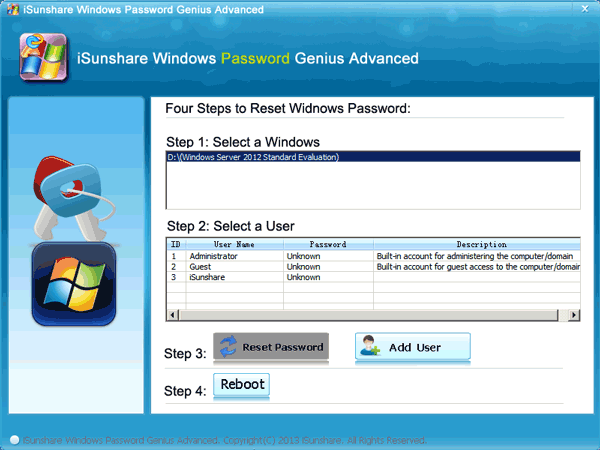 2. Click Reset Password button and tap on "Yes" to make sure HP server 2012 password reset as default "iSunshare@2012".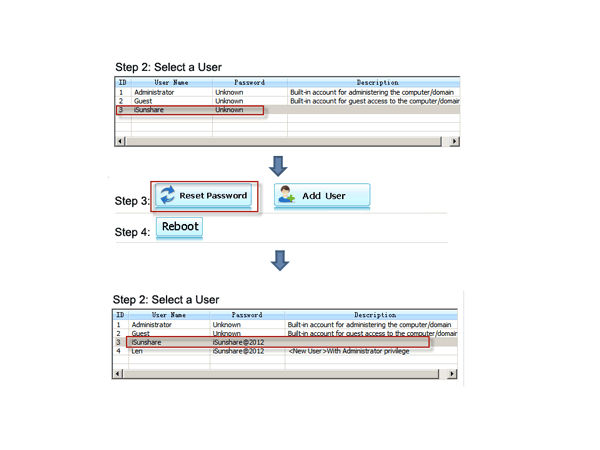 Optional choice: Add New Administrator for Windows Server to Reset HP Password
Besides directly resetting forgotten HP server admin password, also you can create new administrator for HP server. And then you could change forgotten administrator password with other methods, such as in Control Panel or Computer Management. Or you can create a password reset disk in Control Panel to reset forgotten administrator password after you access HP server with new-created administrator.
Click Add User button, type new administrator account name and click OK to create new account.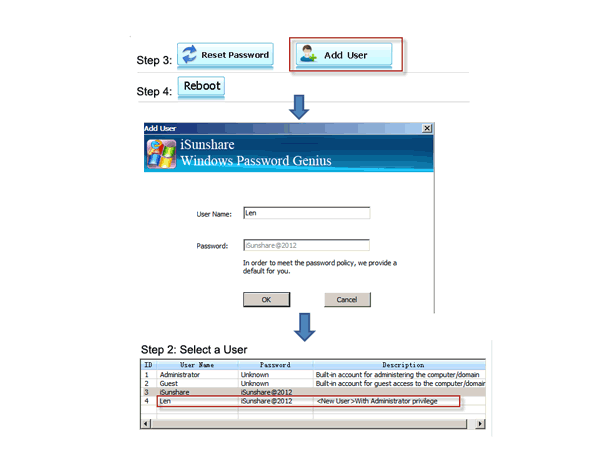 Step 4: Login HP Windows Server 2012 with new administrator password.
1. Click Reboot and disconnect password reset disk before you see HP computer logo. Then HP server would start from hard drive but not password reset disk.
2. On HP server login screen, select the administrator you have reset password or you just created with reset disk. Then sign in locked HP Windows server 2012 with password "iSunshare@2012".
In summary, password reset disk is a direct way that can reset forgotten Windows 2012 password for server computer, no matter the disk is burned before or after server administrator password forgot.
Related Articles: