Excel Workbook Password Remover after Excel Password Lost
Forgot or lost Excel Workbook password and entire Excel workbook locked for reading/editing? So how can you remove restrictions on Excel workbook if you really want to open and edit it?
Congratulations! Following article would tell you how to remove Excel Workbook password with two ways, so that you can remove read/edit restrictions from workbook.
1. Remove Lost Excel Workbook Password with Excel Password Remover
If you just want to remove lost Excel Workbook open password directly, iSunshare Excel Password Remover is a good choice for XLS file format.
Step 1: Install "iSunshare Excel Password Remover" full version on computer.
Trial version of Excel Password Remover is just used to view locked excel workbook, but not remove excel password. So only full version could help to you to successfully remove excel workbook lost or forgotten open password.
Step 2: Add excel workbook into this tool with "Open" button.
Click Open button or "Add file icon" to browse excel workbook in computer, and then click open to add it to excel password removal tool.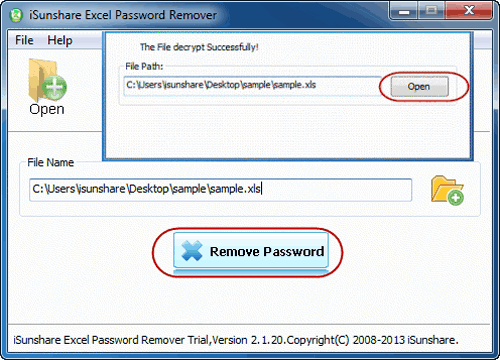 Step 3: Remove excel workbook open password by clicking "Remove Password" button.
From then on, you could open your excel workbook without password, and if there is modify password set on it, you can easily clear or remove it after you open workbook. Then you could edit excel workbook.
More details about removing modify password, you can refer to article about forgot excel workbook password.
2. Remove Excel Workbook Password Manually after Lost
When excel files is not XLS format, Excel Password Remover will not work for Excel Workbook password remover. Now we will need Excel Password Genius to recover lost excel workbook open password firstly, and then remove excel open password manually after opening workbook with recovered password.
Step 1: Install and run Excel Password Genius on your computer.
Step 2: Import Excel workbook file into password recovery tool.
Click "Open" button and browse the workbook file in your computer. Then select to open it in the "Encrypted File" box of iSunshare excel password recovery tool.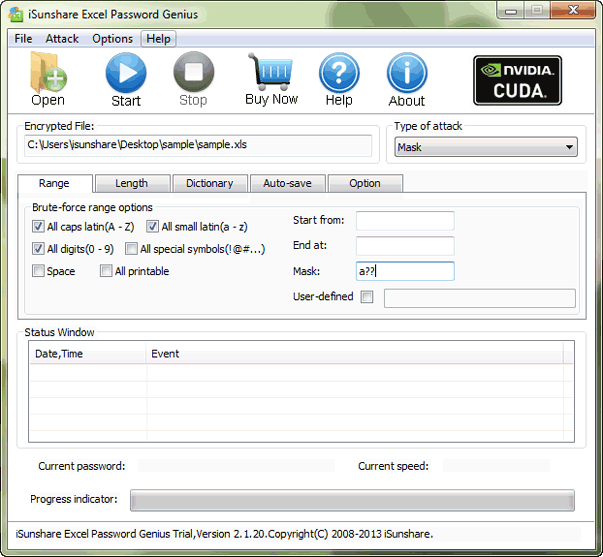 Step 3: Set Excel workbook password recovery method and make parameter settings.
Under Type of attack, four password recovery methods are available for you to choose, Brute-force, Mask, Dictionary and Smart. Then make appropriate settings for attack type you choose.
Step 4: Recover Excel workbook password with Start button clicked.
Few minutes even seconds later, excel workbook open password would be found and appears on a new window.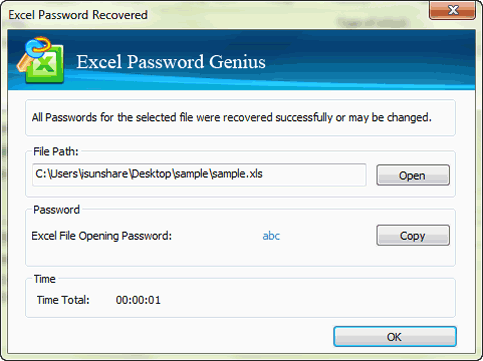 Step 5: Copy password to open locked Excel Workbook.
Just click "Copy" button to copy recovered workbook open password, and tap on "Open" button to open locked excel workbook with copied password.
Step 6: Turn to File > Info > Protect Workbook > Encrypt with Password to remove Excel password.
For example, in Excel 2010, clear password in box which is used to encrypt the excel document. Click OK. Now it has been decrypted.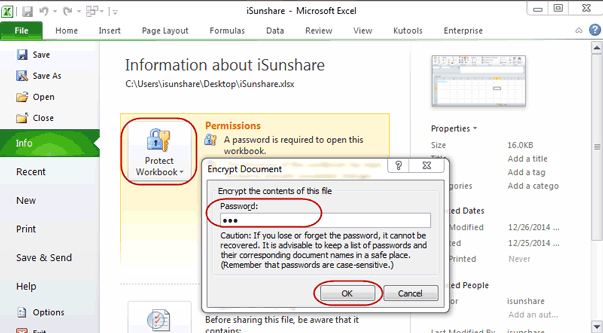 Note:
As you know, the above process of excel workbook password remover mainly focuses on common open and modify password. However, in order to protect workbook better, sometimes not only excel file open and modify password, but also sheet and workbook protected password are set, which will be asked when you try to edit sheet or workbook structure or window etc. So if you want to edit such protected excel workbook, you have to find ways to get them or remove them with iSunshare Workbook Unprotect Genius.
Related Articles: