How to Delete or Remove Macros from Word 2007 and 2010 Document
How do I delete macros from template in Microsoft Word 2010? How could I remove macros from Word 2007 document?
Actually, these two questions are the same topic, delete or remove macros from word document. If you also have any doubts about it, please go on to follow the article.
Part 1: How to delete a Macro in MS Word 2010
The most direct and easiest way to delete macros in Word 2010 documents is to delete available macros with Macros ribbon.
Step 1: Click on View in Word 2010 menu bar. And click View Macros from drop down menu of Macros.

Step 2: The Macros dialogue box appears.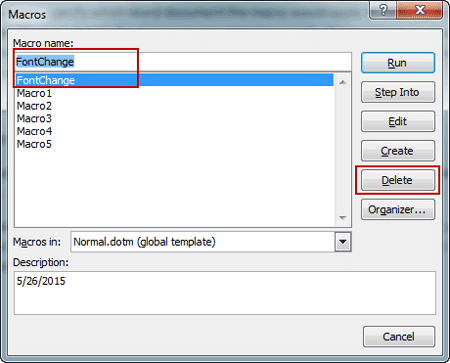 Step 3: Click Macros you want to get rid of.
Step 4: Click Delete button in the right side of Macros dialogue.
Selected macros would be removed from Word 2010 after Delete button clicked, and they will not be available to new Word 2010 documents. So how is removing macros from Word 2007 document? What we know is that, it would not be easy like Word 2010 if you plan to use Macros ribbon to delete macros.
Part 2: How to remove macros from Word 2007 document
Before removing the macros from Word 2007, users of Word 2007 need to enable Developer tab in ribbon. Now please follow steps below to enable developer tab in ribbon and remove Word 2007 document macros.
Step 1: Click Office button on the top-left of Word window. At the bottom of the menu, click the Word Options button to open a configuration window.
Step 2: Click the Popular tab and then select Show Developer tab in the Ribbon in Top options for working with Word Section.
Step 3: Click OK button.
Step 4: Click Developer tab, and click Macros in the Code group.
Step 5: All the macros of current document are listed in Macros window. Select the macros you want to remove and click Delete button.
If you think the above are not available for you, or if you are looking for a way that can remove macros from Word 2007/2010/2013 document at the same time, the next part is worth to follow.
Part 3: Remove all macros from Word 2010/2007 document with Kutools for Word
If you have install Kutools for Word, there would be only one click needed to remove all macros from Word documents in Word 2013/2010/2007. All you have to do is to have Kutools for Word installed in your computer.
1. Open Microsoft Word, and click Kutools > Clear – Remove All > Remove All Macros.
2. After clicking Remove All Macros, Kutools will report the macros information of current document to you, and confirm your operation.
Related Articles:
How to Create Macros in MS Word 2010 and Run in New Document How to Enable, Create and Delete Macros in MS Excel 2010/2007