How to Remove Protection from Excel File/Sheet/Workbook without Password
As is known, our excel file can be protected with different kinds of passwords, such as open password, modify password (read-only password), workbook protection password, sheet protection password, shared workbook protection password and VBA protection password etc.
On one hand, all of them help to keep our excel files safe, because everyone who wants to open and edit the file needs to input relevant password. On the other hand, it's so hard to keep so many passwords in mind all the time that even the owners who forgot excel password won't do anything on the password protected excel file.
Therefore, this article will show several common ways that we can use to Remove Protection from Excel File/Sheet/Workbook without password. In purpose of quickly finding out related methods to your problems, it will be discussed in three parts.

Part 1: Remove forgotten open password from Excel file by software
Excel file has two types, *.xls and *.xlsx. In order to remove forgotten open password from excel file effectively, let's discuss it separately in two cases based on the excel file format.
Case 1: Remove Excel file (.xls) forgotten open password in a few minutes
If it is excel xls file you want to remove open password, it would be easy to do with help of iSunshare Excel Password Remover, which could directly remove open password from xls file with one click on "Remove Password" button.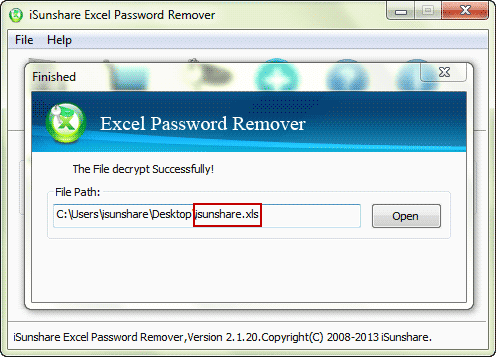 Case 2: Remove forgotten open password from Excel XLSX file
If the excel file format is .xlsx, I suggest you get iSunshare Excel Password Genius and use it to recover the lost password, and then you can open the excel file with the recovered password.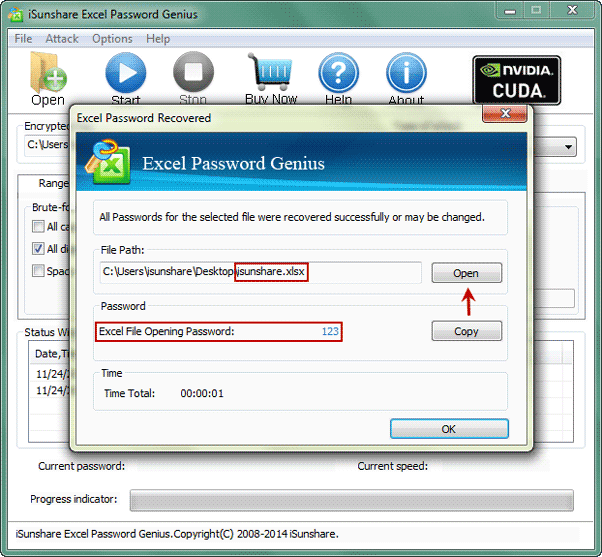 Tips: While Excel file is also protected with read-only password, how to do?
Click "Read Only" button in following pop-up dialog when you are trying to open excel file, in order to open it in read-only mode temporarily and remove open and modify password from xlsx file then in "Save as" dialog.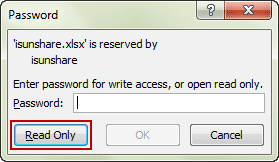 1. Click OK on pop-up dialog while you try to save excel file after removing open password.

2. In Save as dialog, type a new name in "File name" field and click "Save" button to successfully remove excel open password.

Part 2: Remove password protected from excel Sheet/Workbook by software
Tips: If you want to remove password protection without software, please see Unprotect Excel sheet/spreadsheet/worksheet free with VBA code.
Are you still confused with protected sheet and workbook after removing open and modify password? Don't be anxious and take iSunshare Workbook Unprotect Genius in hand. Then not only protection password on sheet and workbook structure/windows, but also read-only password can be removed at the same time. You will be able to insert, delete, rename, move, copy, hide or unhide worksheets, and change windows size or position in Excel file.
Step 1: Get iSunshare Workbook Unprotect Genius full version.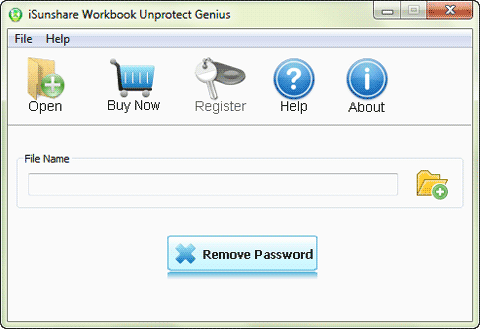 Step 2: Run it and import password protected excel file.
Before importing excel file into Workbook Unprotect Genius, something is necessary to be paid attention.
Case 1: If it is XLS file you have removed open password with Excel Password Remover, it should be converted to *.xlsx file firstly, because only *.xlsx file is available by default. And then you can successfully import excel file into Workbook Unprotect Genius.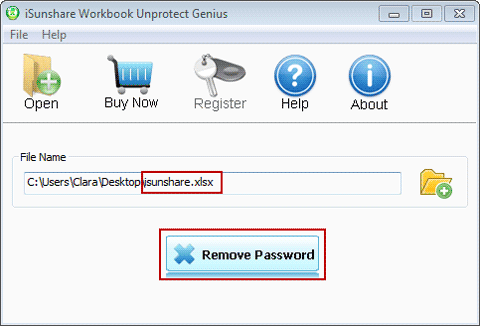 Case 2: If it is XLSX file you have recovered open password with Excel Password Genius, you have to remove open password and modify password at first in MS Excel. Then add the copy of excel xlsx file to Workbook Unprotect Genius.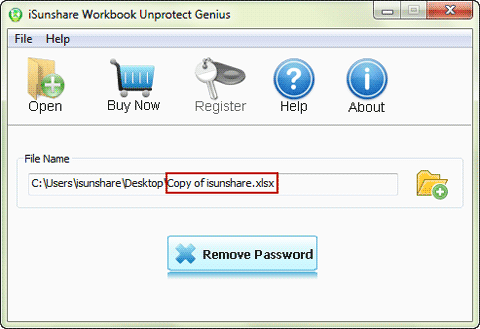 Step 3: Click "Remove Password" button to remove workbook/sheet protection password.
In case 1, you would see Sheet protection password, Read only password and Workbook protection password would be removed after you tap on "Remove Password" button.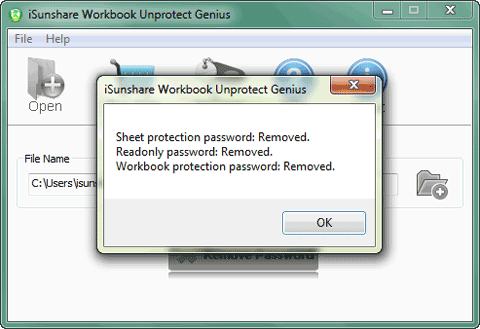 In case 2, you would see only Sheet protected password and Workbook protected password are removed, because read-only password has been removed while you clear excel file open password in MS Excel.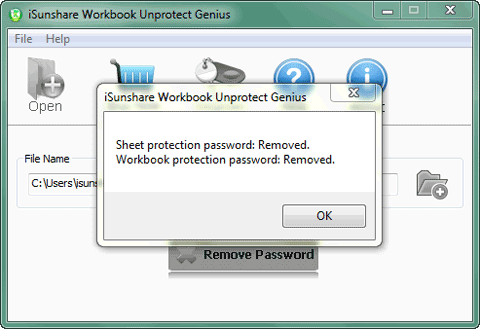 Note: Above introductions have could help you to remove forgotten password from excel files. But if you find your excel file has another protection password, I think you would need to find other ways.
Related Articles: