11 New Features of iPhone 7 and iPhone 7 Plus
Apple announced that iPhone 7 (see Pic. 1) and iPhone 7 Plus (see Pic. 2) will be on sale on September 16. To help you learn more about them, the article lists their eleven new characteristics as below.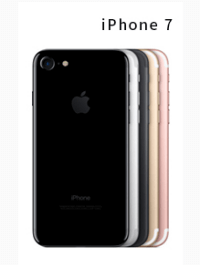 Pic. 1 iPhone 7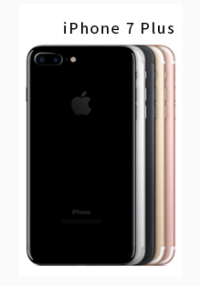 Pic. 2 iPhone 7 Plus
11 new features of iPhone 7 and iPhone 7 Plus:
1. Color
Gold, silver, rose gold, matte black and glossy jet black.
2. Size and display
iPhone 7 is with 4.7-inch screen, and iPhone 7 Plus is with 5.5-inch screen. Both of them equip HD Retina display, which features a wide color gamut for better color performance. What's more, they support the 3D Touch function.
3. Water-resistance and dust-resistance
These devices meet the IP67 standards.
4. No headphone jack
The 3.5mm headphone jack is replaced by Lightning connector, and an adaptor and EarPods are provided. BTW, a new wireless headphone named AirPods is introduced. It uses Apple's W1 chip, has 5-hour battery life and performs gesture-based Siri activation. Besides, its microphone is with voice isolation capability.
5. Stereo sound
Two speakers are respectively added to the top and the bottom of the phone, which makes the sound stereoscopic.
6. Significant camera improvement
iPhone 7 has a 7-megapixel front camera and a 12-megapixel rear camera with optical image stabilization, a 6-element lens, a larger f/1.8 aperture and wide color capture. Except for the same camera improvements, iPhone 7 Plus has dual-camera system (i.e. two 12-megapixel rear cameras) with a wide-angle lens and a telephoto lens. Moreover, both of them possess a 4-LED True Tone flash.
7. Pressure-sensitive home button
The home button is solid-state and pressure-sensitive. It offers customizable tactile feedback.
8. Faster processor
A10 Fusion chip, which is 64-bit and quad-core processor, enables these devices to run faster, improves graphics performance (especially of gaming) and preserves more battery life.
9. Longer battery life
Owing to the processor improvement, the batteries in iPhone 7 and iPhone 7 Plus last longer than those in the previous models.
10. Higher storage capacity
32GB, 128GB and 256GB. FYI, glossy jet black is available in 128GB and 256GB models.
11. iOS 10
The devices are compatible with iOS 10.
Related Articles: