Forgot iTunes Backup Password to Unlock iPhone Backup
When I am getting ready to restore iPhone from backup on computer, a dialog pops up suddenly and asks a password to unlock iPhone backup. Now I only know that I have forgotten iTunes backup password. So I guess and try several possible passwords, Apple ID password, default password, iPhone unlock code, and Windows administrator password, but they don't work. How can I unlock iTunes backup for iPhone on Windows computer after iTunes backup password forgot?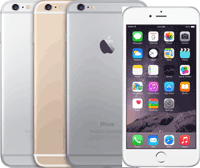 If we have known the way to backup iDevice data, we should make sure iCloud and iTunes are two general ways to backup data on iDevice. Therefore, if your ultimate purpose is to restore iPhone from backup file. To achieve this goal, there are two methods available at least, including unlocking iPhone backup.
Method 1: Restore iPhone from iCloud Backup
If you have the Apple ID and password, login into iCloud with it in iPhone, and you could restore iPhone from iCloud backup. (Tips: Now we take iPad as example.)
When iOS device is open now, following steps to restore iOS device from iCloud backup.
When iOS device is closed now:
1. Turn on your device. You would see a Hello screen.
2. Follow the steps in the iOS Setup Assistant until you get to the Set Up screen.
3. Select Restore from iCloud Backup and then sign into iCloud.
4. Select a backup.
You can go through the iOS Setup Assistant again by erasing all the content on the device. Just tap SettingsGeneralReset Erase All Content and Settings. This will remove all content from your device, so do this only if you already have a backup. The iOS Setup Assistant is the only way to restore a backup.
Method 2: Unlock iPhone Backup with iTunes Backup Password Recovery Software
In order to unlock locked iPhone backup, backup password is needed to be found first. However, which backup password recovery software can do this? If you have no idea, get iSunshare iTunes Password Genius for Windows or Mac, which could help you to unlock iPhone backup with 100% guarantee on Windows and Mac computer in few seconds, then you can restore iPhone from this backup in iTunes.
Here we will introduce how to unlock iPhone backup on Windows with iTunes Password Genius. About unlocking iPhone backup on Mac, please get iTunes Password Genius for Mac and go for its user guide.
Step 1: Install and run iTunes Password Genius on Windows computer.
If iPhone backup password is less than 3 characters, trial version is OK. If not, get full version and you can effectively recover iTunes backup password no matter how long and complex it is.
Step 2: Open locked iPhone backup file in iTunes Password Genius.
Click Open button and iTunes Password Genius would automatically help find iTunes backup file on computer. Choose iPhone backup file in the list and click OK button. And then it would be added to iTunes backup password recovery software. Besides, Add File button can help to import locked iPhone backup into recovery software.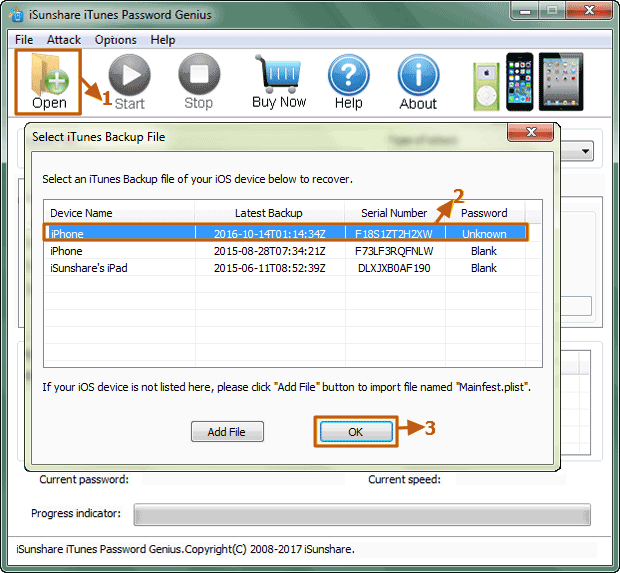 Step 3: Set iPhone backup password attack type.
Select one attack type from "Type of attack" drop-down box, Brute-force, Mask, Dictionary and Smart. And then set the password length, password range. Appropriate settings would save your time on locked iPhone backup password recovery.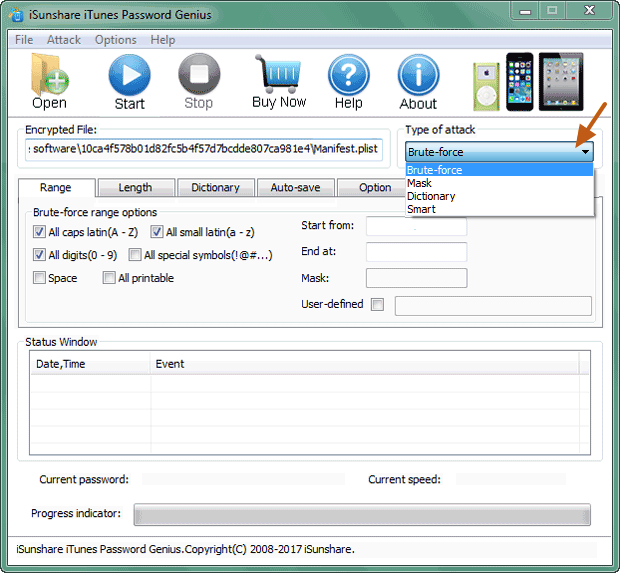 Step 4: Recover iPhone locked backup password and unlock iPhone backup.
Once you click Start button, the software would run and find iPhone backup password with password attack type you select. About few seconds or minutes later, iPhone backup password would be found and appear in new window.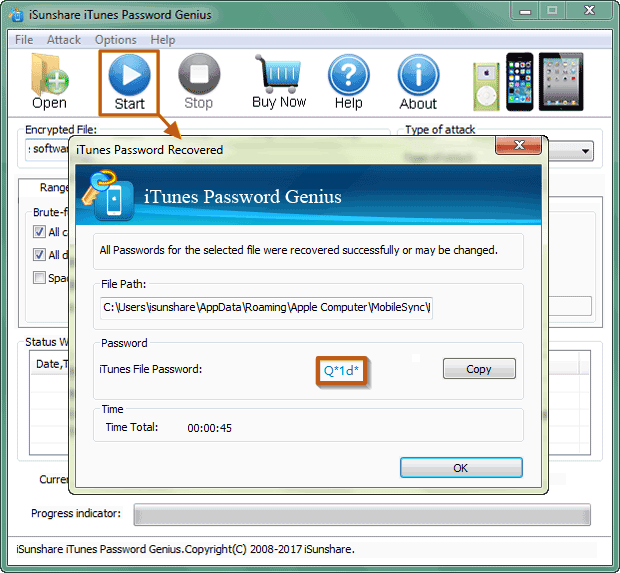 Copy the password and you could unlock iPhone backup file on computer. Now please go for restoring iDevice data from iPhone backup in iTunes.
Related Links: