How to Boot Mac in Recovery Mode in Two Cases
What Recovery Mode provides and what you can do on Mac?
1. Disk Utility: Scan, verify and repair or erase internal or connected external disk
2. Reinstall macOS: Erase, install or reinstall factory-preloaded OS X version
3. Restore your Mac from a previously-created Time Machine backup
4. Get Help Online: Check Internet connection and get help from Apple Support website using Safari.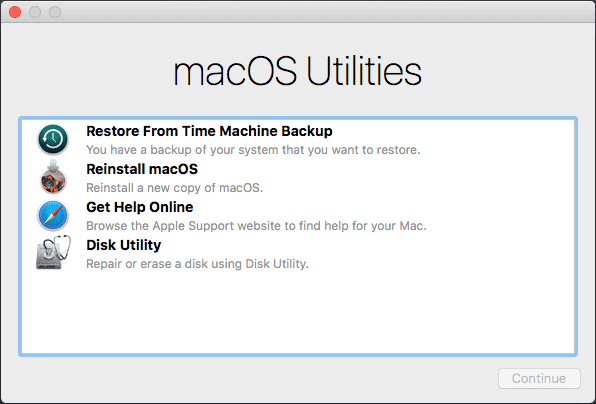 Let's see the two kinds of recovery modes you can start up Mac from.
Case 1: Start Mac in Standard Recovery Mode
Standard recovery mode will load the recovery partition of system on Mac. And there will list four options for you to repair hard drive or certain software issues.
1. Start or restart Mac. Press and hold on Command + R keys while you hear startup chime.
2. Release the keys while you see Apple logo.
3. Wait for Mac startup in recovery mode.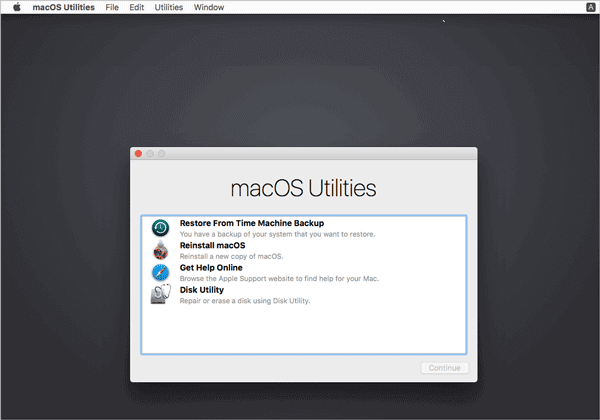 Tips:
1. If you see a login window or your own desktop, it means you have not successfully boot Mac in recovery mode. Now please restart your Mac and try again.
2. Once Mac computer starts up from macOS recovery, besides the four options listed above, also you can use other utilities, such as Firmware Password Utility, Network Utility and Terminal etc. For example, you can reset Mac admin password with terminal and built-in password recovery tool in recovery mode.

Case 2: Boot into macOS Recovery Mode without Recovery Partition
Generally, it doesn't need to start Mac in recovery mode over Internet. Unless your Mac computer cannot boot from standard macOS recovery because of damaged or corrupted recovery partition or the missing boot section, it will automatically boot in Internet Recovery mode without recovery partition.
Besides, you could also manually start Mac in Interner Recovery mode. Before doing this, please make sure network connection is available.
1. Restart Mac and press and hold down the Command + Option + R while hearing the startup chime.
2. Release the keys after you see the spinning globe instead of Apple logo.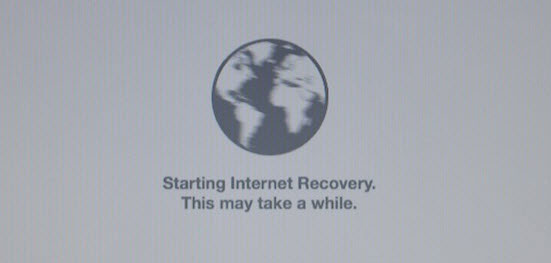 3. After that, wait for Internet Recovery starting and downloading recovery image from Apple's servers.
4. While the recovery image is successfully downloaded, Internet Recovery will start up your Mac from it and present you with the same options as standard Recovery Mode provides.
Note: Internet Recovery is supported on newer Macs with OS X Lion or later.
Related Articles: