How to Decrypt Encrypted Office File
Does your Office file is encrypted with password now? And you forgot password to open it?
The answer always is yes because encrypting important Office files is a usual thing, so forgot encrypted Office file password is common too. But if you are looking forward to thinking of Office password one day and then open it, it would be impractical.
Therefore, if you are willing to open Office file instantly without any damage, let's decrypt Office file with Office Password Genius or Office Password Remover.
Selection 1: Decrypt Office File with Office Password Genius
Office Password Genius could decrypt all of Office file, including Word, Excel, PowerPoint, Access and Outlook. No matter how complex Office password is, you don't need to worry about whether Office password can be decrypted or not.
Step 1: Install Office Password Genius on your computer that saves encrypted Office file.
Step 2: Run Office Password Genius and click "Open" button to browse and import encrypted Office file.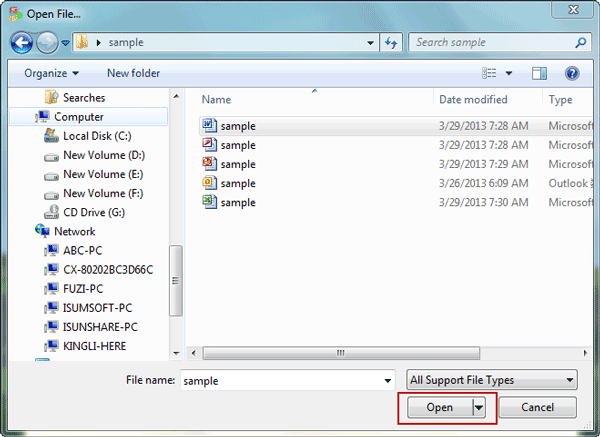 Step 3: Select appropriate password attack method from Type of attack.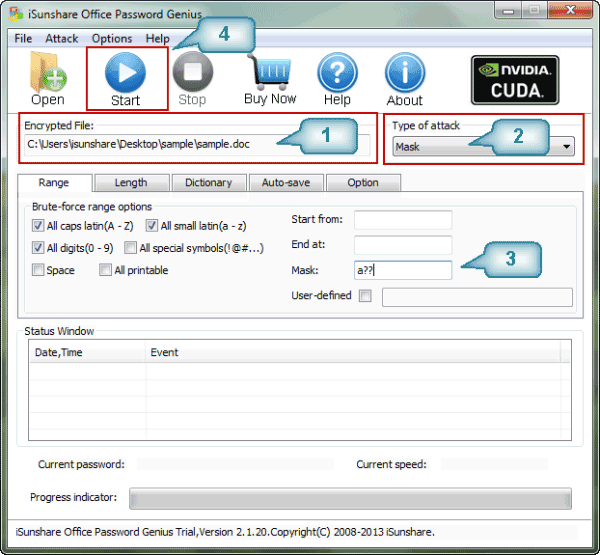 Click "Type of attack" drop-down box, you could see four password attack methods, Brute-force, Mask, Dictionary and Smart.
Brute-force: Select it when you don't know anything about forgotten Office password.
Mask: Choose it when you still remember part of Office password and characters' specific location in password. In these password attack ways, it is the fastest at most of time.
Dictionary: Select it if encrypted Office password is usual and you don't know it. This would save password search time compared to Brute-force.
Smart: It looks smart but generally we don't need it. Sometimes it works fast but sometimes not.
Refer to: Brute-force/Mask/Dictionary Password Recovery Attack Settings
Step 4: Click Start button on menu to decrypt Office file.
After confirming all the password attack type settings, click "Start" button and in about few seconds, a new window pops up with Office password. Just copy it and open encrypted Office file.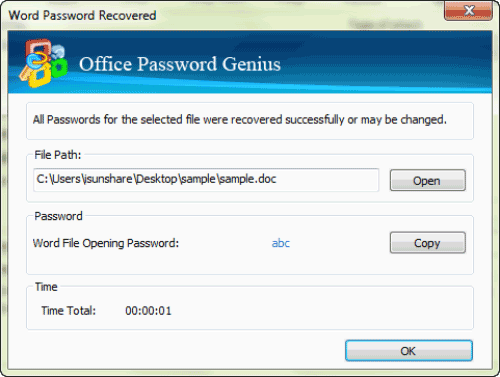 So far, encrypted Office file has been decrypted. And recovered Office password had better be saved on safe place on your computer.
Selection 2: Decrypt Office File with Office Password Remover
iSunshare Office Password Remover only could decrypt encrypted Word and Excel 2003 file presently. If it is Word or Excel 2003 file encrypted, get Office Password Remover installed on your computer.
Click Open button to import encrypt Word or Excel file. It would appear in "File Name" box. And then click Remove Password.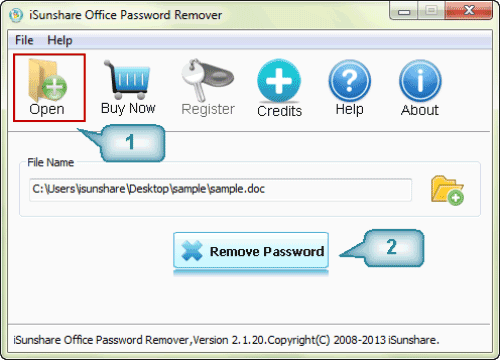 Office Password Remover only removes forgotten Word and Excel password for you, while Office Password Genius could find out previous Office password you have forgotten. Now, select one surely suitable for your encrypted Office file.
Related Topics: