Unprotect Encrypted or Edit Restricted Office 2016 Document
Q1: When Office 2016 document is encrypted with open password, how to open it without knowing password?
Q2: When Office 2016 file is restricted editing, how can I edit it?
In fact, the questions above can be concluded as another question. How to unprotect Office 2016 document that is encrypted or restricted editing?
Now this article will talk about it in two parts, respectively solving access protection and edit restriction problem. Once Office 2016 protection is removed, you can open and edit this document.
Part 1: How to Unprotect Encrypted Office 2016 Document
If Office 2016 document is encrypted with open password you know, unprotect Office document would be easy for everyone to do.
1. Double click encrypted Office 2016 document. When a dialog pops up and asks for open password, type it and press Enter. Encrypted Office document would be open.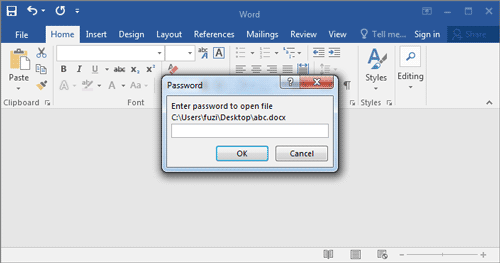 2. Now you just need to navigate to File > Info > Protect Document, and choose Encrypt with Password.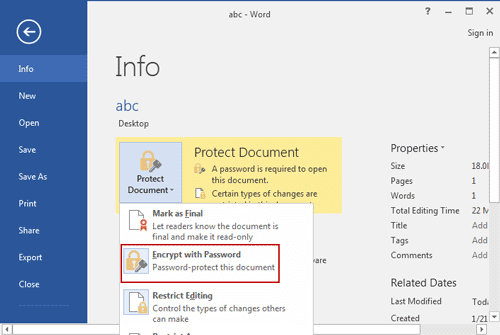 Tips: If Encrypt with Password is not available, probably the document has been "Mark as Final". You have to do "Mark as Final" again after opening it, then you could successfully remove Office document open password.
3. Clear password in password box. Click OK to make sure removing password from this document. Press Ctrl + S to save document at last.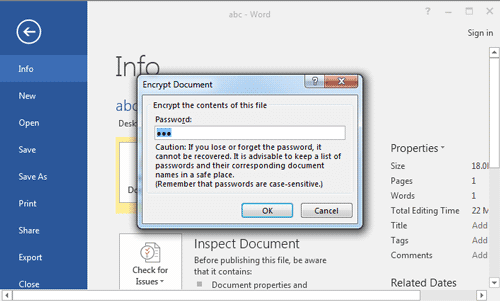 Undoubtedly, Office 2016 document is unprotected at this moment. However, how to get encrypted Office 2016 document password, without any damage to document or computer?
If you just want a way that could recover password for all Office 2016 encrypted files safely, Office Password Genius Standard would be a better choice.
1. It could recover Office 2016 Word/Excel/PowerPoint/Outlook/Access password.
2. It provides four powerful password recovery types to recover forgotten or lost open password.
3. It is so easy to use because only three steps are needed after running Office Password Genius Standard.
Step 1: Tap "Open" button to add encrypted Office 2016 file.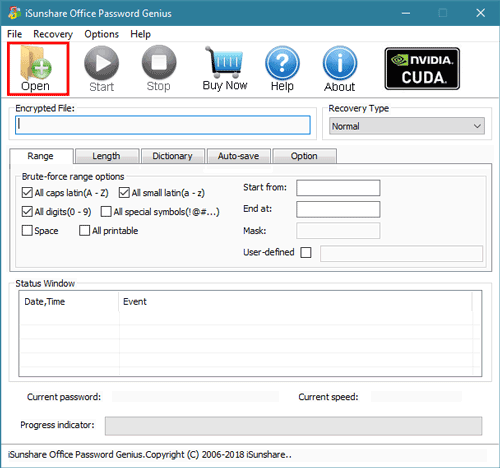 Step 2: Select password recovery type and set different kinds of parameters.
The password recovery parameters depend on password recovery type you choose. Common parameters are password length, range, mask and dictionary path etc.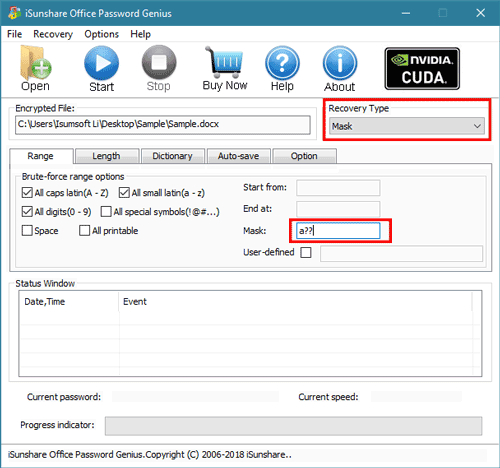 Step 3: Click "Start" button to recover Office 2016 password.
Instantly, about few seconds or minutes later, Office 2016 document password will be recovered and appear on new dialog, where you can copy password  to open encrypted Office document. Then you can unprotect this document by removing password.
Tips: It is worth mentioning that, if your encrypted Office 2016 document is docx/xlsl/pptx file, Office Password Genius Professional would be better to recover Office open password. It could make client program to help recover docx/xlsl/pptx password on all computers in a LAN. So if there are several accessible computers in a LAN, Office password could be recovered faster with Office Password Genius Professional than Standard.
Part 2: How to Unprotect Office 2016 Document Restricted Editing
Restrict Editing surely could prevent not allowed edit on Office 2016 document. However, sometimes, if you need to edit a restricted document, how to unprotect such Office document especially without modify password?
In this part, there will list two options that could make Office document edit-restricted, and introduce how to remove edit restriction from read-only Office document.
Option 1: Unprotect read-only Office 2016 document with "Mark as Final"
If the document is just marked as read-only by "Mark as Final", it is still easy to make the document editable.
1. Open Office document. If there is open password encrypting document, type password to open it.
2. Go to File > Info > Protect Document, and click Mark as Final. The document would become editable.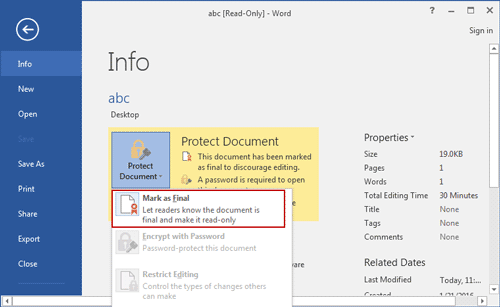 Tips:
1. It should be done first, if you also need to unprotect Office document encrypted with open password.
2. "Mark as Final" is used to make readers know the document is read-only, but not really restrict editing. Everyone could make it disable. But if Office document is restricted editing with password, unless you know the modify password, otherwise, you could only follow the method below to unprotect edit-restricted Office 2016 document.
Option 2: Unprotect edit-restricted Office 2016 document with free 7-zip
1. Make sure your file is in latest *.docx or *.xlsx etc format.
2. Make a copy of your file and change the file extension from *.docx to *.zip.

3. Right click the zip file and using 7-Zip to open archives.

This will allow you to edit the .docx archive without extracting the XML files inside.
4. Find settings.xml file in the archive, and right click it to select "edit".
5. Find the XML element beginning with w:documentprotection. Remove the entire element.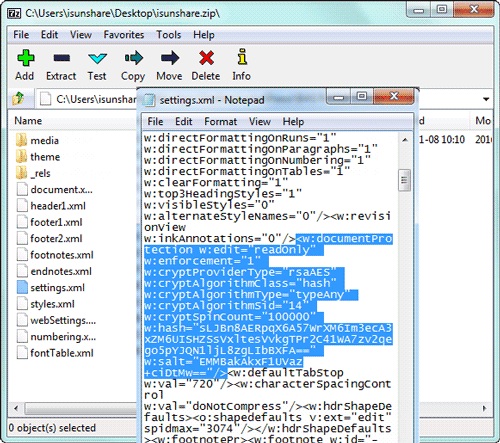 6. Save, close and update the archive when prompted.
7. Rename your file, and change *.zip extension to *.docx.
Now edit restriction has been removed from docx document. You could edit this Office document.
Details about this method is also introduced in docx password recovery after forgot.
Related Links: