How to Recover Product Key with Product Key Finder
Have you lost for forgotten product keys for software, such as Windows or Office? And after a few minutes' thinking hard, you still couldn't find them. In fact, as long as these softwares have been installed in your computer, you can use iSunshare Product Key Finder to find all these keys with one click, one second cost. These softwares includes Windows, Office, Internet Explorer, Visual Studio, SQL Server, Exchange Server, VMWare, Adobe and many more products. Next we will introduce how to do with it in detail.
Guide: How to Find Product Keys with One Click
With this tutorial, you can find product Keys more easily and faster.
Step 1: Download, install and launch iSunshare Product Key Finder
Open iSunshare Product Key Finder page, download trial version or get full version, and follow installation wizard to install Product Key Finder on your PC, then run it.
Note: iSunshare Product Key Finder trial version only shows no more than 5 characters of product key.
Step 2: Find product keys with Product Key Finder
Click Start Recovery button on Product Key Finder, then the programs would automatically recover product keys for currently installed software, probably including Windows, IE, Office, Photoshop/Dreamweaver CS6, SQL Server, Visual Studio and VMware etc.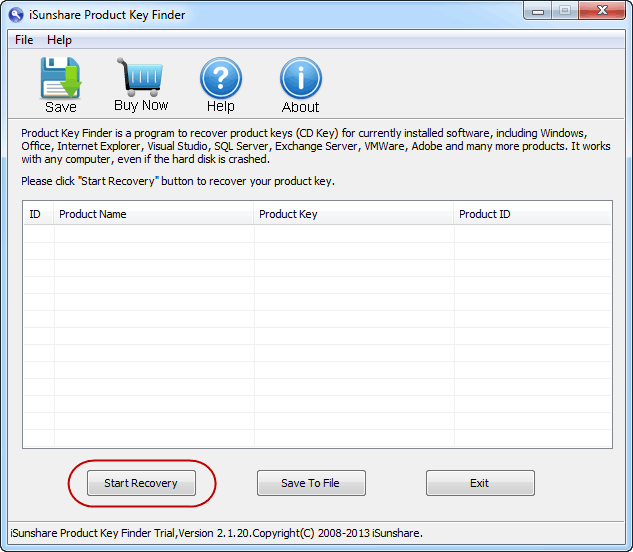 Step 3: Back up product keys
Click Save to File button or Save button in the menu to save products and their keys in a *.txt file on computer.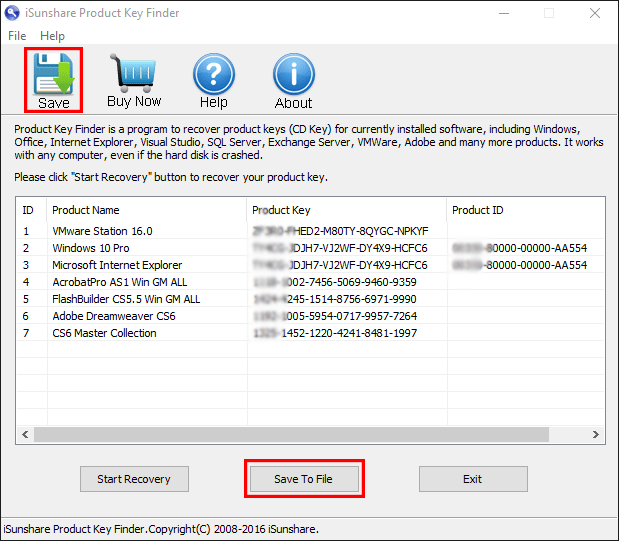 How do you think the steps to recover product keys with iSunshare Product Key? Whether you also think it is simple and easy to use for product key finder?
Please don't hesitate and go ahead to download Product Keys Finder to find lost product keys. From now on, you would not need to worry about product key finder problem.
Related Links: