How to Increase System Performance in Windows 10 HP Laptop
It is a terrible using experience to run the sluggish Windows 10 PC, but a number of Windows users are stuck in this trouble actually. Luckily, there are many useful ways to maximize Windows 10 performance. In this article, we focus on brand HP to tell you how to increase system performance in Windows 10 HP laptop.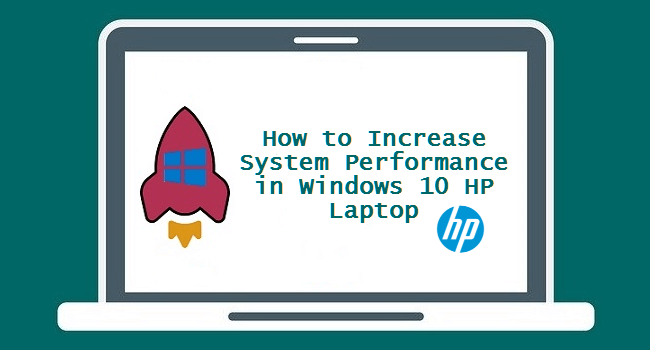 1. Increase System Performance with HP Support Assistant
Developed by HP, HP Support Assistant works on finding updates and providing troubleshooting tools for HP devices. In this way, HP Performance Tune-up Check, a system optimization tool in HP Support Assistant will be applied.
Step 1: To access HP Support Assistant, you can search Support Assistant in the start menu or click the blue question mark

in the taskbar. If it is not installed on your computer, you need to download it from the HP official site.
Step 2: Choose your Windows 10 HP laptop to check.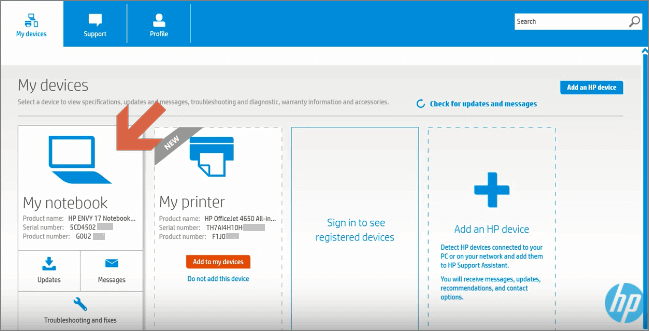 Step 3: Click Performance Tune-up Check in the One click fixes section.

Step 4: Hit Optimize to improve system performance in your Windows 10 HP laptop.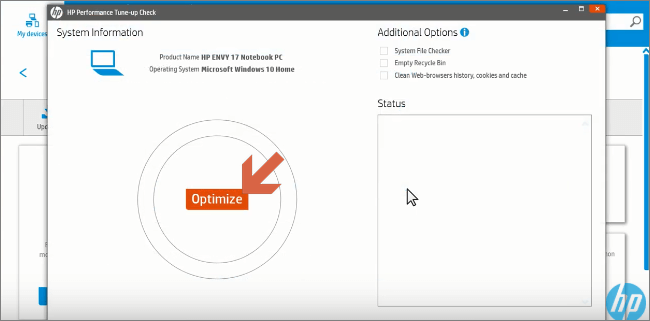 2. Increase System Performance Using Windows Security
Windows Security is a built-in Windows program and can be found in Windows 10 version 1703 and later. If your Windows system meets the requirement but you cannot find Windows Security, you can search in Windows with its old name Windows Defender Security Center instead.
Step 1: Type Windows Security in the taskbar and open it.
Step 2: Click Device performance & health in the open window.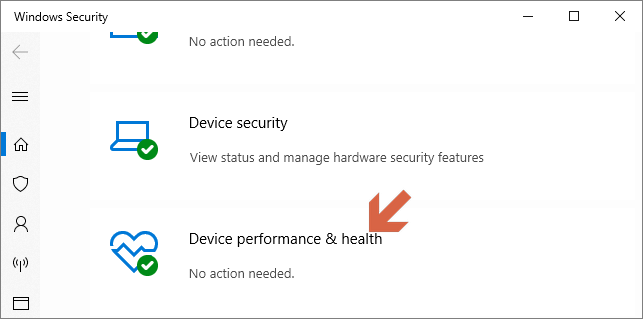 Step 3: Next, you will get a health report. If there are recommended actions for any of the items, you can click the down-arrow to review more details and then follow the suggested solution to maximize Windows 10 performance.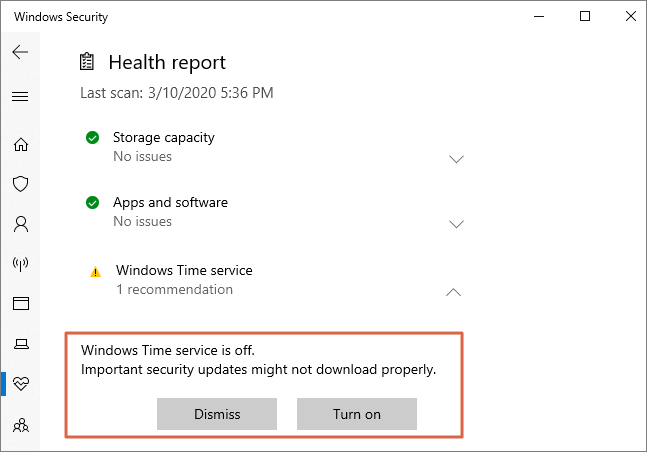 3. Increase System Performance via iSunshare System Genius
What is iSunshare System Genius? iSunshare System Genius is an easy-to-use Windows optimizer which can improve the Windows system performance with 4 paths:
Completely remove useless junk files and invalid registry items.
Thoroughly clean up the entire system drive.
Quickly disable unneeded startup programs.
Easily turn off unnecessary Windows services.
To try this smart utility, you can download and install iSunshare System Genius on your Windows 10 HP laptop firstly. Then run the utility and follow the step-by-step guides below.

Path 1: Clean up Junk & Registry Files
Step 1: In the left menu, click Clean All and hit Scan in the main section.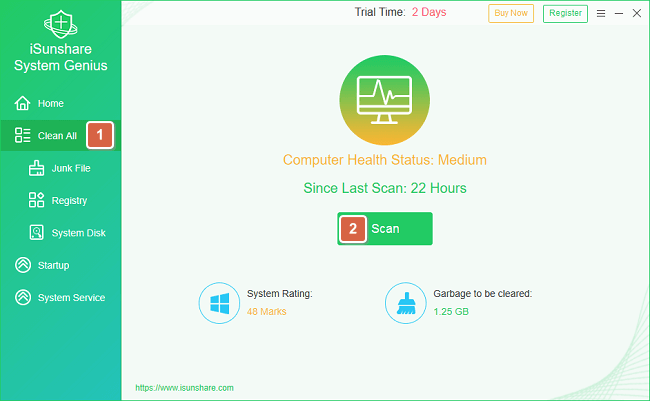 Step 2: The software will display the registry file scan result and junk file scan result in detail. You can scroll down the page to obtain more information.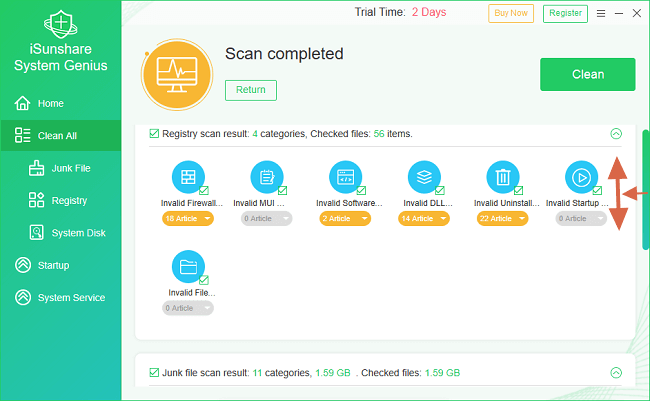 Step 3: You can only delete the unwanted items or remove all. At last, click Clean to execute the operation.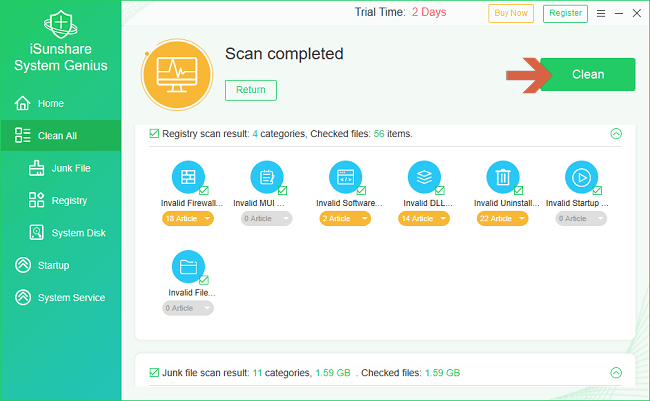 Path 2: Clean up the Entire System Drive
Select System Disk among the functions click System Disk Cleanup in the top menu hit Release to start the cleanup process.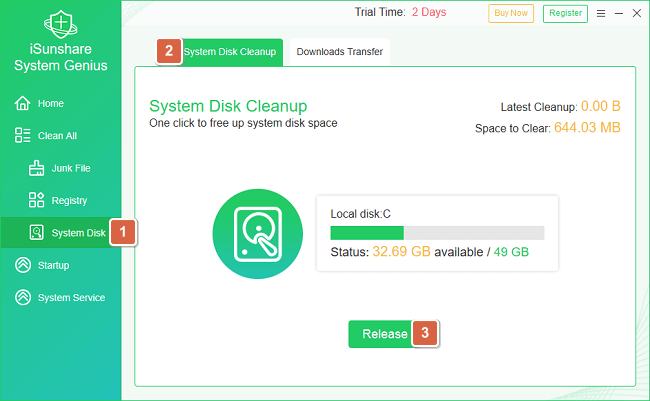 Path 3: Disable Startup Programs
Step 1: Choose Startup in the left function pane.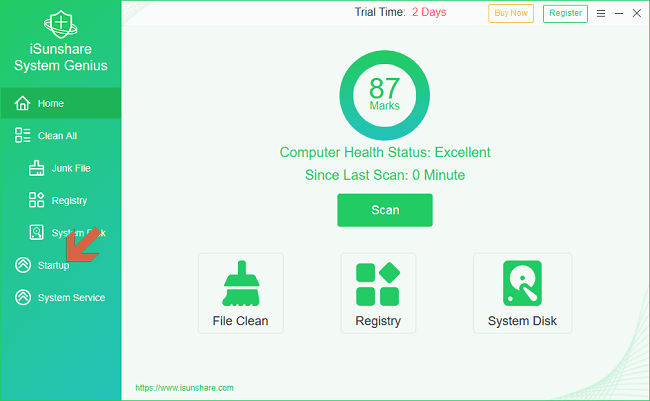 Step 2: Under Startup item management, find out the startup program that is rare to use and then click Disable behind each unnecessary startup program to stop them boot when Windows 10 starts.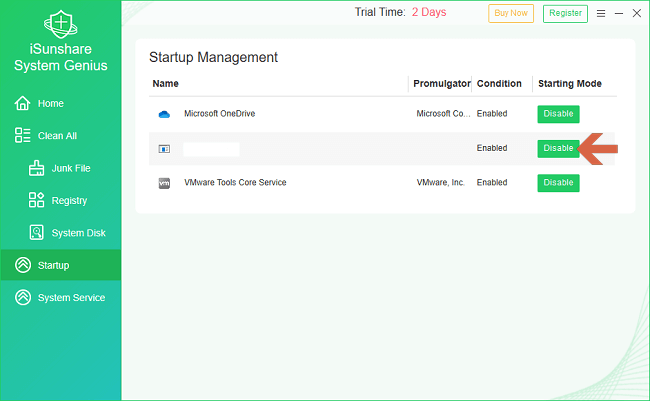 Path 4: Turn off Unnecessary Windows Services
Apply the System Service function firstly. In the right interface, all Windows services are listed with detailed information and you can refer to the disabling advice to turn off the related service. In this way, your Windows 10 PC can perform more smoothly and respond faster, because services can eat up the precious system resources that influence the system performance.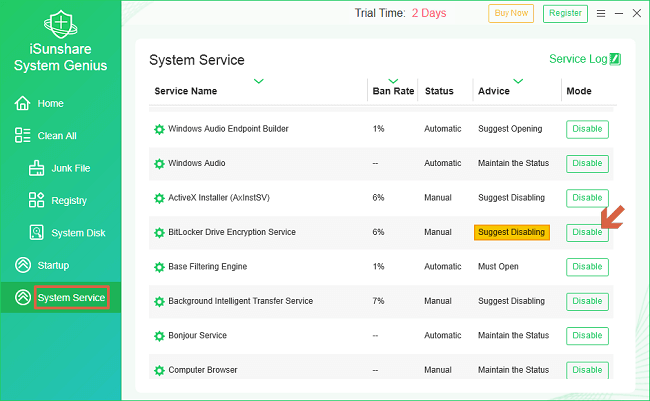 Related Articles: