How to Reset Your Windows password without an install CD
As is known, Windows installation CD and password reset disk are two common disks that everyone could use for windows password reset, because as long as your Windows system is installed by yourself, you can get them free. Here I want to share is that, even though without the install CD or reset disk in hand, you can also reset Windows password. Moreover, you would find these ways easier to use than Windows install CD. Don't believe? Just follow the article.
The artile would mainly talk about how to make full use of password recovery disks burned with third-party software to reset Windows password when no install CD.
Reset Windows password with password recovery disk instead of install CD:
Option 1: Reset Windows lost password with Chntpw disk
Step 1: Download Chntpw to a computer you can access.
Step 2: Create a CD Windows password reset disk.
Unzip cd110511.zip and get a chntpw ISO file and burn the chntpw ISO file to CD disc with a burn tool.
Step 3: Set your locked computer boot from CD-ROM.
When power on the computer, press BIOS entry key to enter BIOS setting screen, and move CD-ROM to the first boot drive place. Save boot changes and boot your computer.
Step 4: Reset Windows password to blank.
4-1 Select the partition where Windows was installed on:
select 1 = show probable Windows (NTFS) partitions only
4-2 Select path and registry files
The default path Windows/system32/config is correct, so just press Enter to go on.

4-3 Select which part of registry to load, use predefined choices.
We want to reset password, so choose the first one: Password reset [SAM system security]
4-4 What to do with the user and password
Select 1 - Edit user data and passwords
4-5 Select a user to reset its password.
As you can see, there list all the user names and their password status. If you want to change Administrator password, type Administrator and press Enter.

4-6 Clear (blank) user password.
Of all the options of menu, the first one Clear (blank) user password is the most simple and effective option. Select 1 to clear Administrator password to blank instantly.

4-7 Password is cleared successfully.
When the Password cleared pops up, it means password has been cleared successfully. Quit out and press Ctrl + Alt + Del to restart computer, then log into Windows computer without password.

Option 2: Reset Windows lost password with iSunshare password reset disk
Even though there is no Windows install CD, there is still password reset disk creation tool, iSunshare Windows Password Genius that can reset your Windows password easily.
Step 1: Get iSunshare Windows Password Genius Professional and install it on another accessible computer.
Step 2: Insert USB flash drive into the accessible computer to create reset disk.
Start iSunshare Windows Password Genius Professional. Choose USB device option, select inserted USB drive and click Begin burning to format USB drive and burn password reset disk into it.
Step 3: Take iSunshare password reset disk to boot the inaccessible windows computer.
Insert iSunshare reset disk into the locked Windows computer, and then set the computer boot from USB drive. Until Windows Password Genius Professional runs successfully on locked computer, it means computer has booted from USB drive.
Step 4: Reset Windows password with iSunshare software.
Choose Windows system and Windows user account. Then click Reset Password button and "Yes" when there pops up a dialog. This user account password would be removed instantly. And you can see its password become blank shown in Windows Password Genius Professional. At last, reboot the computer and drop out USB drive from it, to make Windows password reset efficient.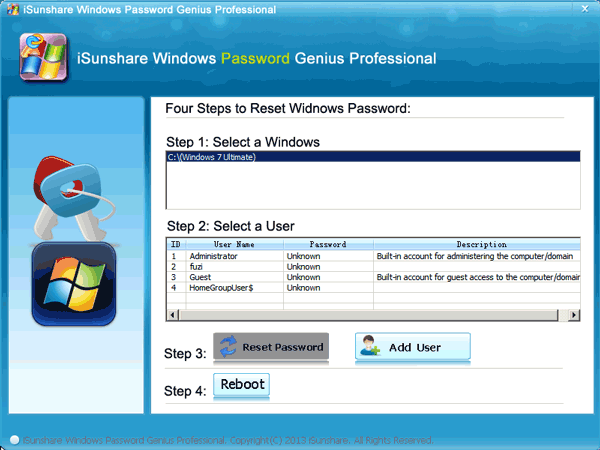 Related Articles: