Forgot Windows 7 Password Have No Reset Disk - How to Get in?
"What can I do to get into my Windows 7 computer if I have forgotten Windows 7 password and no password reset disk has been created in advance." This is a usual voice filled with worry and anxiety. Actually things have not gone so badly as you think at that moment. And what can prevent bad things from happening is resetting forgotten Windows 7 password instantly and accessing to Windows 7 computer as soon as possible with some effective ways.
Four options for resetting forgotten Windows 7 password without a disk:
One: Access to Windows 7 with Admin Account
If you have just forgotten some standard users password, and at the same time you still have an account with admin privileges, you can log in Windows 7 with this account and then change or remove other users' password on Control Panel.
1-1 Click Start and open Control Panel.
1-2 Select User Accounts and Family Safety > User Accounts.
1-3 Press Add or remove user account under User Accounts. You will see all enabled accounts listed.
1-4 Choose the account you would like to change password
1-5 Click Change the password or Remove the password.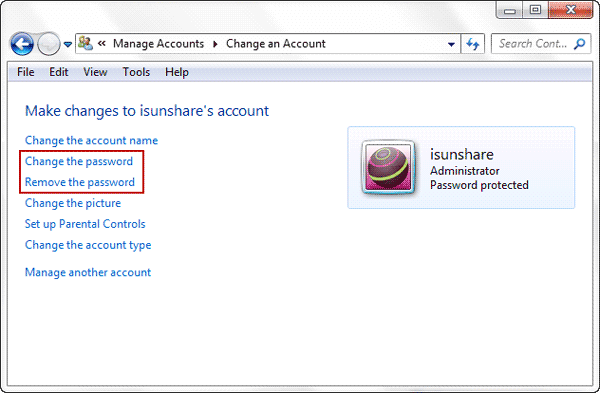 1-6 Input the new password for the account to change the forgotten password or click Remove the password button to remove forgotten Windows password.
Related passage: Windows 7 admin password reset
Two: Recover Windows 7 Forgotten Password with Windows Installation CD
Preparation: a Windows installation CD or DVD. Or any Windows  7, Vista or XP CD or DVD.
Step 1: Boot from Installation CD.
As soon as you turn on your PC, press DEL or F2 to enter BIOS setting screen in Windows 7. Move CD-ROM option to the first place of boot disk. Save and restart your PC, it will boot from CD instantly.
Step 2: Select Repair Windows and Get into Command Prompt.
When your computer boots from the CD, you should click repair your computer option, then choose Command Prompt from various options.
Step 3: Recover Windows 7 Password with Commands.
3-1 Type: copy c:\windows\system32\sethc.exe c:\f
3-2 Type: copy /y c:\windows\system32\cmd.exe c:\windows\system32\sethc.exe
3-3 Exit installation CD, and reboot your PC.
Step 4: Reset Windows 7 Password.
When Windows login screen appears, press the Shift key 5 times to bring up the command line interface. Now type command net user <your name> <your new password> to reset windows 7 user password.
For example, net user isunshare 12345. That means password of "isunshare" would be reset to 12345.
Password reset work has finished so far. But sethc.exe has been covered. Now use the command c:\sethc.exe file back to c:\windows\system32\sethc.exe to restore the original sethc.exe file. After Windows 7 forgotten password reset with installation CD, reboot and get into Windows 7 computer with the new password.
Related passage: How to reset Windows password without install CD

Three: Get in Windows 7 with Ophcrack
The Ophcrack Windows password cracker is by far the best free Windows Password Genius software. It's fast and easy enough for a computer newbie just with a basic knowledge of Windows. If you don't want to burn Ophcrack to a CD, Ophcrack Vista free live cd will be more convenient to be used. Be able to recover forgotten Windows password without getting into Windows.
>> Download Ophcrack Vista free live cd.
Ophcrack Vista free live cd only applies to the Windows password combined with less than 5 numbers. If you want to recover longer password with characters, you have to choose more advanced Windows Password Genius tool.
>> Boot your computer from Ophcrack live cd.
Insert Ophcrack live cd into your computer; restart computer and click DEL or F2 or other keys Windows system setup into BIOS setting option. Select CD-ROM as the first boot disk. And then save the changes and restart your computer again.
>> Recover Windows 7 password.
You will see Ophcrack runs and find Windows 7 password automatically for you. Then the password will be found and displayed in a list. But if your password contains characters, the Windows 7 password would not be found. Now you can get into Windows 7 with the recovered password.
Related passage: Ophcrack Windows 7 no tables found - how should do

Four: Reset Windows 7 Password Easily with iSunshare Password Tool
If you cannot login with another administrator account to reset windows 7 password and have no reset disk, don't be disappointed. You still have chance to get into your computer without losing data and reinstalling system. This method shows you how to use password recovery software to create a third party password reset disk and how to use it to reset forgotten password for Windows 7 computer.
1. Download and install Windows 7 Password Genius on an accessible computer.
2. Create a password reset disk with a USB device or CD/DVD.
Insert a writable USB device or CD/DVD-ROM to the accessible computer and select it on recovery software. Click Begin burning, and wait for few minutes until the password reset disk is burned successfully into the removal device.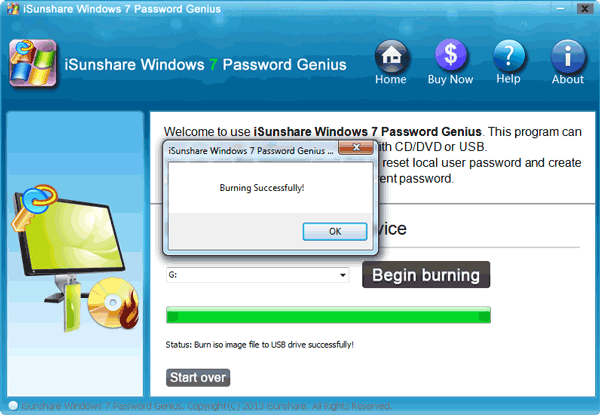 3. Set the locked computer boot from USB device or CD/DVD.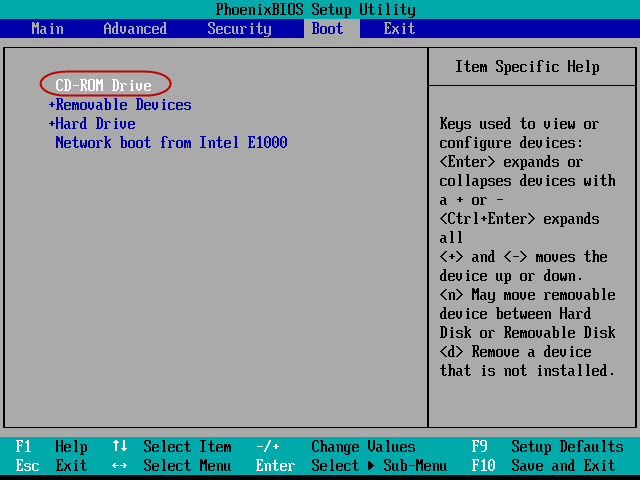 4. Boot the locked computer from USB device or CD/DVD.
5. Remove Windows 7 forgotten password or create a new account for Windows 7. On running Windows 7 Password Genius, you can choose a user account, and click Reset Password to remove password for selected account. Or you can click Add User to create new user account for Windows 7 system.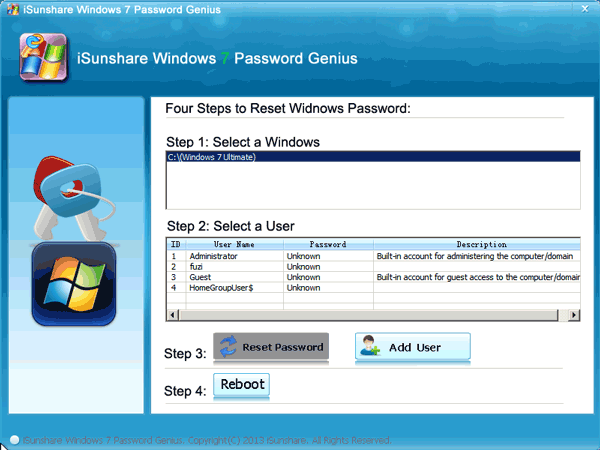 6. Click Reboot button and exit the removal drive to get in locked Windows 7 computer without password or with the new administrator.
Tips:
From the above introductions, we can know Windows 7 Password Genius works better than Windows installation CD and Ophcrack on Windows 7 forgotten password reset, especially when you have no password reset disk that is usually used to reset Windows password and get in computer.
Related Articles: