Windows 8/8.1 Auto Shutdown | How to Set up
It is really annoying and upsetting if the computer cannot be turned off because some programs are still busy or at work when you need to close it. Additionally, sometimes you download films on your computer late at night and don't want to wait to shut down the computer until the downloading process is finished. As a matter of fact, there are a number of situations in which you are unable or unwilling to turn off your PC manually. So how can you solve the problem? In this text, you are suggested to settle it by setting up auto shutdown on your computer. As for how to do, you can continue to read the following methods.
Video guide on how to set up Windows 8 auto shutdown:
2 ways to set up Windows 8/8.1 auto shutdown:
Way 1: Set up Windows 8/8.1 auto shutdown through run command.
Step 1: Open Run dialog box.
Press Windows key+X to open the Quick Access Menu, and choose Run in it. BTW, you can also press Windows key and R key at the same time to directly open Run dialog box.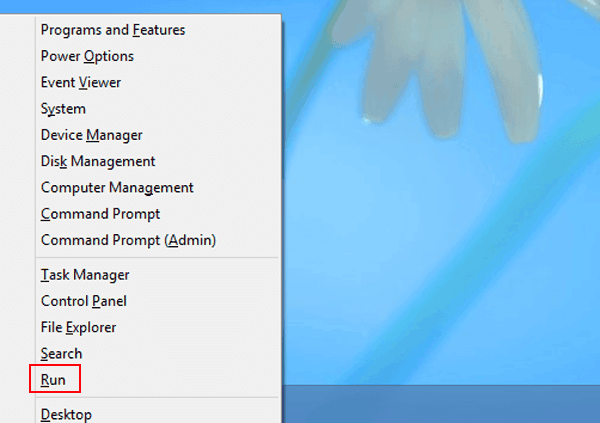 Step 2: Enter a shutdown command in the empty box.
The command inputted is a little dissimilar according to different time you want to set up to automatically shut down your computer. For more info, please refer to the following example.
If you want to make the computer automatically turn off in 30 minutes, you can type "shutdown –s –t 1800" or "shutdown.exe –s –t 1800" (without double quotation marks) in the box and click OK.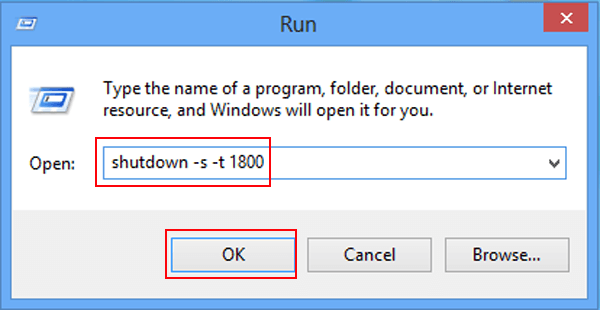 Tips: The number, 1800, in the command stands for 1800 seconds. That is to say, the computer will turn off after 1800 seconds (30 minutes). Moreover, you can decide the time to make the computer automatically shut down by changing the number in the form of seconds in this command.
Then, the system will prompt you that you're about to be signed off.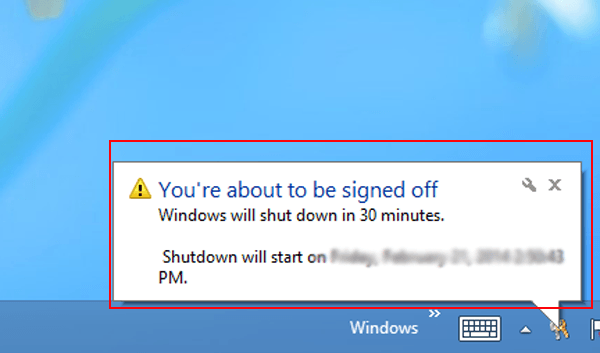 Way 2: Set up Windows 8/8.1 auto shutdown through Task Scheduler.
Step 1: Right-click Computer and select Manage in the menu to open Computer Management.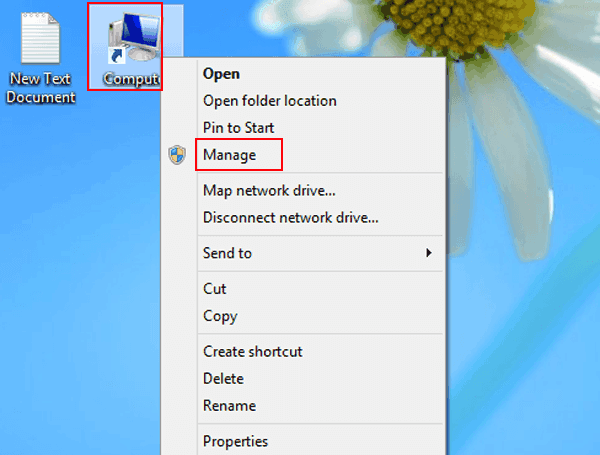 Step 2: Click Task Scheduler on the left list to open it, and choose Create Basic Task on the right side.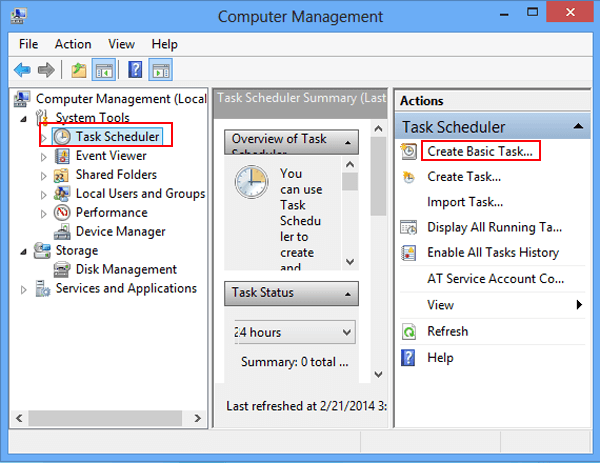 Step 3: Input shutdown as the basic task name and tap Next to move on.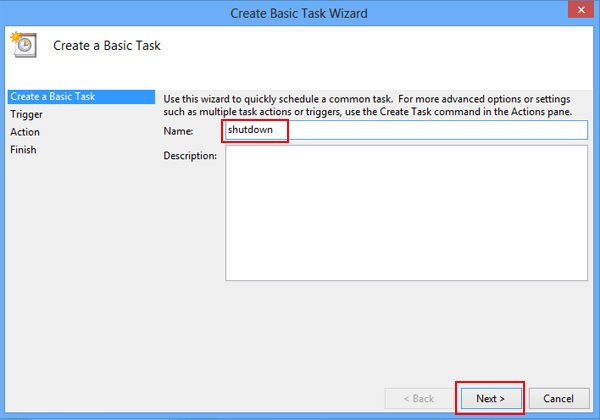 Step 4: In Trigger, choose when do you want the task to start from Daily, Weekly, Monthly, One time, When the computer starts, When I log on and When a specific event is logged. After that, click Next.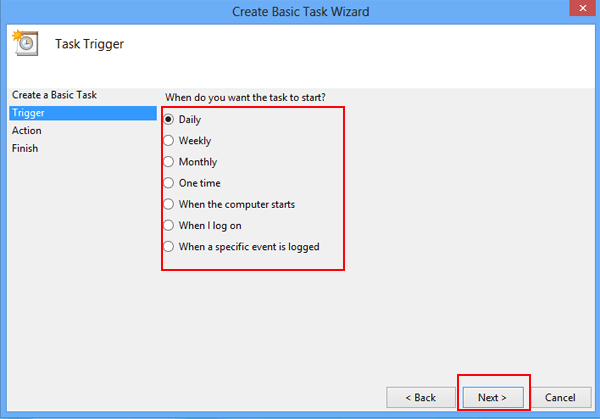 Step 5: Set the start date, shutdown time and frequency. Then, tap Next to continue.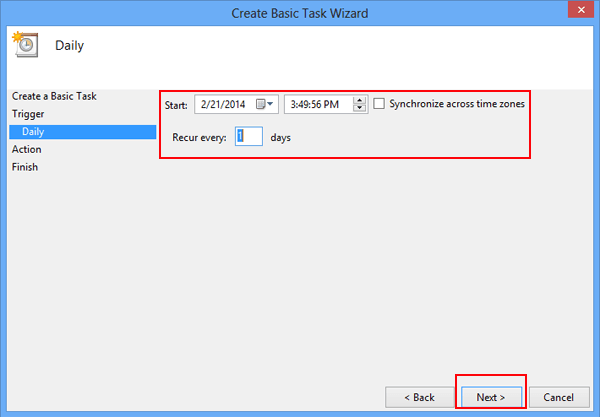 Step 6: In Action, make sure Start a program is selected and click Next.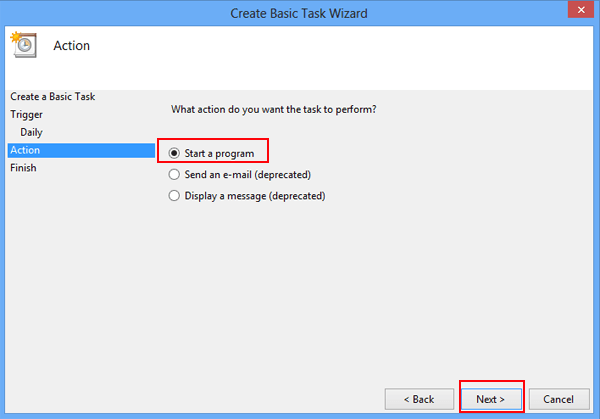 Step 7: In Start a Program, enter C:\Windows\System32\shutdown.exe as the program/script name, input -s as argument and tap Next.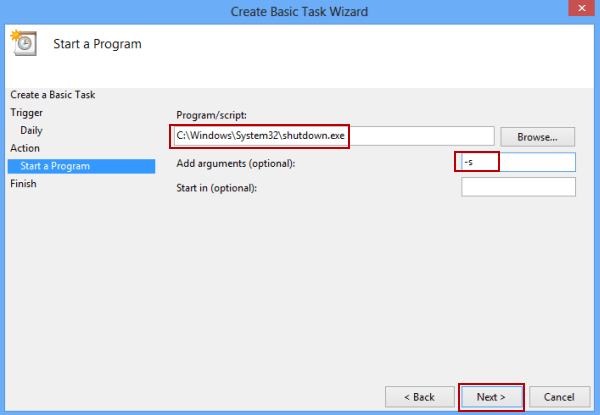 Step 8: In the next interface, click Finish to complete the settings.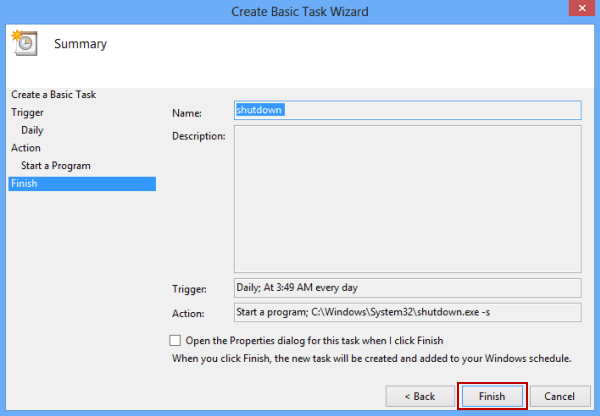 Related Articles: