How to Disable Messages Notifications and Preview
Message notifications have two sides. One is positive, prompting Android phone owner that there has been a new message coming. The other is negative, influencing the use of mobile phones. So someone would like this feature, but someone would always want to disable messages notifications and preview on Android phone, in order to experience Android phone better.
1. Reduce the interference of incoming messages.
2. Protect text messages from previewing when Android phone is used by others. And avoid unnecessary trouble.
Disable show quick message on Google Android
Step 1: Open Message app and click the three-point button on the top right side in Messaging window. And choose Settings option.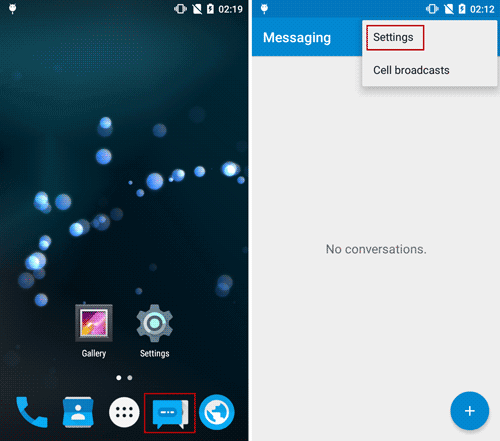 Step 2: Browse to Notifications and turn off it. Then all of notifications about messages will be cancelled. Or you can go to QuickMessage and Reply, and disable Show QuickMessage.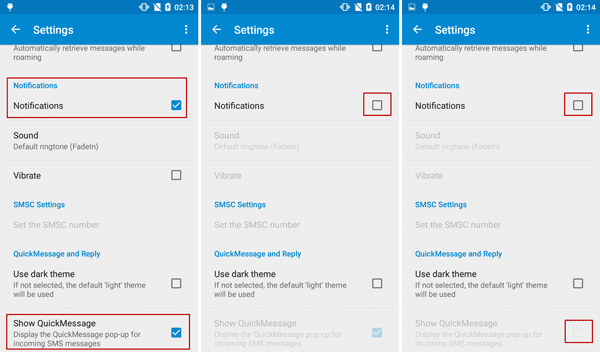 Then your Android phone will not display the QuickMessage pop-up for incoming SMS messages.
Now we will introduce an example (Huawei Honor 6 plus) to show how to turn off messages notifications on common-used android phone.
Turn off Messages Notifications and Preview on Huawei Android
Step 1: Open Settings on menu of Huawei Android phone.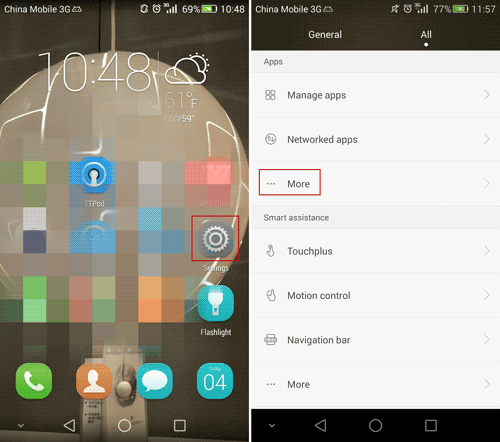 Step 2: Locate to All tap, and choose "… More" under Apps option.
Step 3: Call, Message and Email appears in Apps list. Now choose Message.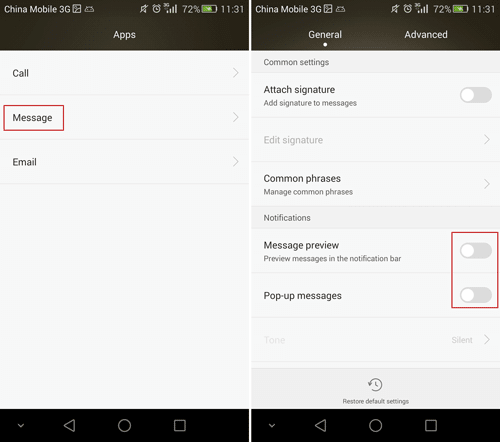 Step 4: Turn off Message preview and Pop-up messages under Notifications.
Tips: You won't get notifications for incoming messages and preview text messages automatically. But if you want to show message notifications again, just follow steps above to turn it on.
Related Articles: