How to Manage Android App Permissions to Protect your Privacy
Why we manage app permissions on Android?
By managing app permissions on Android phone, users could reduce risk, relieve safety restriction by themselves. Then they could feel free to use their Android phone.
1. Resist unethical and illegal behavior
Nearly all of security software can refuse untrusted calls or messages automatically. But almost at the same time, most of them search and collect the equipment information and sometimes require users to upload contacts etc. Moreover, some third-party security software, send deduction messages secretly and make a lie.
Therefore, disabling some app permissions can do help to resist untrusted behavior on Android phone.
2. Reduce damage from malicious software
Once you control app permissions, you can prevent malicious software from accessing your contacts, messages etc. Then damage to Android phone would be reduced.
3. When users own all the properties of the equipment, they can change app permissions in accordance with their wishes and only suffer the consequences because of wrong app settings.
How to Manage App Permissions with Permission Manager?
Once you have found some offending apps with unnecessary permissions, it's time to revoke those permissions. Permissions Manager will allow you to manage individual permission for app. (Eg. Huawei Android)
Step 1: Open "Settings" and choose "Permission manager".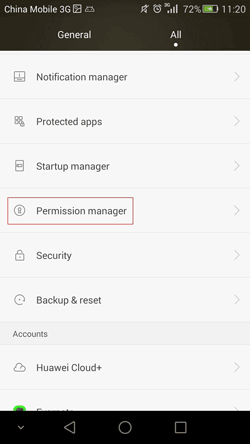 Step 2: Manage App permissions on Android phone.
In Permission manager window, you can see all the rights under "Rights" option on Android phone and which apps have the rights. Click Applications, and you can view all the apps and which permissions they have owned.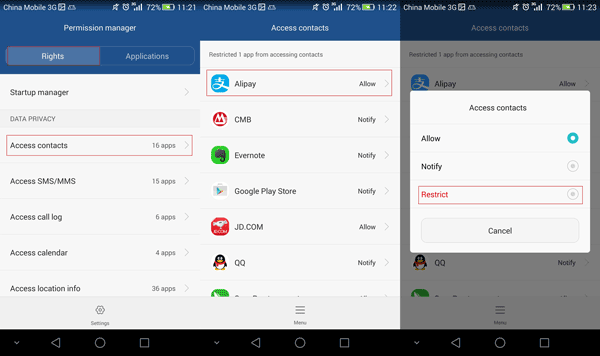 For example, if you want to change Alipay permissions, choose "Alipay" in app list and browse its permissions.
On Alipay permissions management window, if you "Trust this application", then all of the app permissions will be allowed for this app. If you don't want some permission available, just click them, and choose "Restrict" or "Notify" on pop-up dialog.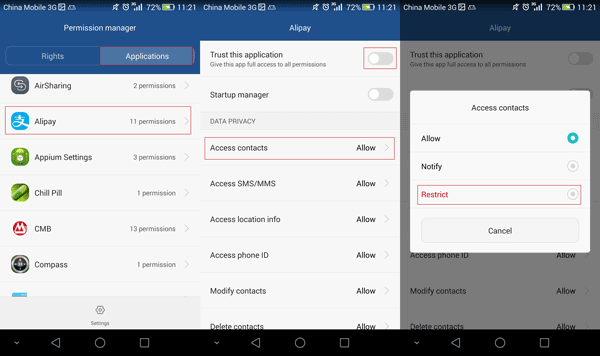 When some permissions are disabled for selected apps, the apps would not have relevant privileges to view even change Android information.
Two ways to grant permissions to Android apps:
1. Root Android phone to get supreme authority.
2. Access "Security > Permission manager > App Permissions Manager" to manage permissions for contacts, messages and other apps.
More articles about Android: