How to Change Default Template in Word 2007/2010
Word template surely brings users convenience when they prepare to create a new Word document. All the settings of default template can be used to new document just with one click. Not only convenient, but also time-saving it is for MS Word users to create new Word document based on template.
However, if you want to apply template settings to more new document, but there is something you are not satisfied with template, then you can change Word template default settings or change Word default template.
So now let's see how to change default template in Word 2007 and 2010.
Part 1: How to Change Default Template (Normal.dotx) in Word 2010
I cannot manage or replace the default template.dotx with another one. Even when I replace the document in %AppData%\Microsoft\Templates with another one, I always get the default blank template when opening Word. I tried editing it directly and saving it to its original place, nothing works.
This is a problem from a user who wants to change Word 2010 default template. Actually it is not so difficult to do. Follow the steps below and you would know.
Step 1: Open Word 2010, and right click on Normal, which should be on the Home ribbon under Styles.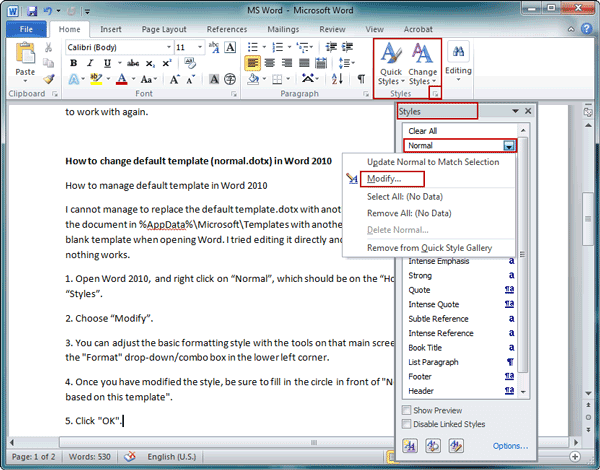 Step 2: Choose Modify under Styles.
Step 3: You can adjust the basic formatting style with the tools on that main screen, or you can select the Format drop-down box in the lower left corner, to change template format.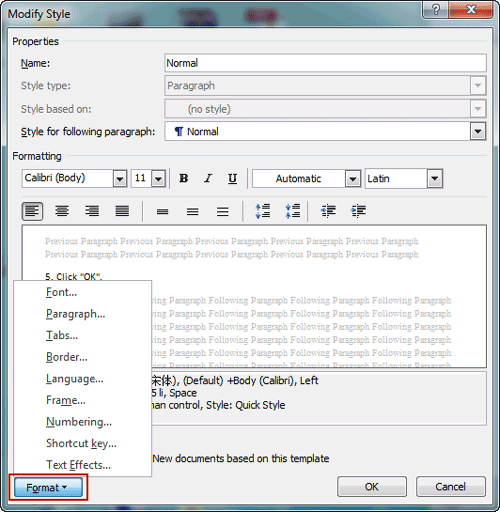 Step 4: Once you have modified the style, be sure to check New documents based on this template.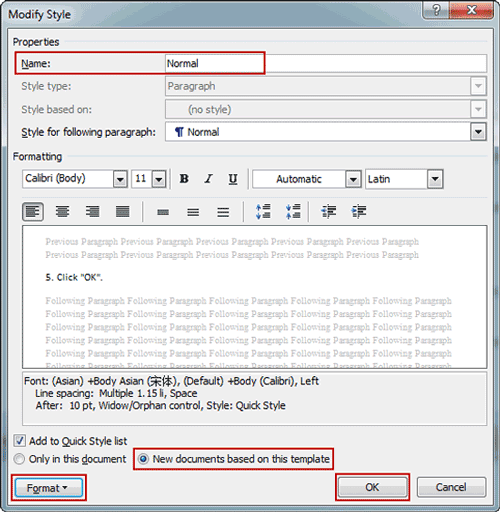 Step 5: Click OK.
When you close out of Word 2010 and reopen the program, you should see the changes that you made to the blank template normal.dotx.
Part 2: How to Change Word 2007 Normal Template (normal.dotm)
The Normal.dotm template opens whenever you start Microsoft Office Word 2007, and it includes default styles and customizations that determine the basic look of a document.
Even though there is a template for Word 2007 document, you still can make any changes to Normal.dotm and apply changes to new Word document.
Step 1: Click the Microsoft Office Button, and click Open.
Step 2: If you are using Windows Vista/7, click Templates, and double-click the Normal.dotm file to open it.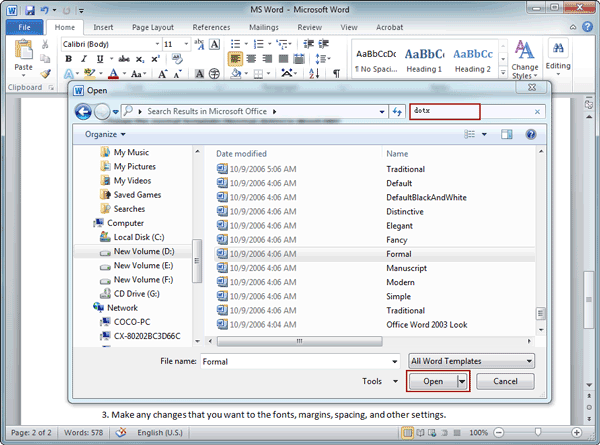 If you are using Microsoft Windows Server 2003, click "Templates" next to "File name". If no templates are listed in the "Open" dialog box, click the arrow next to the "Files of type" box, and then click "All Word Templates".
However, if there is no template called normal.dotm, or there is no Word template in Templates folder, we can search the Word templates in search box of Open window. When you see the template you want to change and make it Word default template, double-click it to open.
Tips: To be certain that you're working in the default template, check to see that Normal.dotm appears in the Word title bar.
Step 3: Make any changes that you want to the fonts, margins, spacing, and other settings. Remember that any changes that you make to Normal.dotm will be applied to documents that you create in the future.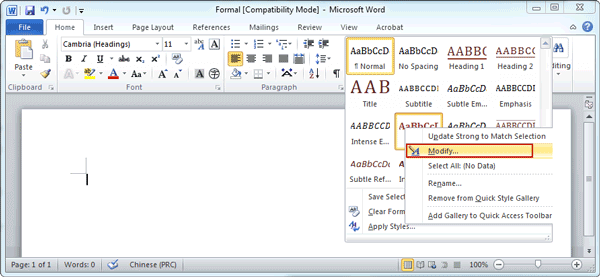 Step 4: When you have finished, click the Microsoft Office Button, and click Save.
Related Articles:
How to Increase File Compression Ratio in WinRAR How to Create Macros in MS Word 2010 and Run in New Document