How to Convert PDF File to a Word Document Online
How can I convert PDF file to editable Word document?
If you have no better method, follow this article. The article introduces two methods used usually to convert PDF files to another file format, including Microsoft Word.
Method 1: Convert PDF to Word Document with Adobe
Adobe provides services to convert PDF into Microsoft Word, Excel, PowerPoint, RTF or image. So if you want to convert existing PDF files to Word document, Adobe will be a good choice. But you have to subscribe the service online, can you successfully convert PDF files to the format you like.
Now suppose you are using Adobe Reader, tap Tools on Toolbar, and click Export PDF to unfold options under it. Select PDF file you would like to convert, and choose the file format you want to convert the PDF file to. Then click Convert button.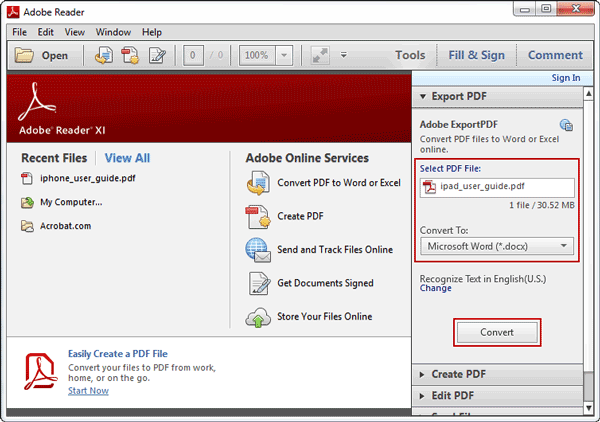 A new webpage will appear for you to log in if you haven't sign in Adobe and suggest you several different services that can convert PDF files to Word document after you subscribe it. If not, you would not turn PDF files into any other file format.
Method 2: Convert PDF to Word Document Free Online
The two selections below are free for users to convert PDF to editable Word document.
Selection 1: Nitro Pro
Nitro Pro is the ultimate digital document solution. It allows users to convert PDF files less than 5 MB to Word document free, or turn PDF files of any size into Word document free for 14 days.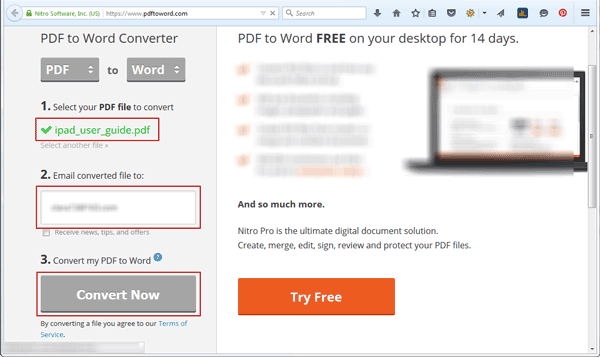 So even it is not free in each case, it still seems to be better than Adobe for users to convert PDF to word document.
Selection 2: PDF 2 DOC
This free online PDF to DOC converter allows you to save a PDF file as an editable word document in Microsoft Word DOC format, ensuring better quality than many other converters.
Step 1: Click the UPLOAD FILES button and select up to 20 PDF files you wish to convert. Wait for the conversion process to finish.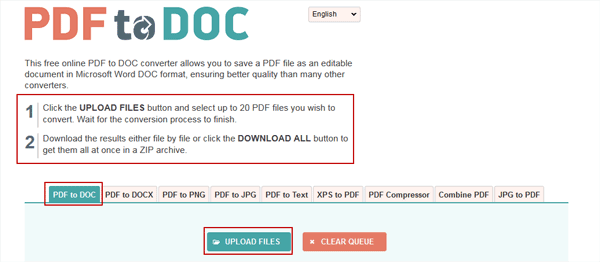 Step 2: Download the results either file by file or click the DOWNLOAD ALL button to get them all at once in a ZIP archive.

Probably converting PDF to Word document free online is slower than converting PDF to Word document with Adobe, it is still be worth to have a try if you have no any other better methods.
Related Articles:
How to Translate Word Document from English to Spanish How to Merge Multiple Word Documents in Word 2007/2010