How to Merge Multiple Word Documents in Word 2007/2010
Do you want to merge multiple Word documents with different formats into one?
If you really need to combine different kinds of Word documents, the merger of Word documents into one might be required sometimes. Surely, you can copy and paste the content directly when the word document is not large. But with the "Insert" feature in MS Word, it would become easier to merge multiple Word documents at one time.
Merge multiple Word documents into one with "Insert" tab
Step 1: Open a new Word document, and move the cursor to the location where you want to insert Word documents.
Step 2: Click Insert tab and locate Object in Text group. Press a small triangle next to it, and click Text from File from the dropdown menu.
Tips: "Insert" tab allows you to subtly merge documents.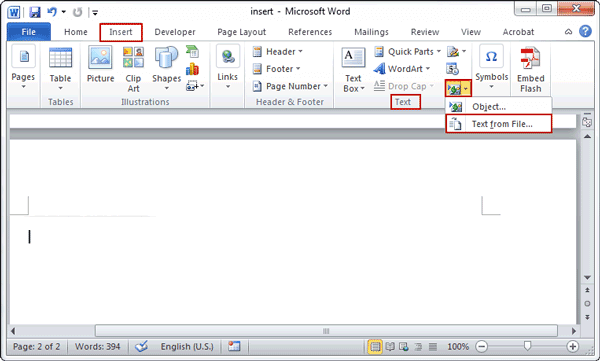 Step 3: Insert File window appears and you can select files you want to merge into the current document. Press and hold Ctrl, and you can select more than one document. At last, click Insert button.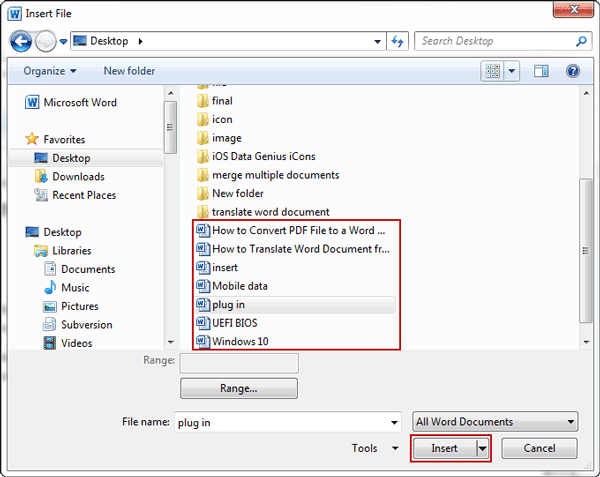 Tips: You can select files to be merged into the current document. By pressing and holding Ctrl to select more than one document.
All the contents in all the selected Word documents will be inserted to current document. You can check and edit them later.
Related Articles:
How to Convert PDF File to a Word Document Online How to Insert Word Document into PowerPoint Presentation