How to Find Product Code for Installed Windows System and Software
How can I find product code for software, which has been installed on my computer?
Generally, if we have installed such software successfully, we should have gotten their product key or activation code. But not all things go as we wish. Software product codes have been lost. How do I find their product code on computer?
Now let's see the ways to find Windows system product code first.

1. Find Windows system product code on computer.
Windows product code appears as a sticker at the bottom of PC. So when we just have bought computer preinstalled with operational system, we could see it there.
2. Find Windows system product code in the package of Windows installation.
The package of Windows installation always includes all the information about the software, so the same for Windows system. Browse Windows installation file and find Windows product code.
3. Find product key in email.
When you purchase Windows system on the Internet, Microsoft will send you confirmation email of your purchase including Windows system product key necessary to activate operating system upon installation in your PC.
4. Find Windows system product code in Windows registry file.
Generally, after Windows system installation and activation, Windows system product code would be written in registry file. So we can find Windows product code in registry file.
This way also applies to other installed software on computer to find product key or serial number.
However, it is not effective for everyone anytime. For security, some software serial numbers are encrypted in registry file. So sometimes this way couldn't work for product key finder.
But don't despair, when you couldn't find product code for Windows or other software with above ways, there is still an effective tool iSunshare Product Key Finder that could help you achieve that goal.
Now follow steps below to find product code for installed software.
iSunshare Product Key Finder could find product code for Windows, Office, VMware, SQL Server, Adobe, IE, Exchange Server and Visual Studio etc now. As long as tehe software is installed on computer or their registry files are on computer, you would find product key for them with Product Key Finder.
Step 1: Download Product Key Finder full version and install it on your computer.
Why we have to get full version? Because Product Key Finder trial version only could show part of software product key for you. But full version is not the same. It could find all product keys for software introduced above.
Step 2: Click "Start Recovery" to find software product code.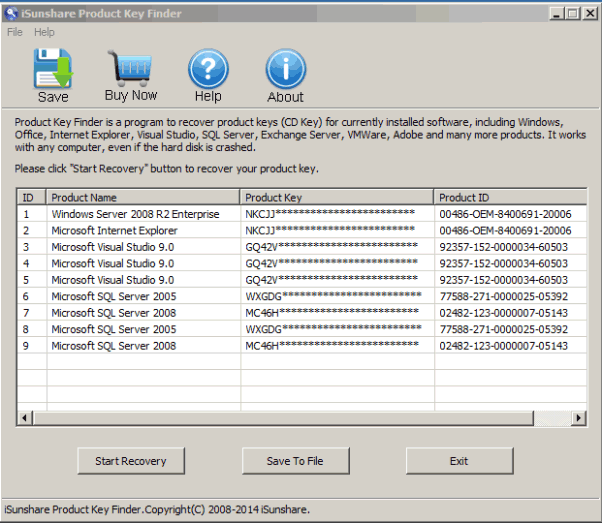 After Product Key Finder runs, you would see two buttons important, "Start Recovery" and "Save to File". When you click "Start Recovery", software product key would be found few seconds later and shown in iSunshare Product Key Finder. When the software product codes are found, click "Save to File" to save all product keys in a text.
Related Articles:
Lock and Unlock Record in SQL Server Database How to Install .Net Framework 3.5 in Windows Server 2012 R2