How to Unlock Word Document 2013 without Password
Password is surely so effective to lock important Word document in perspective of security. But now no password is useful for opening my password protected Word 2013 document. However, I have to access it to look for information, how can I unlock Word document without password?
At this moment, maybe there are several password recovery tools you can find for cracking locked file or document. However, it is not sure that Word document can be protected during password recovery. So an effective and safe password recovery tool would become valuable.
How can I find such valuable tool to unlock Word document?
According to past experience, iSunshare Office Password Genius is such one. About details of how to unlock Word document, let's see introductions below.
Step 1: Download and install Office Password Genius on computer.
https://www.isunshare.com/office-password-recovery.html
How to choose which version of Office Password Genius?
When we are looking for Office Password Genius, we could find there are two versions for us to get. Download trial version directly or pay for full version. Trial version only could recover Word document password less than 3 characters, while full version could recover all of complex Word password. So according to detailed situation, choose appropriate version.
Step 2: Run Office Password Genius and import locked Word document.
Double-click Office Password Genius to run it on computer where locked Word document is saved. And then click "Open" button on software screen to browse locked Word document in computer. When you find it, select it and click "Open" button. Then locked document is shown in "Encrypted File" box.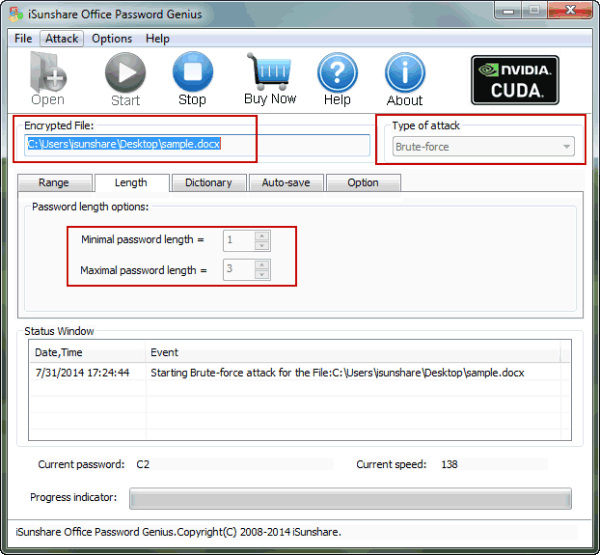 Step 3: Choose appropriate password attack type.
Four password attack types are provided by Office Password Genius, and they are all effective for Word document. Now choose one appropriate from Brute-force, Mask, Dictionary and Smart seems the most important step, because it is related to the speed of unlocking Word document.
Mask: It is chosen when you still remember part of unknown Word document password. And set "Mask" parameter.
Brute-force: It can be selected whenever, especially when you don't know how to choose which one. Set password length and range.
Other two password attack types also can be used, but most of times, they are not better than Mask and Brute-force.
Step 4: Unlock Word 2013 document.
After all the settings have been made, click "Start" button to recover Word document password. If there is nothing wrong, believe Word unknown password would pop up in few seconds. Copy it and you could open locked Word 2013 document.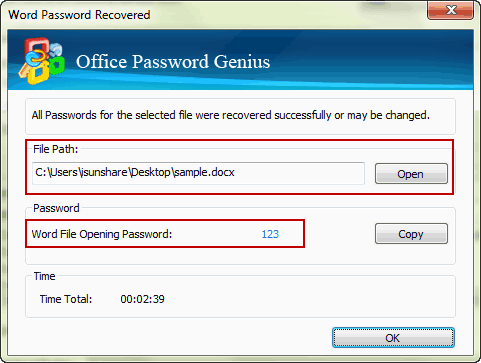 This way using Office Password Genius also works for locked DOC/XLS/XLSX/ACCDB/MDB/PPT/PPTX/PST file.
Related Articles:
How to Install .Net Framework 3.5 in Windows Server 2012 R2 SQL Server 2014 Product Key Finder