How to Open Password Protected Word Document
It is smart for you to set password for Word documents in purpose of security. However, in such an era with so strong security awareness, password is more than people can imagine. So sometimes forgot Word password is a usual thing. And methods about how to open password protected word document are also becoming more and more, most of which is third-party software. Here let me introduce four effective password recovery software.
1. Recover Word password with Word Password Genius
Step 1: Download Word Password Genius from iSunshare website and install it on my computer.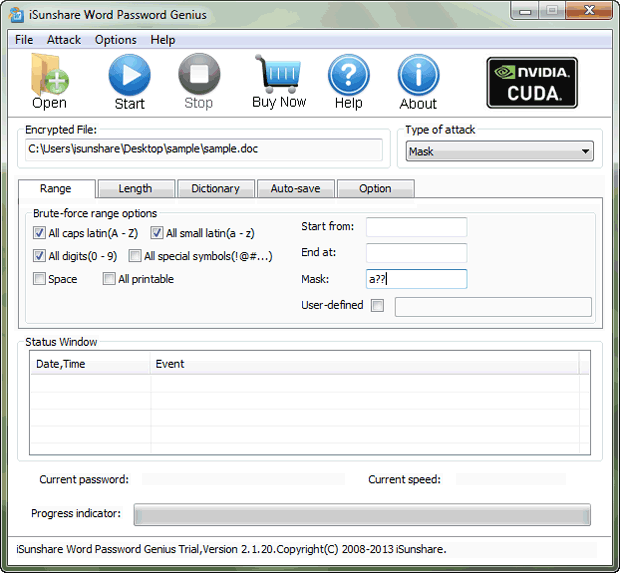 Step 2: Import encrypted Word files.
Click "Open" button to open decrypted Word file, and then it will emerges in the Encrypted File box.
Step 3: Select "Type of attack".
There are totally four password attack types, Brute force, Mask force, Dictionary and Smart  attack. According to every password attack characteristic, set parameters for them.
Brute force: set Range, Length.
Set Length is to set the minimal and maximal length of password. Range is the possible character consist of password.
Mask force: set Range, Mask.
When you remember a part of password, you had better set Mask for Mask attack. For example, if the password consists of 3 characters, the first one is "a" and the other two ones you have forgotten, take "?" instead of every forgotten password character. At last, type "a??" in the Mask box.
Dictionary attack: set Dictionary file path.
If you choose this password attack type, Word password will be found in the password dictionary.
Smart attack: No specific settings.
Step 4: Click "Start" to recover Word password.
A few seconds later, you will see word password in the pop-up window. Copy password to save it or Open password protected Word document directly.
 2. Remove Word password before open Word document
Word Password Remover is a simple password remover tool for encrypted word file.
Step 1: Download Word Password Remover and install it on your computer.
Step 2: Open your encrypted Word document.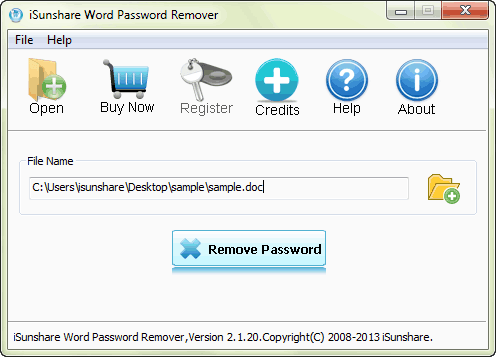 Step 3: Click Remove Password in the window.
After Word password is removed successfully, you can open Word file without password constraints.
3. Recover Word password with Office Password Genius
Office Password Genius is password recovery software for all kinds of password protected Microsoft Office files. The password recovery process is similar to Word Password Genius. The only difference between them is that Office Password Genius recovers more kinds of Office file, and Word Password Genius recovers word document only.
4. Remove Word password with Office Password Remover
Office Password Remover applies to remove password for every type of Microsoft Office files. About operation, you can reference to Word Password Remover.
Related Articles:
How to Get My Windows Server 2008 Product Key How to Unlock Excel Sheet Free – Macro/XML