How to Remove iPhone Personal Data and App Documents and Data
Why we have to remove data from iPhone?
Clear documents and data on iPhone to free up space.
Clean up iPhone before selling it or sending to other people.
Which data do you want to remove from iPhone?
Which data would you like to remove from iPhone, personal data, documents and data, or all of iPhone data and settings? Actually, no matter which iPhone data you will clear, erase iPhone all data and settings and remove documents and data from iPhone apps are two common choices when users prepare to remove iPhone data.
Option 1: How to erase iPhone all data and settings
When you plan to send your iPhone to others, how can you erase all data from iPhone fast?
Actually, you would not need to connect your iPhone to computer, and could directly erase data in iPhone.
Before erase iPhone data, let's back up iPhone with iTunes or iCloud. Then enter Settings – iCloud, to turn off Find My iPhone.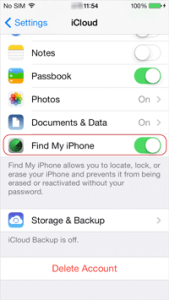 And the next steps will guide you how to erase iPhone data.
Step 1: Open iPhone Settings – General option.
Step 2: Scroll to the bottom of the interface, and click Reset.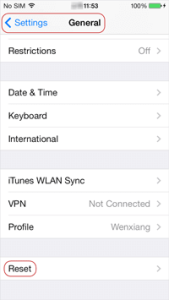 Step 3: Choose Erase All Content and Settings.
Step 4: iPhone will prompt you that will delete all media and data, and reset all settings. Click Erase iPhone and it would be OK.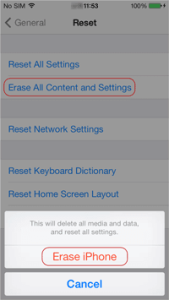 Few minutes later, all data and settings have been erased from iPhone. iPhone restarts and restore to factory settings.
Option 2: How to remove documents and data in iPhone
Documents and data are the data produced when you use programs in iPhone. Generally, "clear" option is available in every app for you to remove documents and data from iPhone. Open app information screen and you can clear cache data instantly. But it seems to be a little complex and troublesome. So I still look for other easy ways to remove iPhone documents and data at once.
For example, two other common ways below are used to remove data from iPhone apps.
Uninstall app and app documents and data would be removed from iPhone. Then if you want to use the app again, install it again on your iPhone.
Back up your apps, but not back up data with iTools, and uninstall apps in iPhone, then import the apps that have been backed up without backup data into iPhone.
Related Articles:
How to Back up Android App Data to Cloud without Root How to Free Up Storage on iPhone or iPad