How to Retrieve Adobe License Key
License key for Adobe has been lost. Now I want to reinstall Adobe Photoshop CS6 on another computer. How can I retrieve Adobe license key to install PS CS6?
There are three ways we can do:
Way 1: Download Adobe PS CS6 and license key again.
This way can be used by everyone with network. But because Adobe PS CS6 is the latest version, it would be a little difficult to find Adobe Photoshop CS6 license key through network, even though Adobe CS6 download is not so hard. However, it is worth to try.
Way 2: Find Adobe license key in Windows registry file.
Adobe license key is saved in Windows registry file after installation, just like other programs installed on computer. Therefore, with Windows registry file, you could find Adobe license key directly.
No other help are needed from other people and programs. Just make full use of registry, Adobe license key can be found.
But if you want a way to find Adobe license key effectively and easily, you need a powerful tool.
Way 3: Retrieve Adobe license key with tool.
This way provides powerful tool to retrieve Adobe license key effectively and easily. After getting iSunshare Product Key Finder and installing it on computer, run and register it with gotten license key.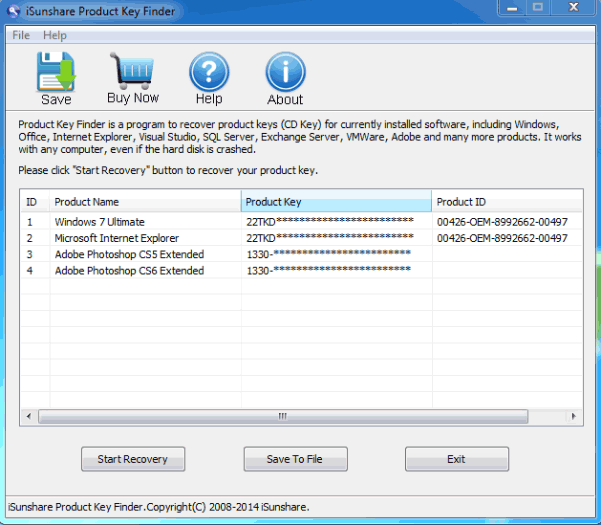 And then click "Start Recovery" button on program screen. Instantly, programs product key and product ID would be listed, including Adobe PS CS6, Windows, Office, SQL Server, Exchange Server 2003 and IE etc.
Now Adobe license key has been found. You could choose to save it in a text file on computer by "Save" or "Save to File" button.
Related Articles:
SQL Server 2014 Product Key Finder MSSQL Reset SA Password after Database File Locked