VMware Needs Virtualization Technology
"What can I do when I used VMware in my x64 version of Windows 8 computer and a prompt showed up as it was exhibited in the following screen shot? I got the error message as follow:
This virtual machine is configured for 64-bit guest operating systems.
However, 64-bit operation is not possible.
This host supports Intel VT-x, but Inter VT-x is disabled.
Intel VT-x might be disabled if it has been disabled in the BIOS/firmware settings or the host has not been power-cycled since changing this setting.
Verify that the BIOS/firmware settings enable Intel VT-x and disable "trusted execution".
Power-cycle the host if either of these BIOS/firmware settings have been changed.
Power-cycle the host if you have not done so since installing VMware Workstation.
Update the host's BIOS/firmware to the latest version.
For more detailed information, see http://vmware.com/info?id=152 ." A VMware user asked such a question.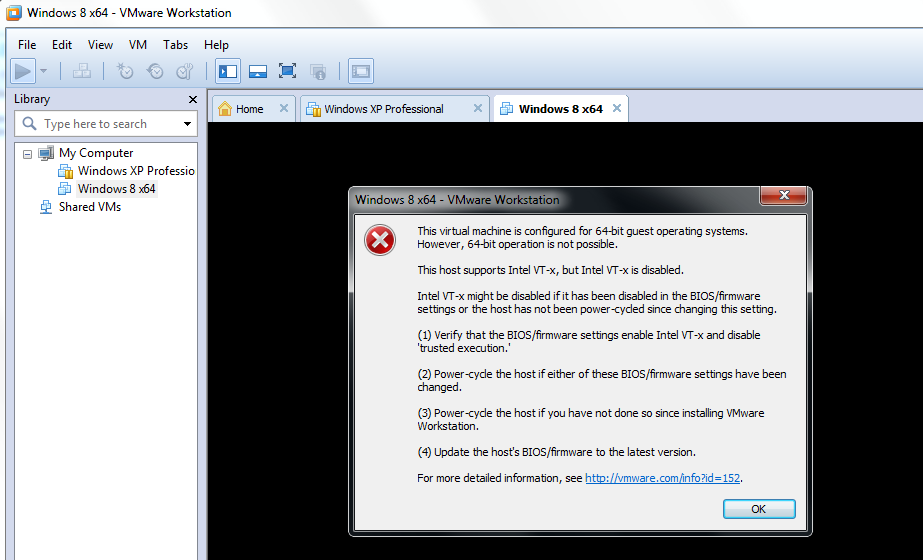 If the Virtualization Technology of your computer is disabled and you want to install a 64-bit operating system on VMware Workstation, you will get this error message. To fix this problem, you just get into your computer's BIOS Setup Utility, and enable Virtualization Technology options.
As for how to solve the problem put forward at the beginning, you can follow the 3 steps below.
1. Restart the computer.
2. Immediately and continuously press Delete key until the BIOS Setup screen shows up.
3. Find out the Virtualization Technology option by using arrow key, and change its status from Disabled to Enabled.
After taking these 3 steps, the prompt box will not appear and you can run several operating systems at the same time in the VMware Workstation.
To make a conclusion, VMware needs Virtulization Technology. If the VT function in the BIOS Setup is not enabled, the VMware can not work in the Windows operating system.
Reference:
Remove Password from Microsoft Word 2007 Document How to Uninstall A Program on Windows 8