How to Turn off/Disable Backup Encryption in iTunes
Why some users want to turn off backup encryption in iTunes?
The feature "Encrypt local backup" in iTunes surely encrypts backup easily for data security. But in these cases, they will be asked to enter the backup password again and again.
1. Restore iOS devices data from encrypted iTunes backup
2. Upgrade iOS or perform jailbreak on their iOS devices
3. Every time they want to access to iTunes backup
This is a time-consuming process especially when they forgot iTunes backup password. So they think it is unnecessary to turn on backup encryption in iTunes when the data they prepare to back up are not so important. However, they may have no idea on how to turn off or disable backup encryption with or without password. Refer to following cases if you need.
Case 1: Turn off Backup Encryption in iTunes with Knowing Password
If you know the password of iTunes backup, then just need to follow steps below to turn off backup encryption for your iTunes.
Step 1: Connect your iOS device to computer and generally iTunes will start automatically.
Step 2: On iOS device page, remove the tick "Encrypt local backup" under Summary menu.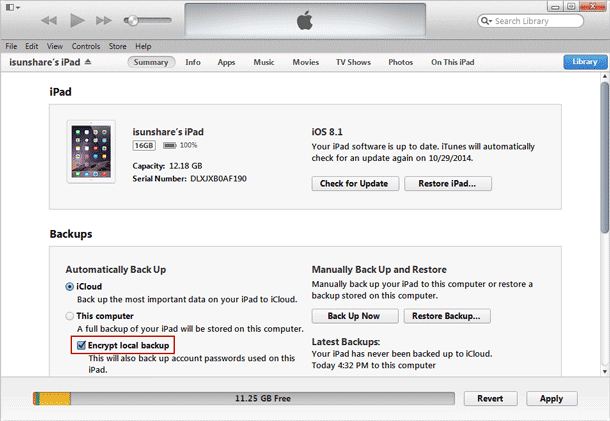 Step 3: Then iTunes will prompt you to enter your backup password you previously set to encrypt iTunes backup.

After that, backup encryption is turned off in iTunes, and you can access iTunes backup without entering password until you set a new one.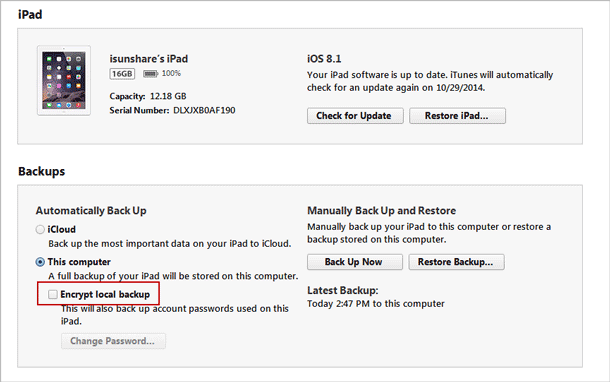 So as you know, once iTunes is set to encrypt iTunes backup, turning this feature off will require the password. So what if the password is forgotten or unknown? First of all, you should calm down and try the possible passwords, such as passcode, phone number, birthday number, Windows login password or Mac login password. If none of them works, don't worry. You still have another choice to turn off backup encryption. Read the Case 2.
Case 2: Disable Backup Encryption in iTunes without Password
If you really forgot password to unlock iTunes backup so that you failed to turn off backup encryption, please get the safe and efficient iSunshare iTunes password recovery tool to find out iTunes backup password at first. It provides several options for you to improve password recovery speed, such as powerful password attack type, password length, password range and specific characters settings.
Step 1: Download and install iTunes Password Genius on Windows or Mac.
Step 2: Add encrypted iTunes backup to password recovery software.
1. On Windows or Mac, after you click Open or Open File button, a list of backup files will show on pop-up dialog.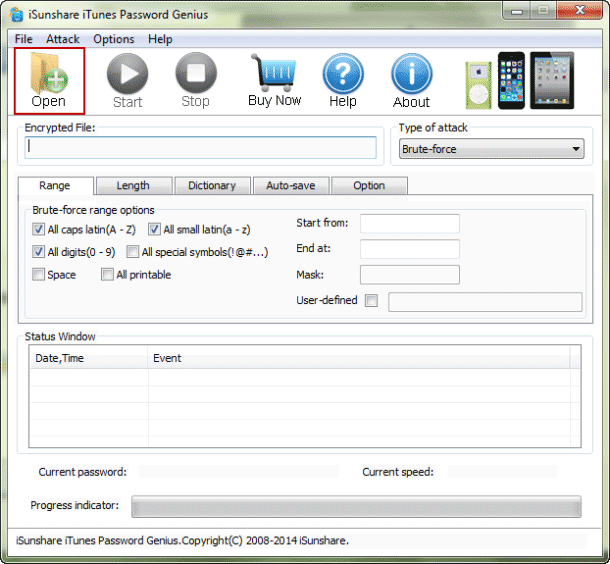 2. You can choose one from them or click Add File button to search the backup you want to recover password for.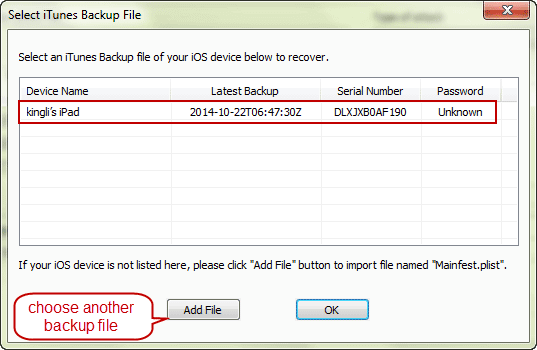 Attention: Find iTunes backup file on Windows or Mac
1. iTunes backup file default location on Windows PC:
Windows 10/8/7: \Users\YOURUSERNAME\AppData\Roaming\Apple Computer\MobileSync\Backup
Windows XP: C:\Documents and Settings\user\Application Data\Apple Computer\MobileSync\Backup
For Windows users, please pay attention to whether you have enable "Show Hidden Files" within Windows Explorer, because Windows systems will treat the Application Data and AppData directories and their contents (including iPhone backup) as "Hidden".
2. iTunes backup file default location on Mac:
~/Library/Application Support/MobileSync/Backup/
Press Command + Shift + G to open Go to Folder dialog, enter the location and click Go to find iTunes backup file on Mac OS X.
Step 3: Make settings and get back iTunes backup password.
1. Follow the password attack settings to make specific settings in order to accelerate iTunes password recovery.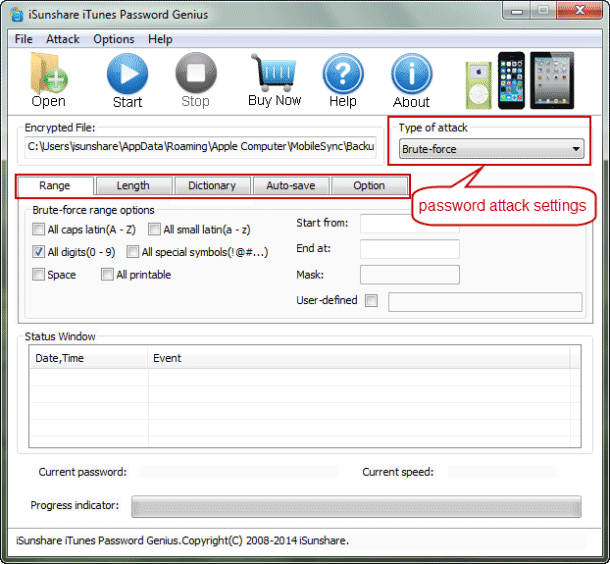 2. Then click on Start button to recover encrypted iTunes backup password. After you find back the iTunes backup password, then go to the Case 1 to disable encryption in iTunes.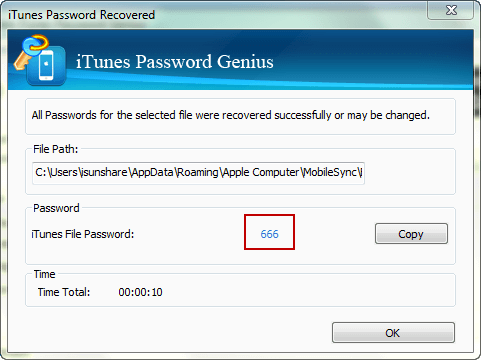 Note:
You don't need to worry whether the above operation would damage your computer or iTunes backup. It just extracted the password from the backup file "Manifest.plist". From then on, you will find you can access to your iTunes backup without password with help of iSunshare iTunes Password Genius.
Related Articles: